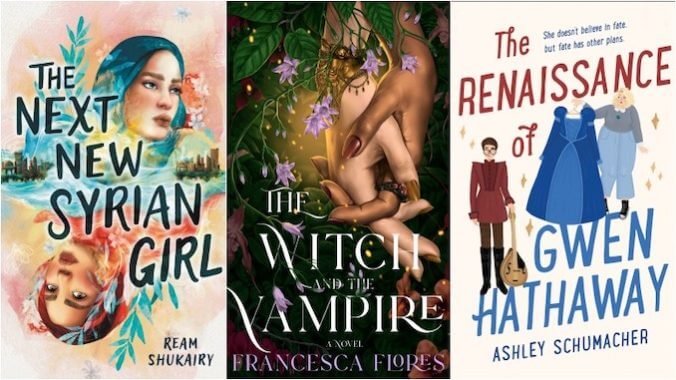 Spring is here: Flowers are blooming, the sun is shining, and bouquets of new books of all sorts are popping up on bookstore shelves. Great titles abound from fantasy to horror, but almost no genre has the variety that young adult fiction is displaying at the moment, with stories ranging from books inspired by Greek mythology to remixes of classic literature and fairytale-based romances. (This isn't always the case, but March definitely has the range, is what I'm saying.) 
Here are our picks for the best YA books of March. 


Royal Blood by Aimee Carter
Release Date: March 7 from Delacorte Press
Why You'll Love It: Aimee Carter's addictive new YA series leans fully into our pop culture obsession with royal scandals, whipping up a dramatic story about a fictional King of England and his illegitimate daughter who finds herself at the center of a high-profile murder case. But as Evangeline (Evan, for short) Bright fights to clear her name, she discovers that royal families are often hiding a lot of secrets—some that are even more shocking than her own.
Publisher's Description: As the King of England's illegitimate daughter, 17-year-old Evan Bright knows a thing or two about keeping secrets.
But when she's forced to spend the summer in London with her father and the royal family, who aren't exactly thrilled she exists, her identity is mysteriously revealed, and suddenly the world is dying to know every juicy lie the press prints about her.
After a fun night turns deadly and Evan becomes the primary suspect in a murder investigation, the escalating rumors and fallout threaten to tear her life apart. As she fights to uncover the truth about what happened, she discovers royal secrets that are even more scandalous than she imagined – secrets that could change the monarchy forever.
And her own might be next.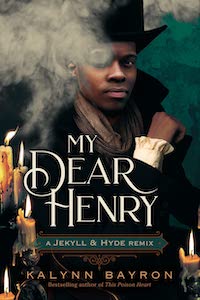 My Dear Henry: A Jekyll and Hyde Remix by Kalynn Baron
Release Date: Mar 7 from Feiwel & Friends
Why You'll Love It: Macmillan's Remixed Classics series—in which popular YA authors from marginalized backgrounds reinterpret classic works through their own unique cultural lenses—has already given us some excellent reads, from Bethany C. Morrow's reimagining of Little Women as a tale of Black family (So Many Beginnings) to Tasha Suri's reinterpretation of Wuthering Heights as a romance between two British American teens cut off from their heritage (What Souls Are Made Of) and Anna-Marie McLemore's queer retelling of The Great Gatsby (Self Made Boys). 
The latest installment, My Dear Henry, is a take on the famous story of Dr. Jekyll and Mr. Hyde that hails from Kalynn Baron, author of Cinderella Is Dead and This Poison Heart. And Henry Jekyll's secret life is hardly the most dramatic part of this story, which wrestles with racism, homophobia, discriminatory 18th-century hiring practices, and more.
Publisher's Description: London, 1885. Gabriel Utterson, a 17-year-old law clerk, has returned to London for the first time since his life— and that of his dearest friend, Henry Jekyll—was derailed by a scandal that led to his and Henry's expulsion from the London Medical School. Whispers about the true nature of Gabriel and Henry's relationship have followed the boys for two years, and now Gabriel has a chance to start again.
But Gabriel doesn't want to move on, not without Henry. His friend has become distant and cold since the disastrous events of the prior spring, and now his letters have stopped altogether. Desperate to discover what's become of him, Gabriel takes to watching the Jekyll house.
In doing so, Gabriel meets Hyde, a strangely familiar young man with white hair and a magnetic charisma. He claims to be friends with Henry, and Gabriel can't help but begin to grow jealous at their apparent closeness, especially as Henry continues to act like Gabriel means nothing to him.
But the secret behind Henry's apathy is only the first part of a deeper mystery that has begun to coalesce. Monsters of all kinds prowl within the London fog—and not all of them are out for blood…


Lies We Sing to the Sea by Sarah Underwood
Release Date: March 7 from Harper Teen
Why You'll Love It: A feminist re-examining (sort of) of a part of Homer's The Odyssey that everyone always forgets, you probably got your hackles up about this book when you learned that its author hadn't actually read the entirety of The Odyssey in the first place. This, admittedly, is fair, but if you can get past that, there are still worthwhile elements in this tale, which is at its best when it leans into the monstrous (yet somehow commonplace) elements of mythology.
Publisher's Description: Each spring, Ithaca condemns twelve maidens to the noose. This is the price vengeful Poseidon demands for the lives of Queen Penelope's twelve maids, hanged and cast into the depths centuries ago.
But when that fate comes for Leto, death is not what she thought it would be. Instead, she wakes on a mysterious island and meets a girl with green eyes and the power to command the sea. A girl named Melantho, who says one more death can stop a thousand.
The prince of Ithaca must die—or the tides of fate will drown them all.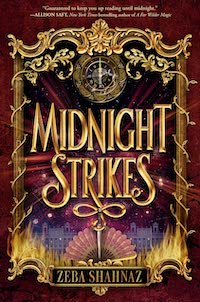 Midnight Strikes by Zeba Shahnaz
Release Date: March 14 from Delacorte Press
Why You'll Love It: There is no universe in which I won't immediately devour a time loop story, and Midnight Strikes makes the familiar trope feel fresh thanks to its unique focus on the undeniable emotional trauma of the experience. After all, in order for the "loop" in this story to reset, a deadly explosion has to take place and heroine Anais has to die violently, over and over again. 
Add in a lavish anniversary ball, a glittering court full of nobles, and some messy political intrigue, and Zeba Shanaz's debut fantasy is a winner. 
Publisher's Description: Seventeen-year-old Anaïs just wantsztonight to end. As an outsider at the kingdom's glittering anniversary ball, she has no desire to rub shoulders with the nation's most eligible (and pompous) bachelors—especially not the notoriously roguish Prince Leo. But at the stroke of midnight, an explosion rips through the palace, killing everyone in its path. Including her.
The last thing Anaïs sees is fire, smoke, chaos . . . and then she wakes up in her bedroom, hours before the ball. No one else remembers the deadly attack or believes her warnings of disaster.
Not even when it happens again. And again. And again.
If she's going to escape this nightmarish time loop, Anaïs must take control of her own fate and stop the attack before it happens. But the court's gilded surface belies a rotten core, full of restless nobles grabbing at power, discontented commoners itching for revolution, and even royals who secretly dream of taking the throne. It's up to Anaïs to untangle these knots of deadly deceptions . . . if she can survive past midnight.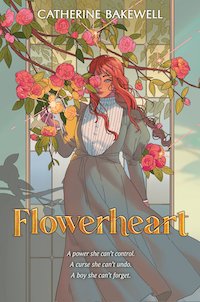 Flowerheart by Catherine Bakewell
Release Date: March 14 from HarperTeen
Why You'll Love It: This sweet YA fantasy is pure cottagecore goodness, with a gentle love story at its center and a surprisingly deft portrayal the heroine's struggle against anxiety and depression.
Publisher's Description: Clara's magic has always been wild. But it's never been dangerous. Then a simple touch causes poisonous flowers to bloom in her father's chest.
The only way to heal him is to cast an extremely difficult spell that requires perfect control. And the only person willing to help is her former best friend, Xavier, who's grown from a sweet, shy child into a mysterious and distant young man.
Xavier names a terrible price in return, knowing Clara will give anything to save her father. As she struggles to reconcile the new Xavier with the boy she once loved, she discovers their bargain is only one of the heavy secrets he's hiding. And as she hunts for the truth, she instead finds the root of a terrible darkness that's taken hold in the queendom—a darkness only Clara's magic is powerful enough to stop.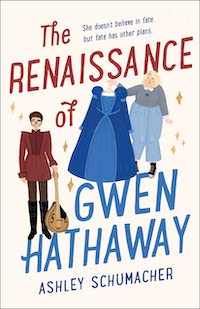 The Renaissance of Gwen Hathaway by Ashley Schumacher
Release Date: March 14 from Wednesday Books
Why You'll Love It: A charming and utterly heartfelt tale about grief and growing up from the author of Amelia, Unabridged, The Renaissance of Gwen Hathaway feels magical from its first pages. The story follows a young woman named Madeline, a girl raised on the Rennaissance Faire circuit, who's traveling the country in an RV with her father and trying to process her mother's death. Though she ultimately begins to heel thanks to the dogged efforts of a teen bard named Arthur—who bestows the nickname that appears in the book's title—Gwen Hathaway is ultimately a story about its heroine's complex journey to healing, self-acceptance, and opening her heart to others again. The book gets bonus points for its refreshing insistence that plus-sized Madeline doesn't need to slim down to be worthy of love and care, and the fact that it allows its heroine to learn she deserves to take up space, just as she is.
Publisher's Description: Since her mother's death, Madeline "Gwen" Hathaway has been determined that nothing in her life will change ever again. That's why she keeps extensive lists in journals, has had only one friend since childhood, and looks forward to the monotony of working the ren faire circuit with her father. Until she arrives at her mother's favourite end-of-tour stop to find the faire is under new management and completely changed.
Meeting Arthur, the son of the new owners and an actual lute-playing bard, messes up Maddie's plans even more. For some reason, he wants to be her friend – and ropes her into becoming Princess of the Faire. Now Maddie is overseeing a faire dramatically changed from what her mother loved and going on road trips vastly different from the routine she used to rely on. Worst of all, she's kind of having fun.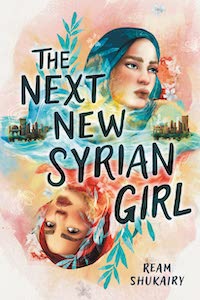 The Next New Syrian Girl by Ream Shukairy
Release Date: March 14 from Little, Brown Books for Young Readers
Why You'll Love It: The lives of a Syrian American girl and a Syrian refugee collide in this emotional contemporary story about grief, survival, and family that explores complex issues without ever feeling exploitative.
Publisher's Description: Khadija Shami is a Syrian American high school senior raised on boxing and football. Saddled with a monstrous ego and a fierce mother to test it, she dreams of escaping her sheltered life to travel the world with her best friend.
 Leene Tahir is a Syrian refugee, doing her best to adjust to the wildly unfamiliar society of a suburban Detroit high school while battling panic attacks and family pressures.
When their worlds collide the result is catastrophic. To Khadija, Leene embodies the tame, dutiful Syrian ideal she's long rebelled against. And to Leene, Khadija is the strong-willed, closed-off American who makes her doubt her place in the world.
 But as Khadija digs up Leene's past, a startling and life-changing discovery forces the two of them closer together. As the girls secretly race to unravel the truth, a friendship slowly and hesitantly begins blooming. Doubts are cast aside as they realize they have more in common than they each expected. What they find takes them on a journey all the way to Jordan, challenging what each knows about the other and herself. 

The Witch and the Vampire by Francesca Flores
Release Date: March 21 from Wednesday Books
Why You'll Love It: Maybe some readers need to hear more than "queer YA Rapunzel retelling" to get them to check out a new title, but I am not one of those people. (Plus that cover is gorgeous.)
Publisher's Description: Ava and Kaye used to be best friends. Until one night two years ago, vampires broke through the magical barrier protecting their town, and in the ensuing attack, Kaye's mother was killed, and Ava was turned into a vampire. Since then, Ava has been trapped in her house. Her mother Eugenia needs her: Ava still has her witch powers, and Eugenia must take them in order to hide that she's a vampire as well. Desperate to escape her confinement and stop her mother's plans to destroy the town, Ava must break out, flee to the forest, and seek help from the vampires who live there. When there is another attack, she sees her opportunity and escapes.
Kaye, now at the end of her training as a Flame witch, is ready to fulfill her duty of killing any vampires that threaten the town, including Ava. On the night that Ava escapes, Kaye follows her and convinces her to travel together into the forest, while secretly planning to turn her in. Ava agrees, hoping to rekindle their old friendship, and the romantic feelings she'd started to have for Kaye before that terrible night.
But with monstrous trees that devour humans whole, vampires who attack from above, and Ava's stepfather tracking her, the woods are full of danger. As they travel deeper into the forest, Kaye questions everything she thought she knew. The two are each other's greatest threat—and also their only hope, if they want to make it through the forest unscathed.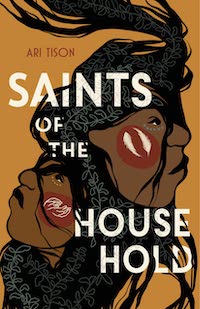 Saints of the Household by Ari Tison
Release Date: March 28 from Farrar. Straus and Giroux
Why You'll Love It: A compelling story of two Indigenous Costa Rican brothers whose lives are haunted by violence, Saints of the Household wrestles with questions of abuse, healing, and 
Identity. What makes the novel stand out is the format in which this complex emotional story is told, weaving in BriBri culture throughout the dual POV chapters whose style shifts from tense, short vignettes to wistful poems depending on which brother's psyche we're exploring.
Publisher's Description: Max and Jay have always depended on one another for their survival. Growing up with a physically abusive father, the two Bribri-American brothers have learned that the only way to protect themselves and their mother is to stick to a schedule and keep their heads down.
But when they hear a classmate in trouble in the woods, instinct takes over and they intervene, breaking up a fight and beating their high school's star soccer player to a pulp. This act of violence threatens the brothers' dreams for the future and their beliefs about who they are. As the true details of that fateful afternoon unfold over the course of the novel, Max and Jay grapple with the weight of their actions, their shifting relationship as brothers, and the realization that they may be more like their father than they thought. They'll have to reach back to their Bribri roots to find their way forward.
---
Lacy Baugher Milas is the Books Editor at Paste Magazine, but loves nerding out about all sorts of pop culture. You can find her on Twitter @LacyMB.