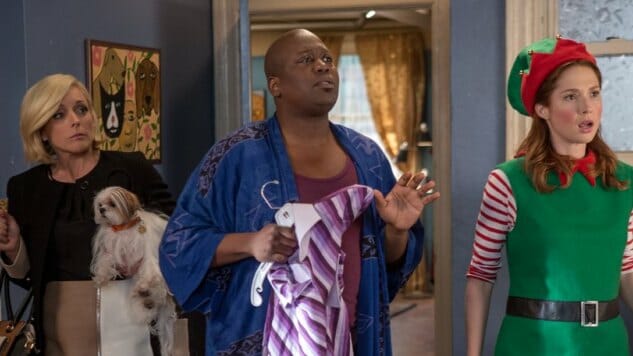 If, like me, you're positively exhausted with the number of TV series that are flooding the marketplace these days, I urge you to find some reserves of energy in your system to welcome the return of Unbreakable Kimmy Schmidt. The Netflix sitcom was, without question, one of the best things about 2015, proving both the comedic brilliance of creators Tina Fey and Robert Carlock and the unbelievable talents of its lead actor Ellie Kemper. They all threw themselves into the spirit of this wonderfully weird premise—a survivor of a doomsday cult with almost no understanding of modern life decides to make a new life for herself in New York City—with a fearlessness and an inviting sentimentality that few other shows would dare attempt.
We were lucky enough to get an advanced look at the first six episodes of Kimmy Schmidt season two and are excited to report that the show is even better this time around. With the storyline of the cult behind her, our chipper heroine can now focus in on new challenges like dealing with the loss of her first boyfriend Dong, finding a real job, and carving her own path while trying to support her motley crew of friends. If you're reading this, chances are you're probably already on board with watching the new season as soon as you are able, but if you're looking for some extra incentive to burn through these 13 fresh episodes in one long sitting, here is what should inspire you to click play.
1. Tituss Burgess
As great as all the actors are on Kimmy Schmidt, there's no denying that the breakout star of the first season was Tituss Burgess. The Broadway vet and now Emmy nominee was a blast of energy through every episode of this series, matching co-star Ellie Kemper every step of the way with his grand delusions of stardom and his seemingly endless supply of sass and brass. The writers for the show have apparently realized just how fearless and talented he is because in this new run of episodes, Burgess is gifted with some storylines that allow him to go even further over-the-top. In the first six installments alone, Titus Andromedon has to deal with the blowback from a sham marriage he ran away from and taps into an apparently vast well of past life experiences to fuel a creative breakthrough. And with the blush of new love in his cheeks, he reveals a tenderness that will make your heart swell with joy. If he doesn't finally get some serious awards for his work here, the system is truly broken.
2. Toeing the line of indecency
The first season of Kimmy Schmidt was made with the intention of being aired by NBC, which meant that had to hold firm to the standards and practices of network TV. In other words, no cursing and they couldn't get too risqué. There was a question, in my mind at least, about how the writers would respond to having free rein to get as bawdy and naughty as they wanted since they're now fully under the Netflix umbrella. In keeping with the charming, wholesome spirit of their main character, the strongest word spoken in the first six episodes of the show is "shat." Instead, they have fun playing with the limits by only hinting at some adult language and situations, getting as close as they can to the real thing before stopping short. Somehow that makes it even funnier than just saying it all out loud.
3. Carol Kane
One of the most pleasant surprises of the first season was the appearance of Carol Kane in the role of Titus and Kimmy's landlord Lily. The comedy vet was pitch perfect throughout, lending the right element of unhinged hilarity to an already anarchic show. She's used to even greater effect in this new season as she reveals some dark secrets from her past and works to protect the skeevy quality of her neighborhood, even as she provides a much-needed voice of reason for her two loopy tenants.
4. Fun with pop culture references
This was already something that Tina Fey and Robert Carlock reveled in during their days at 30 Rock, but they seem to be having even more fun with it this time around. Keep an eye out for small digs at sitcom mastermind Chuck Lorre, a heaping helping of Robert Durst/The Jinx jokes, and, naturally, some jabs at the ubiquity of the Kardashians in our collective unconscious. The writers also work in some self-referentialism like Titus referring to his roommate as "Kim Blake Nelson," a play on the name of Tim Blake Nelson, who played Kimmy's dad in a few season one episodes, and a Jon Hamm joke that I won't dare spoil here.
5. Longform storytelling
The one aspect of being on Netflix that the writers of the show have fully embraced is the notion of binge watching. They know that, if they're lucky, they're going to get fans who are going to burn through all the new episodes in one sitting. So, they kick off the first new installment by jumping forward with a scene that will apparently pay off towards the end of the season. That makes for a fun experience of picking out the little moments and details throughout the 13 episodes that will build up into the big climax that they introduced way back in the beginning. Having only seen the first handful of shows from this new season, I'm desperate to know how this all plays out. I'm pretty sure you're gonna feel the same.
6. Socio-political commentary
I was going to call their references to the bank bailouts and the rapid changes (and accompanying gentrification) of certain New York boroughs "sly," but there's nothing subtle about them. What feels shrewd is how they are able to work these barbs into the series without getting on a soapbox or turning out "very special episodes." Their frustration is palpable, but they know you're smart enough to pick up on it without needing it thrown in your face.
7. Guest stars
Here, again, the show does wisely to not distract from the core spirit of the show by tossing in big Hollywood stars for attention's sake. Instead, they call on the deep bullpen of comedic personalities to flesh out the series, including the always wonderful Amy Sedaris (playing Jacqueline's crazed socialite buddy Mimi), Fred Armisen and Zosia Mamet. And do keep an ear out for the voices of Patrick Stewart and Kelsey Grammer, which are both employed in a delightful fashion.
---
Robert Ham is a Portland-based freelance writer and regular contributor to
Paste
. You can find more of his writing here.