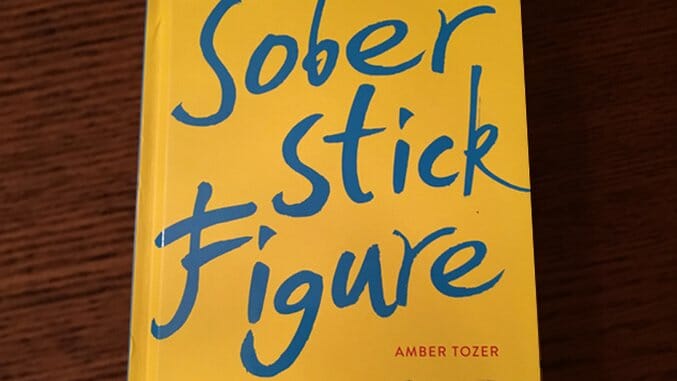 Amber Tozer doesn't shy away from her alcoholic past. She's not embarrassed by stories that paint her in an unflattering light. She laughs at it and wants you to, too. "My favorite thing is being blase about something that's kind of a little dark," she told Paste. "It's my favorite thing to do, being deadpan about darkness."
Tozer's new book, Sober Stick Figure has turned her addiction and recovery story into a memoir aided by child-like stick figure drawings illustrating her anecdotes.
Tozer's written for Adult Swim, Cartoon Network, and appeared on Last Comic Standing, but she's probably best known for her hilarious Twitter account, which has been featured on Ellen and a bunch of websites who do those "Best Tweet" galleries (including regularly here on Paste.) Tig Notaro blurbs on the back cover: "Amber Tozer is the single most ridiculous, honest, and kind person you'll ever find. Any time she writes a word, I read it. And I highly recommend you do the same."
Tozer never expected to be writing a memoir. "I am still young and didn't think I deserved to write a memoir, but I thought [my story] was funny and it's about recovery, so I felt like it's a little bit different."
As we talked over coffee about the book, Tozer reflected on her journey to sobriety, conveying both a deep understanding of addiction and a sense of amusement about it. "I hope if people have problems with alcohol it plants a sobriety seed, and if it's someone dealing with an addict, or a relationship with an addict, that they get a better understanding of addiction," she says. "I hope it offers a bit of laughter. I think alcoholism is pretty hilarious. It's horrible disease but once the healing begins, there's a lot of self awareness and everything is pretty ridiculous."
The book is full of remarkably honest stories about her relationships, friendships, jobs, and how everything for her pretty much revolved around binge drinking. I asked her if she ever felt apprehensive about sharing too many details from her life. "When I was writing, I took the approach of, I will write my truth. I try to be very diplomatic because I was the crazy person in those relationships. I was a volunteer for all of these things I did. The person I was worried about hurting was my mom, because she's an incredible person and even though we've had our differences, I let her read a draft a few months ago and she said she loved it," she said. "For my ex-boyfriends, we'll see. It was a long time ago and the names were changed. I just assume they won't read it but who knows."
About halfway through the book, Tozer's story takes her to the New York alt-comedy scene of the early 2000s, where she became a fixture. "I loved when I first started doing stand-up, I became slightly obsessed. I was miserable in my day jobs and I went to shows for like a year before I ever went on stage. I was fascinated by the whole thing and it was a great reason to go and drink and explore things," she laughed. "I was 22, and after I first started doing it, I got hooked. I hit the ground running and was performing all over, doing Eating It at Luna Lounge, hanging out and watching everyone like Maron, Janeane Garofalo, Todd Barry, Zach Galifianakis, Sarah Silverman, all those guys. All my friends became comics and I loved them. And I was drunk a lot." Tozer still performs but has largely moved on to other things. "I still get up once in awhile. I do storytelling shows and I'm working on a solo show."
She remembers when she first started to realize her drinking was affecting her life. "For years, I tried to control it and when I couldn't, it was maddening, which I think really led me to the bottom. Once I started asking for help — which was the key for me, asking for help — I just began to learn about the disease of alcoholism and it brought so much relief to me," she says. "I have 8 years of sobriety now and there have been times where I'm like 'what's the point, who cares if I drink or not' but I'm so happy that I stuck with it. I kind of think that's why we're here, you know? Consistently being aware, and changing our behaviors, learning lessons and trying not to be an asshole."
As the book's launch approaches, Tozer says she's trying to manage her expectations toward its success. "I want it to do well but it's out of my control. I asked Michael Ian Black about it and he told me to just be grateful for those who connect with it and keep my expectations at a realistic level and to be proud of myself for this accomplishment. But it's hard. I'll open it up and read a page and want to rewrite a sentence that I just read. So I have to stop it."
Sober Stick Figure is available in bookstores now. If you're in the Los Angeles area, the book is launching with a special show at Cinefamily on June 3rd.