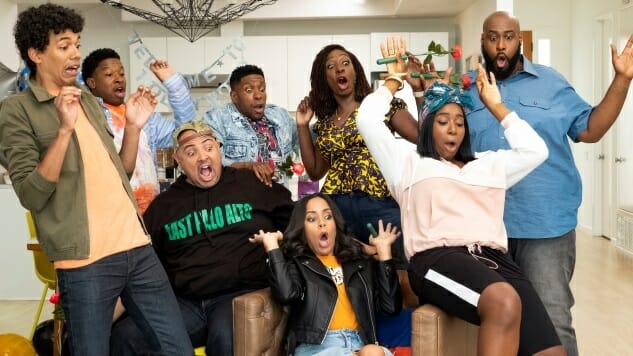 "Why the name Astronomy Club? We're black, and we're all stars. And like most stars, nobody knows our names."
The pilot of Astronomy Club ("A Netflix Original Sketch Comedy Series") makes clear that that's not even necessarily the definitive explanation behind the sketch comedy troupe Astronomy Club's name—and there never is a definitive explanation given in the series' six-episode first season—but it's certainly the most logical one. (Based on the series' sketches and the team's general comedic sensibilities, it may also have something to do with black nerdiness, as well. The first sketch of the series has "a Dracula," and then it's all off the rails from there.) As was the case when the show was first announced back in July, the biggest name involved in the making of Astronomy Club at this point—other than Netflix—is Black-ish creator Kenya Barris, who serves as executive producer of the series.
As a comedy team, series writers, and executive producers, Astronomy Club consists of eight members: Shawtane Bowen, Jonathan Braylock, Ray Cordova, James III, Caroline Martin, Jerah Milligan, Monique Moses, and Keisha Zollar. The first all-black house team to come from Upright Citizens Brigade (UCB), Netflix's Astronomy Club is the natural evolution of what the octet has been doing since its formation in 2014, as well as the natural progression from their 2018 in digital series (six episodes, six sketches) on Comedy Central's site.
As a series, Astronomy Club adds more ammo to the argument that it's a pretty great time to be a fan of sketch comedy—specifically, televised sketch comedy—right now. Just this year alone, there have been excellent new offerings in shows like Netflix's love-it-or-hate-it I Think You Should Leave with Tim Robinson, HBO's star-powered A Black Lady Sketch Show, and IFC's hybrid comedy Sherman's Showcase. As for established sketch comedy shows, IFC's Canadian import Baroness Von Sketch Show remains as strong as ever; and for as much baggage as there is that comes with Saturday Night Live, it's still an institution that can provide some very special sketches when you least expect it (like this season's "Grouch" or "Mid-Day News"). And the best part of all of this is that these shows are all doing something very different in their approaches to sketch comedy, which means that there truly is something for everyone—and that there's also more room for every more variety and new approaches to the genre.
Naturally, the comparisons are going to—and kind of have to—be made between Astronomy Club, A Black Lady Sketch Show, and Sherman's Showcase, as the three black-created and led sketch shows in this conversation. That there are three sketch shows created by and starring black comedians currently airing—instead of the television gods just saying there's only room for one at a time—is worth noting, both as evidence of how far things have come in the genre and in that the gatekeeper institutions of comedy (like UCB) do actually have diversity coming through them and succeeding. Structurally, Astronomy Club and A Black Lady Sketch Show are the most similar, with both the framing device that serves as a breather between sketches and the general sketches themselves; though Astronomy Club doesn't do recurring characters and bits the way A Black Lady Sketch Show does. All three shows approach comedy and blackness differently, with none of them claiming to be the definitive representation of blackness while still find commonality and relatability.* A lot of that relatability comes simply from the perspective of black nerdiness, with Astronomy Club (especially) and A Black Lady Sketch Show leaning into it and its contemporary pervasiveness, while Sherman's Showcase was designed to center on someone who pushed against that shift (while also making the big throughline of the season the nerdiest thing of all: time travel). For example, Astronomy Club's Katt Williams (played by James III) teaching the works of Shakespeare like a pimp and A Black Lady Sketch Show's Cardi B/Nicki Minaj stan take on Romeo & Juliet are conceptual mirrors of each other, two completely different approaches to black nerdery.
The same (only with the black nerd classification) goes for Astronomy Club's Hotep character played by Shawtane, which pairs nicely with Robin Thede's "Hertep" character in A Black Lady Sketch Show—two sides of the same coin, only in this case, the same empty-headed but boisterous coin.
*And, of course, that relatability is not just based on race, as the most relatable sketch in the series comes from the final episode of the season and tackles the fear of someone seeing something you don't want them to while using your laptop or scrolling through your phone's photos. It's then bookended by the series' lone sketch callback, in the most glorious fashion.
However, where A Black Lady Sketch Show is primarily focused on coming from the perspective of women, Astronomy Club is broader in its scope. That's not to say it doesn't ever come from the feminine perspective: One of the best sketches of the series is episode four's "What You Shoulda," a game show sketch that would easily kill on Saturday Night Live, where the winner is the man who doesn't buzz in to explain to a woman how she should've done something. Astronomy Club also has a sketch centered on "Big Clit Energy," a phrase I can't believe I just typed. But there are also sketches about the seemingly never-ending corporate issue where they don't listen to the one person of color on the team (to dire results), the optics of Robin Hood, having to keep up with the latest dances, and ASMR. There's also a very specific throwback jam concert sketch that, possibly even more than R. Kelly, seems to have spawned from the very existence of Bell Biv Devoe's song "Backstage Underage."
Compared to its streaming service-mate I Think You Should Leave with Tim Robinson, Astronomy Club is certainly a more accessible comedy series; unless blackness is inherently inaccessible to you, that is. The sketches are also far less off-kilter, more traditional comedy than anti-comedy. The biggest exception to that, of course, is most likely the aforementioned ASMR sketch, which also speaks to one of the biggest issues with Astronomy Club: It can be a very hit or miss series, much more than A Black Lady Sketch Show or Sherman's Showcase. With I Think You Should Leave with Tim Robinson, the reception has pretty much been that people either love it or hate it, which doesn't exactly have a middle ground. All six episodes are worth the watch—and are only 18 to 23 minutes—though. The part of the series that always hits, however, is actually its meta reality-show-within-a-sketch-show framing device, set at the "Astronomy Clubhouse" in the Hollywood Hills. This framing device not only provides the plots that serves as each episode's titles, it's the home for character development for the cast—which is necessary with eight unfamiliar stars and to get a beat on their comedic sensibilities, outside of just the sketches—and the biggest source of laughs that are actually able to build past just a sketch. The dynamics between all of these characters—like Jonathan's belief that he's "team leader" or the fact that everyone hates James III or Monique's need to turn everything into a competition and spectacle or what Ice Cube character they most relate to—provide the most consistent laughs of the show.
Interestingly enough, as much as the cinematic approach to pre-tape sketches has become the standard, Astronomy Club kind of steps away from that, taking a more unexpectedly—especially compared to even their Comedy Central sketches—lo-fi approach to sketches. It both works for Astronomy Club and their unknown quality and somewhat hinders the show, as for as funny as it is, there is a sense of uniformity between sketches. (The Astronomy Clubhouse at least has the reality show set-up to give it something different.) Even a sketch like the Twilight Zone "Nightmare at 20,000 Feet" riff, visually, doesn't look much different from other sketches. That sketch is bolstered by a great performance by James III, though, which goes back to the series' strength: At no point in Astronomy Club does it feel like this cast isn't giving every sketch and bit its all. There is commitment at all points. (Which is also why I, personally, did not care for the ASMR sketch—they really commit.)
Three members of Astronomy Club—Jerah, Jonathan, and James III—have a great podcast called "Black Men Can't Jump [In Hollywood]," where they review films with leading black actors and they discuss them within the context of Hollywood's ever-persistent race problem. At the end, when they rate movies, it's on a scale of how well the particular movie helped the cause for more leading black actors as a whole—a raised black fist is the best, then a white palm is mid-range, then nothing at all is the worst. Astronomy Club is a delightful sketch comedy show for a number of reasons, but I'm sure its stars would be happy to know that, if this were an episode of "Black Men Can't Jump…," the series would get a raised black fist.
---
Despite her mother's wishes, LaToya Ferguson is a writer living in Los Angeles. If you want to talk The WB's image campaigns circa 1999-2003, LaToya's your girl. Her writing has been featured in
The A.V. Club
,
IndieWire
, and
Entertainment Weekly
, among other publications. You can find her tweets about TV shows, movies, and music you completely forgot about @lafergs;.