Conan Is Blown Away by Kumail Nanjiani's Shadow of War Skills in New Clueless Gamer
Image via TBS/YouTube
Comedy
Video
Clueless Gamer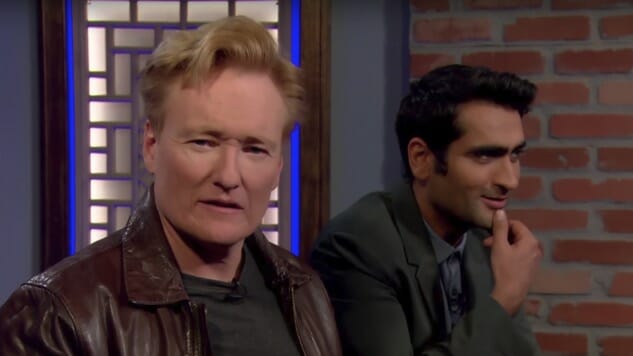 Conan O'Brien's videogaming ineptitude (and hilarious anti-nerd cantankerousness) is the crux of Clueless Gamer, and that's on full display in the segment's latest incarnation, in which the late-night host and Silicon Valley/The Big Sick star Kumail Nanjiani take on forthcoming Lord of The Rings adventure game Middle-earth: Shadow of War.
After some particularly withering mockery of Conan's videogame guru Aaron, Conan and Kumail get into the game, criticizing Middle-earth's acute lack of railings and generally insane decor before striking up a rivalry with an orc named Krûk the Drunk (who murders the ever-loving shit out of Conan). Things take a turn once Kumail takes over: "This is like watching Mozart play the piano," Conan raves, a rare moment of seemingly genuine admiration for a talented videogame player. "It's so clear to me that you've never been outside," he quips, promptly undercutting any semblance of respect.
After that, Kumail opens up to Conan a little bit, introducing the Shadow of War character he lent his voice to, Dugz the Agonizer, and worrying that players will loathe his character's attempts at comic relief. To make matters worse, Kumail's orc avatar sounds exactly like him: Hearing him speak, one wonders if Kumail actually voiced the character at all, or if this is all an elaborate prank being pulled on Conan. "Did you do that over the phone?" Conan asks incredulously. The duo bring in Shadow of War creative director Mike de Plater to interrogate this ridiculous creative choice. The segment ends, appropriately, with Kumail cleaving his on-screen avatar in two. "Kumail, you're an amazing gamer," Conan concludes, a phrase we've never heard him use and likely never will again.
Watch the segment in full above, revisit previous Clueless Gamer segments here and find out more about Middle-earth: Shadow of War here.