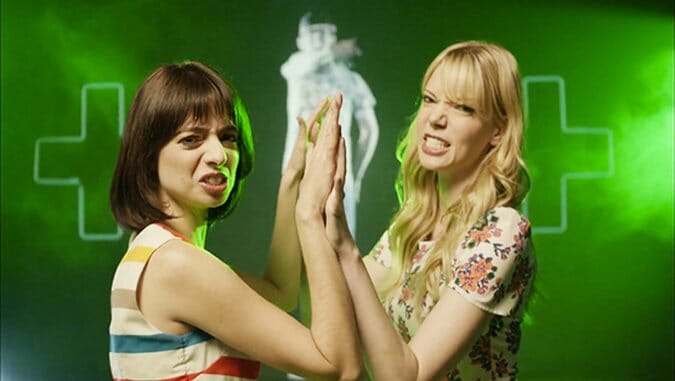 It's the band's fifth anniversary on this week's Garfunkel & Oates, and Kate and Riki aim to celebrate by scoring prescriptions for medical marijuana. Obtaining their weed cards proves to be a largely simple feat (for the most part, at least), but the band has other challenges to face: namely, a bitter ex-band member turned Hollywood A-lister and her catty assistant.
The episode opens with a montage of Garfunkel and Oates hits, a mash up of the band's viral YouTube videos and concert tapings. Kate and Riki are caught mid-song with each clip—donning an impressive variation of hairstyles throughout montage—until the memories subside and the episode truly begins. In a nondescript diner, our protagonists discuss plans for their band-ivesary over white wine. That's when their former bandmate Cornish née "Jazzy Jeff" (Ari Graynor) walks in, in a cloud of paparazzi. As for Cornish's tenure with Garfunkel and Oates, we're given a few reasons for her dismissal: she was too vulgar, she is not musically inclined, three's a crowd. But anyway you cut it, she's—still—pissed.
A vapid and vengeful blonde, Cornish is a character commonly regurgitated in film and television. By the episode's end, her jokes begin to wear, and when she inadvertently makes Kate and Riki money by purchasing every ticket to their show (to prevent fans from doing so), it's more frustrating that funny. Cliché as she may be, however, Graynor works with one-dimensional writing to pull off a surprisingly funny antagonist. Even when sharing a scene with Weird Al Yankovic, inarguably the most recognizable guest star of the week, Cornish remains the more interesting character.
During a break from their feud with Cornish, Kate and Riki attempt to nab their California medical marijuana cards. At the doctor's office, Moshe Kasher plays the goofy "unregistered" Nurse Dirst in mismatched scrubs, and steals the show with material that feels either perfectly timed or cleverly improvised. Gavankar, acting as the "sexy weed doctor with mahogany hair," is a delight, as well. The office scene is the highlight of the episode, with Kasher and Gavankar's characters deserving their own series, stat.
"Weed Card," the song of the week, offers a sing-a-long description of obtaining a medical marijuana license in California. Featuring hilarious E.T. imagery (with Kate dressed as the bundled up version of the title character), frequent ukelele strums, and Riki and Kate's signature sweet vocals, it's one of the more well-integrated songs in the series thus far. The song implies that getting a marijuana prescription is incredibly easy, which proves to be true for Riki. Kate, on the other hand, finds no health problems and is hesitantly denied a prescription (in fact, the doctor didn't even have a "denied" stamp). All is well later, however, when Cornish angrily throws a melodica at Kate's face, arming her with the necessary malady to make her weed card holding dreams a reality.
All in all, "Third Member" is a solid Garfunkel & Oates offering, with its greatest moments being attributed to guest stars and a memorable song. However, it's one of clunkier recent episodes, with its minor plot holes (just when was Cornish in the band again?), and an undeniably awkward cameo from the legendary Weird Al Yankovic that feels incorporated into the episode just because. That said, it has its fair share of laugh-inducing moments, and it should: the episode was co-penned by Jason Sudeikis. Undoubtedly, it's still a great way to spend a half hour, but noticeably absent is the fresh perspective that the channeled in past episodes.