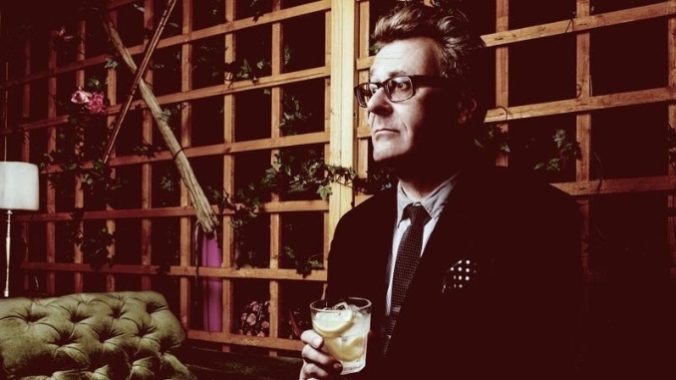 Time seems to have both compressed and elongated since the pandemic began, like an earthworm constantly changing length as it moves forward. I'll try to remember when an event happened, and soon realize that my estimate was an entire year off from reality. Luckily, though, there seems to be a new way to measure post-pandemic time: the release of new Greg Proops albums. 
For the last two New Years Eves, the actor, comedian, and frequent Whose Line Is It Anyway? guest has recorded comedy LPs at Punch Line San Francisco. The first, In the City, was taped as the final moments of 2021 ticked away, and you can certainly tell; there's a bitterness—hilariously delivered—that tinges the whole show. Proops pokes fun at Capitol rioters, anti-vaxxers, and conservatives of every variety in a way that feels as much like a cathartic exorcism of the frustrating past 12 months as it does a comedy album.
Proops' new LP, French Drug Deal (though mid-set he proposes the alternate title I Demand Fresh Water: An Ocean Storm Comes in Gradually), is comparatively whimsical. That's not to say he does away with his sarcasm and dry wit on the new album (French Drug Deal has that in spades, especially when Proops mentions the woes of bespectacled people in the rain) or that In the City lacks imagination (as always, Proops is a master of simile and evocative language). It's just that a year has passed Proops by, and the change is palpable in his subject matter. French Drug Deal involves an extended tangent about bats, an anecdote about The View, a bit about performing at then-Prince now-King Charles' birthday, and multiple stories starting off with travel destinations—the latter of which is certainly a sign of the times.
Most importantly, though, Proops is consistently funny during his newest hour-plus. His use of language is as delightful as ever. His poetic tendencies amplify any comedic hyperbole, but he also keeps from being pretentious by reveling in any knowledge gaps. Proops' voice itself it impressive, whether he's pretending to be Aussie or imitating the cadence of a pilot over a PA system. It's clear why he was a favorite for both the UK and the US versions of Who's Line Is It Anyway?. Proops lets out a distinctive snort at certain jokes, but he's earned the right to laugh at his own bits because he's that masterful at stand-up. 
The main bone to pick I have with Proops' new album is his rather retrograde political perspective. Proops is very much a Boomer liberal: he praises Kamala Harris and Nancy Pelosi in spite of their conservative tendencies and affects a Hawaiian accent before he proclaims himself against racism, homophobia, and discrimination of any kind. However he feels about the Democrats in power, though, I have to say that his Pelosi impression is impeccably funny.
While releasing an album every year can seem exhausting and risky, Proops has proven that you can keep things fresh even with a relatively short gap between projects. Silly, meandering, and undeniably Proops-ian, French Drug Deal is an entertaining look at modern times. Hopefully we'll have more missives from him, recorded just before "Auld Lang Syne" rings out.
Greg Proops' album French Drug Deal is out now via ASpecialThing Records here.
---
Clare Martin is a cemetery enthusiast and Paste's assistant comedy editor. Go harass her on Twitter @theclaremartin.