Dave Chappelle and D.L. Hughley Discuss Being Black in America in New Def Comedy Jam 25 Clip
Photo by Amy Rivera/Netflix
Comedy
Video
Netflix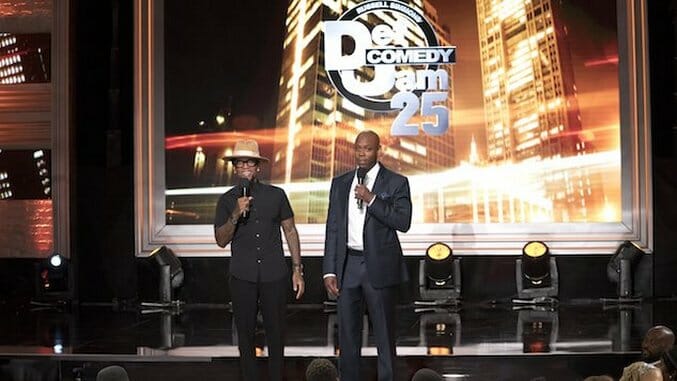 Streaming on Netflix right now is comedy special Def Comedy Jam 25, a celebration of the 25th anniversary of Russell Simmons's show that launched the careers of several black American comedians. Two such comedians, D.L. Hughley and Dave Chappelle, share the stage in this clip released to promote the special.
Going off from a bit with Hughley, Chappelle (who has a few Netflix specials under his belt already) asks the audience: "If we told them what being black in America is, would they believe us?" (The answer is "fuck no.") Chappelle goes on to mock the white supremacists seen in Charlottesville, Va., with their "tiki torches … khaki pants and a fucked-up haircut."
With race relations in the country in a dire state under the watch of a certain NFL-hating POTUS, it might be nice to see these celebrated comedians take it all on with their trademark humor and unsparing language. As mentioned up top, Def Comedy Jam 25 is streaming on Netflix starting today.