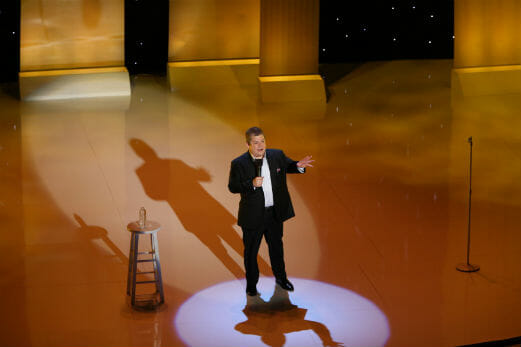 Patton Oswalt's latest comedy special arrives as his last two did—two years after the previous, a clockwork-like return for the comedian to a big stage after honing his material at smaller theaters and clubs.
The difference with Tragedy Plus Comedy Equals Time, however, is what has happened to Oswalt's career since 2011's Finest Hour. In the past few years, Oswalt has become an in-demand character actor, grabbing roles in films like The Secret Life of Walter Mitty and Nature Calls alongside recurring roles on TV's The Newsroom and Justified. Add to it his very laudable efforts to be a steady presence in his daughter's life, and his other creative work as a standup was bound to suffer as a result.
Don't get me wrong; Oswalt lands plenty of blows in this hour-long set. It's just that the majority of his material doesn't have as much of an impact as it could have. His early riff on how much he hates Florida felt like an excuse only to weave in the small anecdote he had about watching a truckload of gay men harass a pair of straight dudes. Otherwise, it came off as unnecessarily venomous, even if calling the state America's "descending in the humid heat nutsack" did provide a good belly laugh.
Another extended bit about the humorlessness of the Germans and how their need to bat away humor so as to avoid any discussion of the Holocaust was also a non-starter. Sadly, that was Oswalt's big closing bit, leaving the hour to fizzle out.
The comedian served himself better in the middle part of the special. He hit his stride as he imagined offing himself in front of a display of Lean Cuisine meals while Toto's "Africa" played over the system and his incredible experience performing for 400 drunk casino patrons that apparently involved him responding positively as people yelled listings from his iMDB profile to him.
It's unfortunate that the rest of the special was just a slow smolder rather than the sustained burn of his previous efforts. The disappointment this special left me with is bittersweet as I know that even Oswalt's weakest material runs circles around the palaver of the hundreds of hacks on TV and in clubs on any given night.