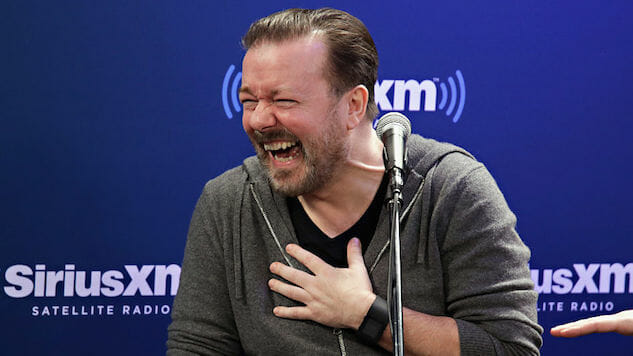 Wednesday, SiriusXM announced that Ricky Gervais will be putting on an exclusive performance for its subscribers. The show, titled Ricky Gervais and Friends: A Work in Progress, is slated for Nov. 8 at The Kaye Playhouse at Hunter College in New York City.
Admittance is available only to subscribers who are signed up for marketing emails from Sirius, who then must win a raffle. For more information about how to win, check out the sign-up page here.
"Imagine sitting around playing records and talking absolute bollocks with your mates being considered work," Gervais says in a statement. "Thank you SiriusXM. My 'Humanity' tour made me fall back in love with stand-up. I sold out the finest arenas around the world, so I can't wait to play a college bar to a bunch of scroungers who got in for free."
Gervais has also been confirmed for a second season of his Sirius radio show, Ricky Gervais is Deadly Sirius, in which he interviews various guests, including musician Noel Gallagher and scientist Richard Dawkins. This time around, he's got Jerry Seinfeld and various other comedians and pals lined up.
Ricky Gervais is Deadly Sirius airs Tuesdays at 11 a.m. ET on channel 94.