Full Frontal with Samantha Bee Announces Second Annual "Not the White House Correspondents' Dinner"
Image via TBS/YouTube
Comedy
News
Samantha Bee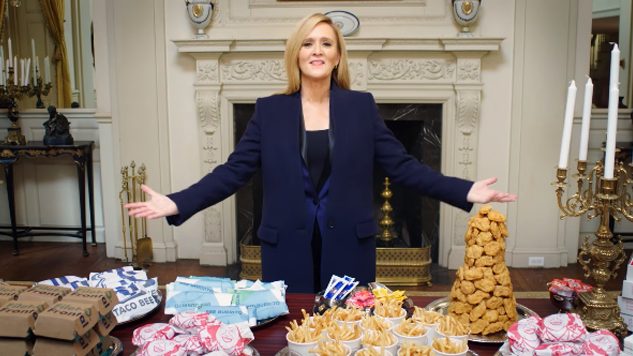 The White House Correspondents' Dinner comes with a great deal of baggage, as recently noted by Paste's Jacob Weindling, and this year they're even forgoing the traditional comedian host. Instead, attendees at the official event (presumably including Trump for the first time during his presidency, as he doesn't need to fear the roast) will take in the musings of presidential biographer Ron Chernow. Riveting.
In response, Full Frontal with Samantha Bee is holding the "Not the White House Correspondents' Dinner" for the second time, after their debut event in 2017. Bee promises "a night of glitz, glamour and gout" in an announcement video mocking Trump's infamous fast-food feast. Besides boasting celebrity guests, journalists and various members of the media, this rival dinner will send all proceeds to the Committee to Protect Journalists.
"I vowed never to host a NWHCD ever again," Bee said in a statement. "But the White House Correspondents' Association has left me no choice—it is now up to comedy journalists to take care of real journalists. Even if those journalists insist on wearing corduroy."
"Not the White House Correspondents' Dinner" will be taped on April 26 at DAR Constitution Hall in Washington, D.C. and air on TBS at the same time as the official White House Correspondents' Dinner—Saturday, April 27, at 10 p.m.
Watch Bee's announcement below.