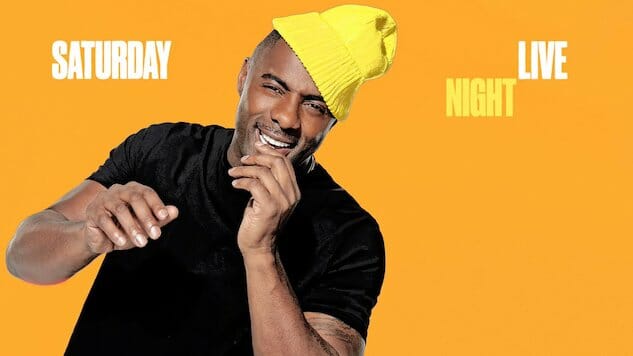 The idea of Idris Elba hosting Saturday Night Live almost feels like something born out of a circle of friends fantasy booking the show. While Elba's proven his comedy chops as Charles Miner on The Office, outside of Dunder Mifflin you'd be hardpressed to find laughs in his career. Still, we had high hopes for Elba's SNL debut, especially coming on the heels of last week's perfect John Mulaney episode.
This week's cold open thankfully takes a break from cosplaying the destruction of the American government to shine the show's spotlight on R. Kelly's CBS's primetime interview with Gayle King. Kenan Thompson's Robert Kelly is inspired, fully embracing the space cadet arrogance of R&B's Pied Piper by breaking into "Trapped in the Closet" interludes and constantly asking when the real interview will start. Leslie Jones anchors the segment, playing King with the same exasperated pose that made the original interview so compelling. It was a perfectly silly, and brutal, way to open the show.
Elba's opening monologue is, in many ways, reflective of the show that follows it. He's obviously a long time fan of SNL. Rather than joke about his roles or build an absurdist skit, Elba uses the monologue to tie his hosting gig to his journey from New York bouncer to international superstar. Elba is effortlessly funny, relying more on his charm to sell jokes about terrible jobs (weed dealer, DJ) than any hard writing. But his enthusiasm and journey are infectious. You get the idea that he's excited to be here and it makes you excited to watch.
That enthusiasm is what holds together an otherwise fine episode of Saturday Night Live. Our host may be one of the best actors in Hollywood at the moment, but acting and live sketch are different things. For example, on a film set, you have time to get your accents down and reshoot things when you misstep. Watching the Britsh Elba shuffle through the myriad of characters SNL threw his way was half the charm. Even when he flubs a line or butchers an accent, the pure amount of fun Elba is having compels you to keep watching.
When the sketches hit, its easy to remember why SNL has remained an institution for decades, Thompson, Elba, and Chris Redd's "Gold Diggers of the WNBA" sketch could have easily become a gross series of cheap shots about women's sports. Instead, the trio of tacky Men's Wearhouse gigolos looking to cash in on a five-figure endorsement deal plays like a satire of hanger-on culture and sports inequality alike. In four minutes Saturday Night Live does more to talk about just how little these women are paid than a year of ESPN. Elba trying to trap a WNBA star by shouting "You're pregnant, and it's mine!" was merely a cherry on top of an already great bit.
Kate McKinnon's digital short about a chicken chain trying to distance it's mascot Bok Bok from the suicidal Momo meme served up a delightful slice of horror comedy. Corporate mascots are terrifying on their own, but the razor-clawed Bok Bok works as a ghoulish fast food Freddy Kruger. In a night of relatively safe bets, this absurdist nightmare was a welcome change of pace.
The star sketch of the night was easily McKinnon and Aidy Bryant's simple "PowerPoint," where a pair of receptionists attend an office computer skills class. Perhaps this resonated with me due to years of working in office environments where PowerPoint was demanded and equally feared. But watching McKinnon and Bryant try and one-up each other with self-flagellation over their adorable PowerPoint errors brought back vivid memories of training gone wrong.
We wouldn't be surprised to see the evening's most brutal moment "Supportive Friend" end up a fan favorite. The last sketch of the night is notoriously a toss-up, a dumping ground for things too weird for the first hour. Instead, this highly relatable bit about an actor who's unable to convincingly act like he's happy for a friend who booked a part was 80% of a razor-sharp sketch. We wish it had an actual ending instead of abruptly stopping on a joke about doing karate.
Weekend Update hit hard this week, with solid bits about Paul Manafort, the opioid crisis, and Batman turning 80. But the star was Pete Davidson's segment on R. Kelly and how the quality of someone's music can outshine their crimes. We like to pretend everyone writes off their problematic heroes, but Spotify plays don't lie. Davidson's comment, "How can you listen to their music? I don't know, headphones?" is brutal, hysterical, and real. Also, props to Davidson for reminding viewers Mark Wahlberg has been able to walk through his career with everyone ignoring the racist assault from his teens.
The only real hard bomb of the night was "The Great Rudolpho," starring Elba as a magician with a fill-in assistant played by Leslie Jones. What bummed me out about this bit is just how lazy it is, basing all the jokes around the premise "Leslie Jones is a bigger lady than your other assistant." It's infuriating when you find out the sketch is actually about a casino manager trying to get the magician to kill his wife. Why not lean harder into that angle? Rather than embracing the darkness of the bit, they cop out with lazy jokes about Jones not fitting in magic tricks.
Saturday Night Live is in the unenviable position of having a week to make a ninety-minute comedy show, usually with a host they don't know. For me, that's the biggest draw of watching SNL each week. "Can they do it again?" This week's episode illustrates how even the show's mediocre moments can hold your attention. Idris Elba is an undeniable star who is out of his element, leaving the cast to roll with his flubs and flourish with his successes. Watching episodes like this makes you appreciate just how hard creating this show must be.
It's easy to expect a show with a legacy like Saturday Night Live to live up to its reputation every week. But that's impossible. Sometimes, even with a guest as magnetic and charming as Idris Elba, you end up with a show that's merely fine. Once or twice a season Saturday Night Live is a fine dining experience. This week, it's an extra value meal from Bok Bok's, serving up what you expect with a few demonic surprises waiting in the back.
---
John-Michael Bond is
Paste
's assistant comedy editor. He's on Twitter @BondJohnBond.