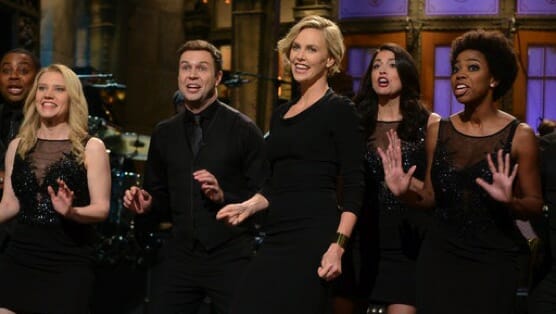 A fairly typical episode of Saturday Night Live will save its weirdest bits for the last fifteen minutes, usually with the help of a Kyle Mooney short or some strange new characters. Yet sometimes an episode will spread out the weirdness, sharing the wealth throughout its hour and a half, with some strong successes. With "Charlize Theron/The Black Keys," Theron and the cast let their freak flags fly with predominantly strong bits and a great showcase of the phenomenal female cast the show has accrued.
The beginning of the night didn't really inspire confidence though, as the usually disappointing political sketch also introduced two equally uninteresting impressions. Vanessa Bayer and Sasheer Zamata play Hilary Clinton and Michelle Obama, respectively, who for some reason have a rivalry going. This portrayal of Hilary makes her far too excitable—a far cry from Amy Poehler's impression—and makes me curious as to what Kate McKinnon could've done with this character, while Zamata seems to be playing Michelle Obama more like Barack.
The opening monologue didn't help much either, considering that once again, we got a song. However the twist here is that Charlize Theron is such a bad singer, even though she can do pretty much everything else. It's hard to get any excitement over another musical monologue, even with the added twist of a host who can't hold a tune. Also, it's slightly strange that Theron is promoting A Million Ways to Die in the West, yet former host Seth MacFarlane doesn't join her for her non-song song.
Filling in the game show requirement this week for Mother's Day was McKinnon hosting "Come Do A Game Show With Your Mom, It'll Be Fun, Yes It Will!" This season has made these prerequisite game shows much more interesting than past years and McKinnon's mom is perfectly accurate, with questions like "What's The Worst Thing That Happened To Me All Year?" (answer: when we went to the movies and popcorn was $11) and "Who's That Gal I Like?" (answer: Edie Falco, from Doctor Jackie). Also great—Bobby Moynihan's quick appearance and disappearance as the father in the Quick Dad Round, asking everyone how they're doing, then immediately leaving.
I'm pretty much done with the Girlfriends Talk Show. Aidy Bryant is always great here and Cecily Strong mentioning her crazy boyfriend is always a highlight for me, but it just doesn't have the spark it once has. At this point the Girlfriends Talk Show relies on whoever this week's guest is and at least Theron as Kira and Morgan's drama teacher for two days is very funny, giving Theron her first big laughs of the night. But yeah, Girlfriends Talk Show needs to take a break for a while.
From here, things got delightfully weird. I'm always excited when Mike O'Brien gets the focus of a sketch, and the recording of a cartoon called "Dragon Babies" was hilarious. O'Brien plays Rick Shoulders, a retired police officer, who now does voice work, this time as a dragon named Bibbo. His constant coughing and his problem of firing his gun during recordings is so strange and fun, it makes me wish we had seen more of O'Brien this year.
Nasim Pedrad has also had a fantastic season, introducing some of her best characters like Shallon this year, and this week we get the return of Heshy Therahat. Heshy is a motivational speaker with little to be motivated about, and way too much dependence on her son's computerized sound effects. Theron shows up as her equally awkward friend Gale, and their synchronized movements to the effects is incredible. It's pretty shocking how well-timed this skit is.
The Black Keys' two performances ("Fever" followed by "Bullet in the Brain,") were both fine. But it seems like the more popular The Black Keys get, the less interesting they become. With their third appearance on the show, they're just not that exciting, and, unfortunately, they're brought down by some pretty awful backing vocals.
Weekend Update had the surprise of the real Barbara Walters finally appearing on SNL. If I'm not mistaken, she's never been a fan of how the show has portrayed her since the beginning, which we see from a montage spanning Gilda Radner to Pedrad. She claims the impressions reduce her to a cartoon character. There is a fun banter between Walters and Strong, where they both insult each other, each pointing out that neither is a real anchor. Walters also gives her some good advice for making it as a TV journalist.
We also get the return of Drunk Uncle, which somehow remains one of the funniest characters on SNL, even if the bit is nothing more than a Mad Lib script with different references each time. Moynihan makes this consistently funny though, with his drunk racism ("More like Jew Kids on the Block"), his disappointment in not knowing how to train dragons, and his singing "I Believe I Can Fly." I'm also glad Drunk Uncle wasn't followed by a guest joining him for the first time in awhile. All you really need is Drunk Uncle.
In the ongoing struggle for Strong and Colin Jost to find their groove, it has to be said that they are getting there. The introduction of "Breaking Nudes" was a simple, yet great bit between the two and felt like something old school SNL would do. By next season, I imagine they'll be much stronger together.
The highlight of the night and the height of weirdness goes to Bikini Beach Party, which makes fun of classic summer beach films, but introduces a bloated, dead whale on the beach. There are all sorts of great pokes at these types of films— the only guy interested in the 13 year-olds is 22, and they point out that beach music is really sort of nothing. The explosion of the dead whale on Taran Killam and Theron is expected, yet still perfectly enjoyable when it happens. It's one of the weirdest ideas SNL has had all year and it might also be one of their best skits lately too.
Following up that strangeness is McKinnon and Theron in a cat adoption shop called "Whiskers R We." All the cats are almost as weird as McKinnon and Theron, with one eating only bald eagles, and another cat known as Damien—a feline sociopath. McKinnon and Theron make a perfect combo and Theron is awkward in all the right ways, pointing to just how amazing she can be at comedy.
The final skit of the night is a prerecorded bit that gets much of the cast in on the joke, which rarely happens. In what appears to be a documentary on tourists, many cast members pretend to be foreigners coming to New York for the first time and doing some funny bits with real people. For example, Beck Bennett believes he is in Chicago, McKinnon asks strangers where she can find sex parties, and Mooney asks people how to pronounce certain words that he can actually pronounce perfectly. It's a strange way to end quite a strange episode.
By expanding the weirdness of SNL beyond the final skits of the night, there's a welcome attempt at trying new, odd ideas, most of which work quite well. With one more episode of the season (hosted by Andy Samberg no less) it'll be great to see SNL continue this string of strange ideas as we end this season.
Ross Bonaime is a D.C.-based freelance writer and regular contributor to Paste. You can follow him on Twitter.