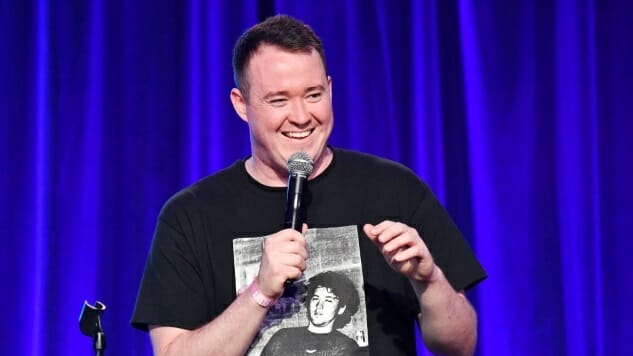 Last Thursday NBC announced that Saturday Night Live was hiring three new cast members. One of them, stand-up comedian Shane Gillis, was almost immediately revealed to be the type of comic who thinks it's still funny, edgy or clever to do blatantly racist and homophobic material. That came out late on Thursday, and although NBC and SNL took a little bit of time to respond, their reaction is pretty much what most people expected it to be: Shane Gillis isn't going to be on SNL. He was fired via a statement from the network today.
As reported by Dave Itzkoff at The New York Times, and initially broken in a tweet, NBC and SNL decided to cut Gillis loose, calling his language "offensive, hurtful and unacceptable." Here's the statement in full:
A spokesperson for Saturday Night Live says that Shane Gillis will not be joining its cast this fall. pic.twitter.com/qh0B4cbdQO

— Dave Itzkoff (@ditzkoff) September 16, 2019
If you're wondering what those "offensive, hurtful and unacceptable" statements were, well, here's a quick recap. Gillis, who is 31, casually used a racial slur against Asians in a podcast where he and his fellow host insulted Chinese food and culture. Megh Wright of Vulture reported that, in another podcast episode, Gillis and his cohost called Judd Apatow and Chris Getherd "white f*ggot comics" who were "fucking gayer than ISIS." (One of SNL's other new hires last week was Bowen Yang, a comic and SNL writer who's both Asian and gay, which might've made for some uncomfortable moments on those absurd Tuesday night writing binges that SNL is infamous for.) Unsurprisingly, Gillis also doesn't think much about woman comics, at least according to one of his podcast episodes.
Perhaps Gillis meant for these to be jokes. It's impossible to see where the humor is, though, and nothing about those podcasts or his delivery indicate how, exactly, they're supposed to be considered funny. It's like the act of being shocking itself is apparently supposed to be funny to Gillis, even though there's nothing shocking about a white, "tough guy" comic from the northeast saying stupid and bigoted stuff as if he's being brave or "honest." That's literally the most tired and exhausted act in stand-up comedy.
On Friday night Gillis went one step further than the classic non-apology, not just promising to apologize to anybody who he offended, but tossing in the qualifier "actually" before the word "offended," basically accusing many of his critics of "fake outrage." He also tried to defend himself as "a comedian who pushes boundaries," even though being racist, sexist and homophobic are long-running, time-honored traditions in comedy (and, um, society itself) that have only really become controversial this century and remain very common within certain segments of the comedy world. Here's what Gillis wrote on Friday:
— Shane Gillis (@Shanemgillis) September 13, 2019
Apparently Lorne Michaels and his SNL underlings did no vetting of Gillis whatsoever, hiring him based on an "impressive audition." This seems like something that TV shows and their producers can learn from, even ones as set in their ways as Michaels and SNL.
Now let's all get ready for Gillis to be held up as some kind of cause célèbre for the far right grievance industry, which will call NBC, SNL and Gillis's critics "snowflakes" and "SJWs" full of "fake outrage" while simultaneously whining about how Gillis is being censored because his own words and actions got him fired from a job that nobody is ever entitled to. It's gonna be great, and by "great" I mean "completely fuckin' terrible."
Saturday Night Live returns to NBC on Saturday, Sept. 28, with two new cast members: Bowen Yang and Chloe Fineman.