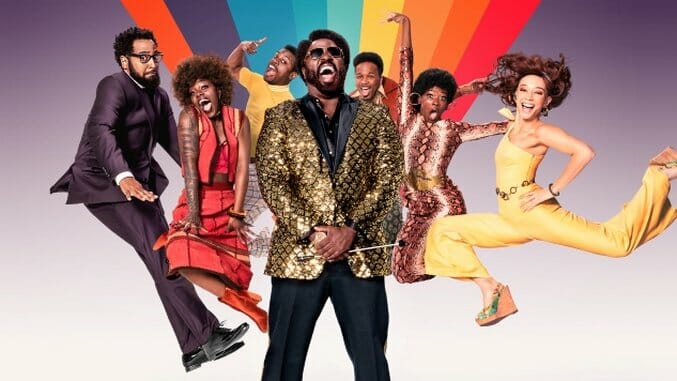 IFC's latest comedic offering, Sherman's Showcase, may seem familiar, but it's not because of the familiar source material. It's a send-up of both era-spanning music-dance variety television programs like Soul Train (the show-within-a-show even takes credit for that show's success) and Solid Gold, and of the kind of compilation infomercials that regularly pop up on TV in the middle of the night (the less talked about aspect of the series' structure, but no less of an integral part). Sherman's Showcase is a sketch show that's truly impressive in terms of its structure, in a way where calling it just "a sketch show" in the first place feels like an understatement for the series and its breadth and range of coverage. This isn't the first time IFC has had a show fall under that hard-to-describe umbrella: The five-season Comedy Bang Bang was just as difficult to explain. Both series clearly have their roots in sketch—and Sherman's Showcase co-creators and stars Bashir Salahuddin (who plays Sherman's Showcase host Sherman McDaniel) and Diallo Riddle (who plays producer Dutch Shepherd) have spoken extensively about their background in sketch and how this has been their dream since they were responsible for "Slow Jam the News" on Fallon—but both take the concept of long-form sketch and parody (more specifically, send-up) more seriously, framing the series and its sketches through that lens. For Comedy Bang Bang, it was the late-night talk show (meets Pee-Wee's Playhouse); in both its infomercial and music-dance show glory, Sherman's Showcase is like one of the Comedy Bang Bang sketches extended for its own spin-off, which is one of the highest compliments I can give a comedy show.
The actual highest compliment I can give a comedy show is by comparing it to Adult Swim's Childrens Hospital. Specifically, the parts of Childrens Hospital dedicated to going "behind the scenes" with the "real-life cast" and the general concept that these characters have been doing the show in one form or another for many, many decades, without aging even a little. Childrens Hospital was a show often described as not having any continuity, but the thing that made the series brilliant was that it had a lot of continuity… until it would randomly decide to throw it away… only to have it again on a whim… and then add new bits of continuity. Sherman's Showcase, on the other hand, is impressive in its attention to continuity, especially as it blends the real world (whether it be musicians, the style and fads of a particular era, history) and its fictional one (with its own era-inspired musicians, tweaks to the history of a certain culture). For example, one thing that's most impressive about Sherman's Showcase—despite it seeming inconsequential—is just the very concept of it placing the date of certain episodes and clips on the screen. That instantly provides the context for so much of the show and its time, especially as the longer the show-within-a-show goes on, the more Sherman longs for the good old days of the 1970s. As Sherman McDaniels even says himself during the infomercial: "American culture peaked in 1973. Anything after that is a goddamn lie."
Based on all the jams written specifically for this show, he might actually have a point.
During the recent summer TCA press tour, Salahuddin and Riddle credited Documentary Now (specifically "Final Transmission," the Stop Making Sense-inspired episode), for inspiring Sherman's Showcase. It's interesting, then, that Fred Armisen and Bill Hader's documentary parody isn't Showcase's most comparable series. The direction is similar—the '70s bits are especially impressive work from director Matt Piedmont, who directed IFC and Will Ferrell's similarly immersive The Spoils… series—and both shows fully commit to the theme and detail, of course. Sherman's Showcase exults in absurdity far more than Documentary Now, though, which has had a habit of playing things so straight, unexpected emotions come out (see: "Juan Likes Rice & Chicken"). Sherman's Showcase is certainly more low-key than expected—though it fits the vibe of the world it's taking on—but even it is aware of how ridiculous everything about it is. Sherman's Showcase is a dense show, the perfect kind of comedy to rewatch, whether it's for all the jokes and clues you missed before, the musical numbers (both for enjoyment and trying to figure out all the specific artist proxies/comparisons), or just for the performances (whether they're of real-life people or obvious amalgamations).
For a show about an infomercial for a fake show—and as has become the norm for this type of thing, there is an episode that's just an episode of the show-within-a-show—the series' attention to detail and its own internal logic is absolutely brilliant. Without spoiling the season, Sherman's Showcase rewards paying attention to details, no matter how strange they are or seemingly inconsequential they seem. Not even just aesthetically like the show-within-a-show's opening credits and stages, which of course change through the decades. A character's bizarre (but still only slight) change in look during the pilot has a purpose in the larger scheme of things. John Legend's dry aside about his stage name vs. his real name, as well as everything about his legitimate EGOT, is all part of his character's story. (Seriously, John Legend's entire role in Sherman's Showcase is quite unexpected; comparing this all to Comedy Bang Bang once more, he has the simmering chaotic straight man energy of Scott Aukerman, which is perhaps the most surprising realization to come out of this series.) The reason why Dutch is missing a year as producer (credited in the pilot as producer from "1972-1978, 1980-present") is honestly a blink-and-you-miss-it joke, but if you see it, it's hilarious color to the already insane context of the series. Sherman ignoring Dutch's directive not to give out personal details about the show's dancers, which then leads to the hilarious running bit of releasing every dancer's personal details per episode. Really, Sherman's position as the host with the least is its own reward, on multiple levels. The blending of real people (as characters and as themselves) and characters turns everything into a blur, creating a full world in just eight episodes of "select clips." And with the implication that everyone watching this is familiar with it as part of the real world, it only makes the more absurd aspects of it even funnier.
(One other thing to note about the series is that actors play double duty here, with that sometimes being part of the joke and other times being just a necessity for the series. Be on the lookout for Riddle and Andrew Bachelor as separate characters in various Sherman's Showcase musical numbers.)
Even just in its show-within-a-show form, Sherman's Showcase is a huge undertaking. Thinking about it in the context of short-form sketch, the most popular modern comparison would be Kenan Thompson's "What Up With That?" sketch on Saturday Night Live. It's an endlessly amusing sketch, despite only having one obvious gear, but it was certainly not created with the idea of it sustaining an entire sketch show in mind. None of Saturday Night Live's sketches have to shoulder that burden, even though the very rare times they try for anything similar to long-form sketches (the Zach Galifianakis Darrell's House sketches or Kevin Hart and Tim Robinson's Z-Shirt sketches or Will Forte's Closet Organizer/Bar sketches), there's a palpable energy boost from the creative flow. A long-form sketch show like Sherman's Showcase lives off of that boost. Sherman's Showcase also has familiar short-form sketch bits like game shows, discussion segments, and even viewer mail, but every bit in the series is in service to the long-form storytelling. Especially segments that don't seem like they even make sense in the context of this show, until a late reveal; after the series introduces the fact the Sherman produced several of his father's unfinished screenplays, the series continues to show clips (which are also the whole movie) from said movie, sometimes upfront with what's going on, sometimes waiting until the last minute to reveal the title.
Both Sherman's Showcase and HBO's upcoming A Black Lady Sketch Show bring up the idea—not necessarily intentionally—of a singular black experience. But both series approach sketch comedy a certain way, with Sherman's Showcase focused more on serving the larger world of the series, while A Black Lady Sketch Show maintains a contemporary, cinematic approach to the sketch show a la Portlandia or Key & Peele (in terms of both its recurring bits and episodic through lines), only through the lens of black women. Sherman's Showcase is also more about a specific type of black culture, as seen through the lens of a show like Soul Train both in its time and as it changed over the years. Black culture framed through the lens of what a person like the character Sherman McDaniel would see. And that lens allows for an extended Morris Day (and Jerome) runner as well as a riff on Prince's Under The Cherry Moon, instead of the more obvious Purple Rain, as well as a raging against the changing of "black music" over the years and an episode essentially dedicated to addressing what a shock it was when Mary J. Blige started singing about "hateration in this dancery" instead of heartbreak.
Within all eight episodes, Sherman's Showcase tackles every necessary beat for the format, from its origin story to the lives of the dancers to even its history with white people. (The latter of which not only features an unsurprisingly great guest-starring spot by Eliza Coupe but also the one instance of the series actually getting music rights for a song… for a bit that's absolutely worth it.) And it does so while bopping around from clip to clip from different eras of the show, all very specifically defined by the style of clothing and dancing to the music to even the products sponsoring each specific episode. Sherman's Showcase is a series very much concerned with time, with "the culture," with telling a joke about it all but also telling a compelling story. It's a weird show, but a lot of that comes from it simply stating the absurdity of the eras in which it covers, even the modern era. Even John Legend.
---
Despite her mother's wishes, LaToya Ferguson is a writer living in Los Angeles. If you want to talk The WB's image campaigns circa 1999-2003, LaToya's your girl. Her writing has been featured in
The A.V. Club
,
Indiewire
,
Entertainment Weekly
,
Complex
,
Consequence of Sound
,
and Flavorwire
, among other publications. You can find her tweets about TV shows, movies, and music you completely forgot about @lafergs;.