Why Did the Bananas Cross the Road? Scotty Landes and Kurt Braunohler Discuss the 2nd Annual Splitty in the City
Photo by Christine N. Ziemba
Comedy
Features
Splitty in the City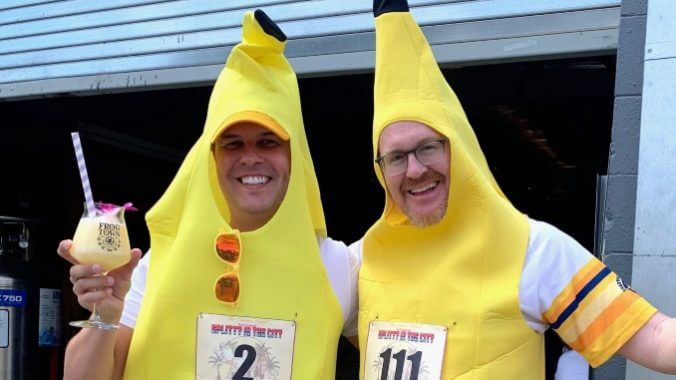 On a recent Saturday afternoon in Los Angeles, nearly 150 participants braved the heat to take part in a 1k race (that's not a typo) with many dressed in banana costumes or "banana-adjacent" attire. 
Calling the .621-mile event a race, however, is a misnomer. Though everyone had official bib numbers pinned to their shirts or costumes, the event organizers—comedians and hosts of the Bananas podcast Kurt Braunohler and Scotty Landes—clearly billed their 2nd Annual Splitty in the City as a "non-competitive, un-race for the untrained." In other words, running is optional. 
"What we try to do is create an environment and celebrate how silly and absurd the world is no matter how bad things get," Landes said in a post-un-race interview. "I think what people are responding to [are] events like Splitty in the City or our live shows where we are taking the absurdity that we celebrate on the podcast and put it out into the real world."
So after a few warm-up beverages at the Frogtown Brewery starting line, Braunohler and Landes—both decked out as bananas—led the crowd out of the brewery and onto the less-than-picturesque route of Riverside Drive, which runs alongside the 5 Freeway. Of course, no one jogged the course; instead, they walked and bopped along to Baha Men's earworm "Who Let the Dogs Out," which played over and over…and over again, blasting out of bluetooth speakers Landes and Braunohler each carried.
Judging by the number of honks and looky-loos at the sea of yellow traveling en masse, the usually jaded Angelenos seemed amused and entertained for at least a half mile. There was a purpose to this parade as it headed to the Elysian Theater for a live episode taping of Bananas, a show in which the hosts riff on strange news from around the world. The ticketed taping also doubled as a fundraiser for the Los Angeles Regional Food Bank, raising nearly $3,500 in proceeds that translates into approximately 14,000 meals. 
Landes came up with the idea of Splitty in the City two years ago during "The Great Quar" (which is what he and Braunohler call the COVID-19 quarantine). "I've seen the social media posts where people do marathons, half marathons, ultra marathons, and I don't even like getting up early. And all those races, even 5ks and 10ks, are always at 8 a.m. in some park that's an hour away," Landes said.   
"We do it in the middle of the day so you can sleep in. You can have your coffee and then… downhill and as short as possible. But you still got the bib. There's a start. There's a finish. Basically, I thought it would be fun for everybody who aren't [part of] the early-morning 10k crowd," he explained.
Once inside the Elysian Theater, the Bananimals (fans of the podcast) and Murder Bananas (fans of My Favorite Murder and other true crime podcasts who also have Bananas in their queue), were primed for onstage mayhem. The hosts did not disappoint when they bounded onto the stage, ditching the banana outfits for more casual attire. Landes wore a t-shirt and shorts and Braunohler donned a wrestling singlet with a giant kitty face on the front. A giant yellow inflatable tube man, like the ones you see at car dealerships, danced behind them.  
For the next hour and change, the crowd listened to wacky news stories, including an item from the Surrey Now-Leader in British Columbia about a couple on a hunger strike to protest pickleball noise in their neighborhood. That story led Braunohler and special guest Lauren Cook, his writer-actor wife, down a rabbit hole of topics including nude pickleball and their visit to a sex club near LAX. 
Part of Bananas' hilarious off-the-wall commentary can be attributed to Landes and Braunohler not telling each other what stories they're bringing to the table. "We want to be as surprising as possible so you can have a real reaction live on the podcast," Braunohler said. 
Another element of their formula is that all their guests are women, trans and nonbinary comedians. "We've had a few men on that are part of comedy duos, but we started with our closest friends who are women comedians," Landes said. "We just decided to stick with it because nobody needs to hear three dudes talking about anything." 
Whether intentional or not, the Bananas hosts are nurturing a supportive community. It was evident at Splitty in the City when a solo Bananimal at the brewery was asked by a random group to sit and join their "bunch." "We've been absolutely amazed by the kind of people that listen to the podcast," Braunohler added. "That bunch of bananas had all met last year at Splitty in the City. They'd all come by themselves, met each other and made that bunch. They all showed up together again at this one, [adding] extra people in their bunch."
While most of the attendees came from around Los Angeles and Orange County to the south (which is commitment enough), others traveled from far and wide. One woman came from London, two couples came from Kansas City, Missouri, and others from Austin and Chicago. 
Superfan Kat Weber planned a weekend getaway from her home in Tucson, Arizona, specifically for the 1k event and the podcast taping. She convinced her non-Bananimal husband Tony to join her road trip by visiting a much cooler San Diego first. A good-natured sport, he wore a matching banana outfit. "We bought them for the occasion off Amazon," she said.
And by judging all the yellow at the brewery and in the theater on that sweltering Saturday, they definitely weren't the only ones.
---
Christine N. Ziemba is a Los Angeles-based freelance pop culture writer and regular contributor to Paste. You can follow her on Instagram and Threads at @christineziemba.