Most of us haven't licked a postage stamp in the last six months, much less mailed a handwritten letter. If you ask Allison and Daniel Nadeau, that's pretty tragic. The founders of Charleston, S.C.-based Ink Meets Paper letterpress studio have made it their mission to keep the art of letter-writing alive, creating hand-lettered cards on an antique printing press. Their mantra: "Text less, write more." That's something we can definitely get behind.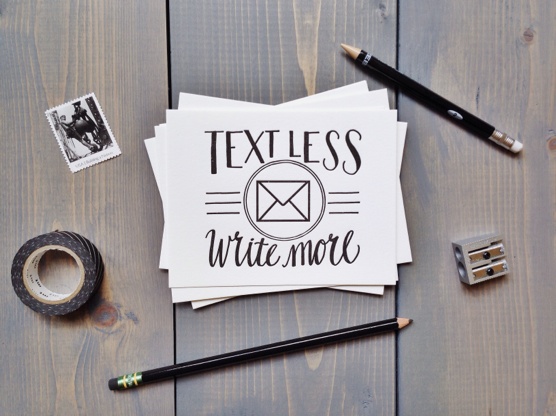 Tell us about how you guys started out. What inspired you to leave the 9-5 world behind and start a letterpress studio?
Allison Nadeau: In 2008, a neighborhood friend and I signed up for a printmaking class at a local art gallery/studio. We did monoprints, etchings, screen printing, and so forth, but I really connected with letterpress printing. It was refreshing to be so hands-on and part of the process. At first, Daniel and I focused solely on learning the craft of traditional printing, rather than immediately trying to turn it into a business. We were both working other full-time jobs (I was an editor, and Daniel was an interaction designer) at the time, so we were able to take things slowly.
As we became comfortable printing, we started to explore more of the industry — stationery/greeting cards, wedding invitations, custom printing for others. The idea of connecting people with handwritten correspondence really resonated with us, and we saw greeting cards as an accessible way of encouraging people to write more. We launched the Ink Meets Paper wholesale line in 2010, and by 2012, we were both full time with the company.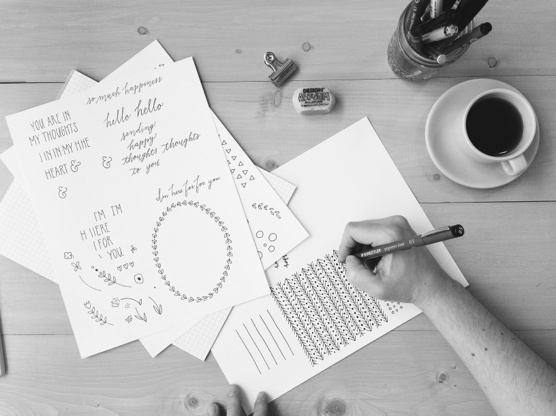 Tell us about your setup. Where do you work? What kind of equipment do you use?
Our studio is located in the Park Circle neighborhood of North Charleston, S.C. We've had a home studio since we acquired the press in 2008 and are currently in the process of moving to a much larger studio located just a mile away from our house. We print on an 8×12 Chandler & Price platen press — it's motorized, but each piece of paper is hand fed into the press. It's our first, and currently only, press. We primarily print greeting cards, a perfect fit for this press size. It's a great workhorse machine. We also use a 30-inch manual guillotine paper cutter, which allows us to cut down big (22×30 inch) sheets of paper into the sizes we need.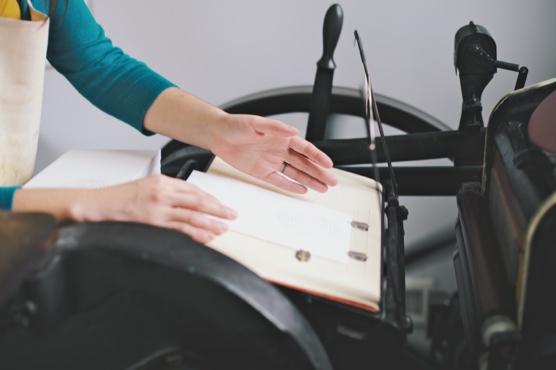 What's a typical day like in the studio?
Since we're also small business owners, we wear many hats and handle a variety of roles. It seems no two days are alike. From managing sales and wholesale accounts to designing and printing all of our cards to shipping and fulfilling orders to marketing and social media, we handle everything in house.
How would you describe your Ink Meets Paper's overall aesthetic? What sets you apart from similar studios?
I'd say our line is definitely copy-driven with an emphasis on hand-lettered, hand-drawn designs. Our relationship as husband and wife also inspires quite a few of our card sentiments such as, "I am so glad I found you." "It just keeps getting better." "With you is where I want to be."
Each of our cards is paired with the signature Ink Meets Paper recycled kraft envelope and features printed exterior seams and a printed liner with the message "handwritten happiness."
When we were designing the envelope, we really wanted to consider the three different interactions of buying, writing, and receiving that occur when sending a handwritten card. And, there's also a very subtle jab at email iconography. The printed liner contains a hidden message for the buyer (as they package the card in its envelope) and for the receiver as they open their card.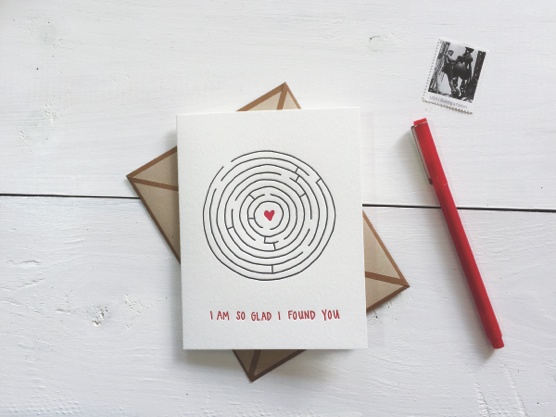 Tell us more about your hand lettering classes. How long does it take to get the techniques down? Any tips for beginners?
I've been teaching a beginner's level class for a little over a year now. It's been a pretty incredible experience, and I love seeing so many people connecting with pen and paper. In class, we cover how to hold the pen, basic practice strokes, and letterforms with an emphasis on having people find their own styles. At the end of class I encourage students to look back to their very first stroke, and it's always amazing to see how far they've come in just one class. That said, practice is key to improvement. I've had students keep practicing and then go on to address their own wedding invitations.
I think one key tip for beginners is to slow down. It's easy to feel like you have to rush to finish a word or line, but that's where mistakes and sloppiness occur.
What's your best argument for sending a letter rather than sending an email or text?
Handwriting is uniquely honest and simple. It's easy to get bogged down in thoughts like "my handwriting is ugly, I don't know what to say," but that doesn't change the fact that the way you write is completely unique — when you get a handwritten note from a friend or family member, you KNOW it's from them. Their writing becomes even more valuable when they have moved on from this life.
Not to mention, there are few things in life that can universally elicit a smile and a feeling of being loved. Receiving a handwritten note in the mail is one of them.