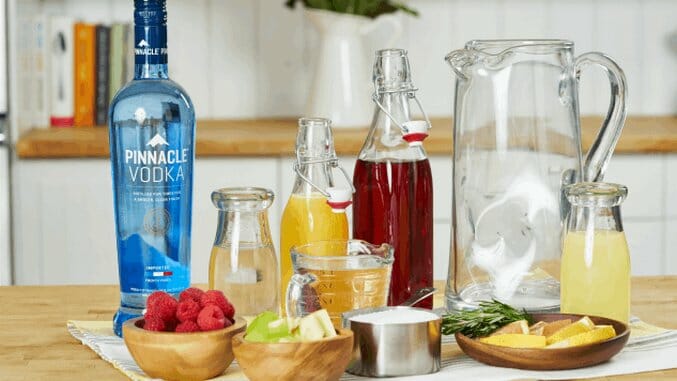 Hot temperatures this summer have led to me getting a ton of outdoor party invitations. Having people over, especially when it's warm out and you can keep the party outside, can be a ton of fun. If you're not used to doing the hosting, however, figuring out how to handle all the drinks can be a bit overwhelming.
Spike TV's Bar Rescue mixology expert, Mia Mastroianni, partnered with Pinnacle vodka this summer to help devise some tips for first-time party throwers when it comes to cocktails. If you're trying to figure out what to serve at your next shindig, check out her ideas below as well as a recipe for a Rosemary Citrus Sangria that's bound to be a crowd pleaser.
1. Plan Ahead -Making a little extra and dividing the batch into several containers allows the host to refresh the big-batch cocktail as needed, eliminating the need to make a new one each time
2. Punch Essentials – The best ingredients for a punch are a clean well-made spirit, (Pinnacle Original Vodka), fresh fruits and herbs. Ingredients like club soda, tonic water or champagne are a quick and easy way to add a bit of flair to the cocktail.
3. Don't Forget Ice! – Ice is a crucial detail – especially in the summer. Large blocks or rings of ice have more surface area and melt slower than regular cubes, keeping the punch cool without watering it down.
4. Presentation is Everything – Punch bowls should be appealing in appearance – consider freezing sliced citrus fruits, berries or herbs into ice molds for a unique and refreshing garnish.
5. Choosing a Beverage Dispenser – Pitchers are great for smaller gatherings, usually four to eight people. However, punch bowls are ideal for a larger crowd since they allow guests to serve themselves and don't require constant attention
Rosemary Citrus Sangria
Ingredients:
4 parts Pinnacle® Original Vodka
25 parts dry white wine
8 parts cranberry juice
2 parts Cointreau® Orange Liqueur
2 parts fresh orange juice
2 parts fresh Lemon juice
2 parts Rosemary Simple Syrup*
Fruits for garnish:
Diced apples
Orange slices
Halved grapes
Peaches/Nectarines
Strawberries
Blueberries
Preparation: Combine all ingredients and refrigerate in a tightly sealed container. Serve in wine glasses. Garnish with a fresh rosemary sprig.
Rosemary Simple Syrup
8 parts water
8 parts sugar
Preparation: In a saucepan, gently heat the sugar and water while stirring until all of the sugar is dissolved and the liquid is clear. Remove from heat and add several sprigs of fresh rosemary and allow to steep. Once cool, strain to remove all rosemary sprigs. Keep refrigerated.