The holiday season is upon us, so let's celebrate with a sampling of festive cocktails perfect for ugly sweater parties and family gatherings alike. We hit all the holiday highlights—candy canes, rum, eggnog, bourbon…Enjoy!
Candy Cane Cocktail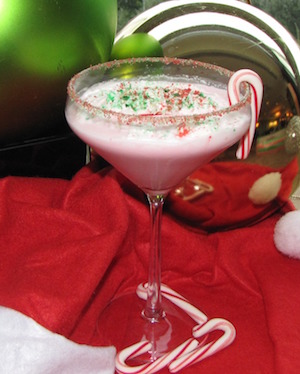 Ingredients
1.5 oz. Absolut Vanilla
1/2 oz. Godiva White Chocolate
1/2 oz. white crème de menthe
1/2 oz half & half
Whipped Cream
Directions: Combine ingredients in a cocktail shaker with ice. Shake vigorously until it foams. Pour into a cocktail glass rimmed with red and green colored sugar. Top with fresh whipped cream. Sprinkle colored sugar onto the whipped cream. Garnish with a candy cane.
---
Yule-Tide Mule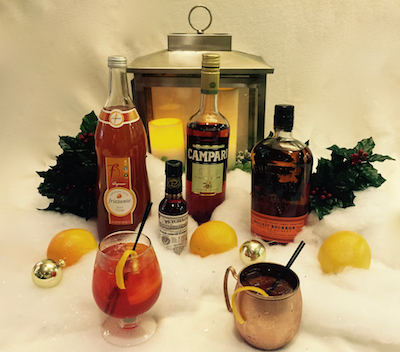 Ingredients
1.5 oz. Bulleit Bourbon
1/2 oz. Campari
Blood Orange soda
Orange Bitters
Orange Slice
Orange twist
Directions: Muddle one orange slice in a mixing glass. Add two to three dashes of bitters. Fill with ice. Add the bourbon and Campari, and shake. Pour into a snifter glass. Add fresh ice as needed to fill, and top off with blood orange soda. Garnish with a flamed orange twist.
---
Hob-noggin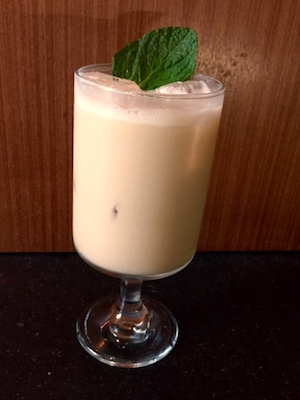 Ingredients
1.5 oz. cognac
1/2 oz. white creme de menthe
1/2 oz. white creme de cacao
1/2 oz. simple syrup
1 oz. heavy cream
1 whole egg
Directions: Add all ingredients into a cocktail shaker, and shake vigorously for 30-45 seconds. Strain into a cocktail glass. Garnish with a mint leaf.
---
Coconut RumNog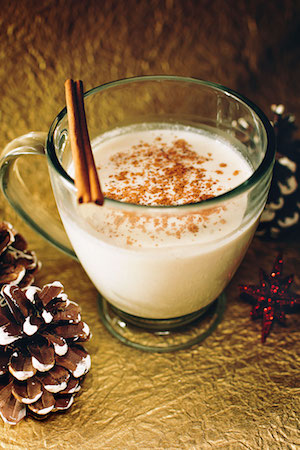 Ingredients
1 cup Diplomatico Reserva Exclusiva Rum
1 cup maple syrup
1 cup heavy cream
1.5 cup coconut milk
1 pinch sea salt
3 eggs, separated
1/2 tbsp. vanilla extract
2 tsp. grated nutmeg
2 cinnamon sticks
Nutmeg, cinnamon stick and shredded coconut for garnish
Directions: In a large bowl, mix together all ingredients, except egg whites, until evenly blended. Drop in cinnamon sticks, cover and chill eggnog mixture for up to two hours. Right before serving, using an electric mixer, beat egg whites until stiff peaks begin to form and gently fold into chilled eggnog mixture. Pour into a glass, and garnish with grated nutmeg, coconut shreds and cinnamon stick. Serves six.
---
Poinsettias & Pisticci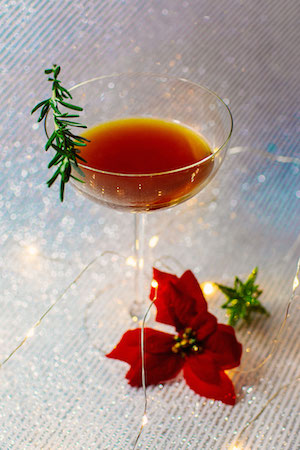 Ingredients
1.5 oz. Amaro Lucano
1 oz. lemon juice
1/2 oz. honey syrup*
Rosemary sprig for garnish
Directions: Add all ingredients to a cocktail shaker filled with ice. Shake and strain into coupe glass. Garnish with rosemary sprig.
* Honey syrup recipe: In a small pot over medium heat, combine one cup honey and one cup water. Stir lightly until dissolved.
---
Pomegranate Bliss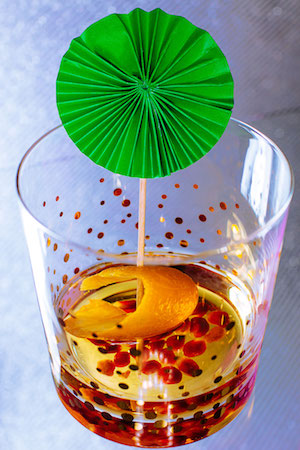 Ingredients
1.5 oz. Usquaebach Premium Reserve Blended Scotch
1 tsp. sugar
1 tbsp. pomegranate seeds
2 dashes Angostura bitters
Orange peel and cinnamon stick for garnish
Directions: In a rocks glass, add sugar, pomegranate seeds and bitters, and muddle until sugar is dissolved. Add a large ice cube and the scotch, and gently stir. Garnish with cinnamon stick and orange peel.
---
A Very Bisol Season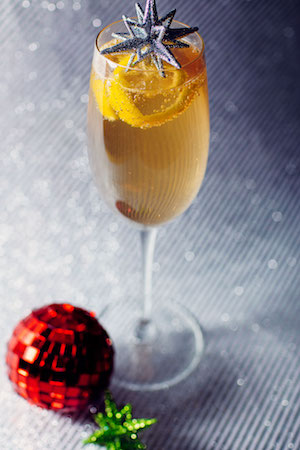 Ingredients
2 oz Prosecco Bisol Crede D.O.C.G., chilled
1.4 oz vodka
.25 oz rose syrup
.25 oz lemon juice
3 drops cranberry bitters
Directions: Combine ingredients in a champagne flute, and serve.
---
Jim Sabataso is a writer, part-time bartender, and full-time cocktail enthusiast living in Vermont. Follow him on Twitter @JimSabataso.