Only four years ago, a Craft Beer Guide to Dallas would've been a precious short one, and completely unnecessary. Until November of 2011, a fully operational production brewery couldn't be found in the expansive "Big D" city limits. Save for a couple of great, pioneering breweries in Fort Worth and the suburbs far north of Dallas, "Locally Brewed" was a cruel joke of a term, not a label of pride for Dallasites. But since the opening of Deep Ellum Brewing Company in late 2011, the boom many non-Texans have heard coming from the Lone Star State hasn't been one of an oil gusher, but of craft beer culture. Now, with over a dozen production breweries – each with its own tap room – a flourishing brew pub and beer bar scene, adventurous bottle shops and growler-filling stations, and some can't-miss festivals; Dallas, not to mention the greater North Texas region, rivals any southern city for craft beer supremacy, and has certainly become a must-visit spot on your beer-cation trip planner.
Fort Worth, to the west of Dallas, and Denton to the north, are both worth checking-out for their respective bustling brew culture as well. But Dallas is certainly the bigger city with the bigger scene, in this case, and, with only a couple of exceptions, you won't need to leave the Dallas city limits for a top flight craft beer adventure.
---
Brewery Tap Rooms and Open Houses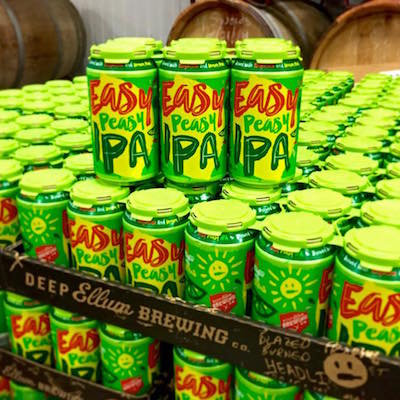 Deep Ellum Brewing
Peticolas Brewing Company
In operation since early 2012, lawyer-turned-brewery-owner Michael Peticolas and his collection of high ABV brews have set the standard for quality for all Dallas-brewed beers. Already a multiple Gold Medal Winner at the GABF, a trip to one of the Saturday open house events at Peticolas is a no-brainer. Check the schedule ahead of time, as the hours of operation aren't as regular as some of the other tap rooms. To start off properly, taste the first brew Peticolas cranked out, the Velvet Hammer. An Imperial Red Ale carrying a walloping 9.0% ABV. It's as delicious as it is alcoholic. For now, and the foreseeable future, Peticolas has no plans to bottle or can its delicious brews, or to even distribute kegs outside of North Texas. Such regional exclusivity and quality makes a stop at Peticolas a must.
Deep Ellum Brewing Company
The trailblazing brewery for Dallas remains one of the most consistent in the face of increasing competition. While the Double Brown Stout (7.0% ABV), one of DEBC's initial brews, is still a worthy pick, two other hefty beers steal the show when available. Numb Comfort (11.5% ABV), a hearty American barley wine, is the town's fall favorite, while the Oak Cliff Coffee Ale (7.5% ABV) is a rich, robust collab between DEBC and Dallas' beloved Oak Cliff Coffee Roasters. The tap room and beer garden in Deep Ellum are among the hottest spots for the after-work crowd, and on the right nights, the selection of beers is wide, thanks to the constant expanding of the brewery's dependable roster.
Lakewood Brewing Company
Sitting just a few minutes north of Dallas's eastern end, this Belgian-style brewery was part of the stellar cluster of breweries to set Dallas on a high quality craft beer path. Wim Bens, Lakewood's leader, built the brewery's rep as a crafter of fine ales such as the sessionable but flavorful American rye wheat Rock Ryder (4.8% ABV), and a refreshingly complex Belgian-style IPA, the Hop Trapp (6.4% ABV). Once inside the spacious tap room, do not miss out on tasting the decadent savory sipper, the Temptress (9.1% ABV), which is widely regarded as the best darn Imperial Milk Stout in Dallas (or just barely north of town, for that matter).
Four Corners Brewing Company
Occupying a large, warehouse-style space in the bustling West Dallas neighborhood, Four Corners Brewing crafts what they term "All Day Ales." With relatively mild ABV's, offerings such as Local Buzz (5.2% ABV), a naturally sweet, pool-party-ready Honey-Rye Golden Ale, and even their IPA, El Chignon (7.6 % ABV), offers a bit of sweet, spicy complexity to the usual hop-centric qualities of a fine IPA, thanks to some Munich malts. Four Corners has been ahead of the Dallas Beer curve in a few ways, offering cans with the 360 degree wide-mouth lids, and creating a Red Ale for Pecan Lodge, the best BBQ joint in town, and offering up the best brand artwork, featuring nods to its neighborhood's Hispanic roots.
Franconia Brewing Company
While Franconia Brewing is outside of Dallas, it's only a straight shot up the freeway a few miles in McKinney. Plus, for those who dare not cross into the western part of the massive Dallas-Fort Worth area, Franconia was the first Dallas-area brewery to open prior to the current boom. For owner Dennis Wehrman, Bavarian-style beers have been in his blood. Not only does his family brewing heritage date back to the 1800's, he studied brewing at the University in Munich. Since opening in 2008, Franconia hasn't been the sexiest, edgiest or most adventurous brewery in North Texas, but a few sips of its classic Hefeweizen or Dunkel, not to mention the best Oktoberfest the area offers, and concerns for hipster trends, barrel-aged brews, or hop-bombs fade into the suburban haze.
---
The GastroPubs and Beer-centric Restaurants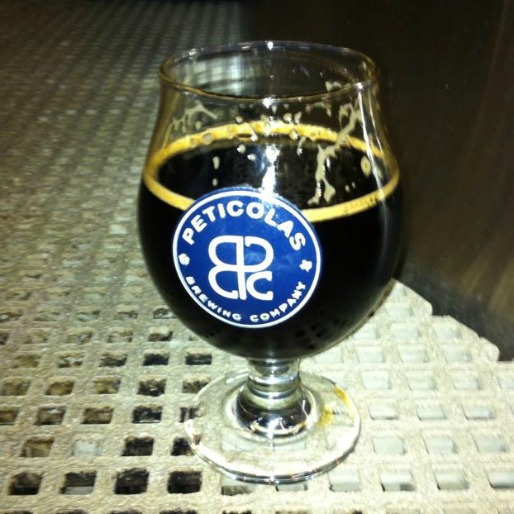 The Meddlesome Moth
Located near a half-dozen breweries, the Meddlesome Moth features great local brews alongside some odd, rare, and exciting offerings from across the globe, and more bottle choices than you can view in one sitting. The food—ranging from bowls of steamed mussels, homemade pot pies, and shrimp and grits (all with suggested beer pairing listed)—is indeed fine enough to warrant coming here for a non-beer-intensive meal, but that would miss the point. With colorful stained-glass windows of Elvis Presley, Jerry Lee Lewis, and Chuck Berry (salvaged from the torn-down, original Hard Rock Café in Dallas), looming over all imbibers, look to the draft wall (which features $1,250 worth of quarters in epoxy) for the taps with the silver chain around its neck, which means it's happy hour, and that certain beers are discounted, so happy hour is extra happy.
L.U.C.K.
The name stands for Local Urban Craft Kitchen, so that's a good heads-up as to what goes on here. Sitting a few stumbles away from the Four Corners brewery is Dallas' best spot for suds-loving locavores. With 40 taps dedicated to beers brewed within a truly close radius of Dallas, Luck practices what so many preach. Even the tables, benches and chairs are made from reclaimed wood in nearby Grapevine, Texas. The massive front patio offers a view of Dallas' most rapidly developing entertainment district. While the entire menu is worth a peek, the starters here offer prime examples of savory beer snacking. The warm, soft, salty pretzels with beer cheese fondue, and the meat-filled bierocks couldn't be better mates to a local stout, pils or porter. Skip from the front of the menu to the back, and you'll see ice cream made from the aforementioned Lakewood Temptress imperial Milk Stout, so, who says dinner can't consist of beer, apps, and dessert? We don't.
Holy Grail Pub
For those venturing north of the Dallas-proper bubble, the Holy Grail Pub offers a stellar northern watering hole. With over 150 bottle and draft options total, this dark, warm, Euro-style pub becomes a Texas-strong outpost when, mainly on holidays, the pub fires up its massive smoker and offers bacon fat-injected brisket, and house-made beef hot dogs. Though the local focus isn't as strong here as in other spots (though plenty of local brews are available), as much as any other spot in the area, Holy Grail focuses its attention on seasonal and limited offerings. Grab a plate of the wondrous fresh-cut gravy fries, with a Colorado double IPA in the summer, or pair that gooey plate with an East Coast coffee stout in the winter.
Braindead Brewing
If Deep Ellum (the neighborhood) wasn't already a one-stop concert-drinking-dining-shopping-tattooing spot already before this year, it became that and then some when Braindead Brewing opened after a long wait a few months ago. Offering a few taps with house brewed beers such as Braindead Red, Gritz Cream Ale, and Foreign Export Oatmeal Extra Stout, Braindead also features over 30 taps and many bottle and can choices. Two dishes have managed to generate quite the buzz already. The Coma Burger, consisting of a thick patty made from bacon and brisket, and topped with beer pickles, stout mustard, and smoked cheddar, and the Warm Oatmeal Chocolate Chunk Cookies, served with stout chocolate milk is the most highly craved plate of sweets in town.
---
Beers To Drink That We Haven't Already Mentioned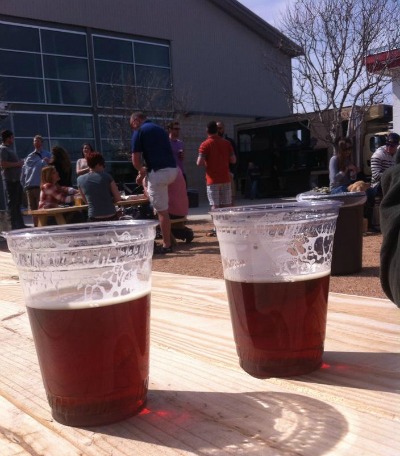 Texas Ale Project – Fire Ant Funeral (6.0% ABV): This brown ale has a complexity many of its ilk do not, thanks to the employ of seven different malts and enough hops to put a tasty twist onto a classic style.
Community Brewing Company – Mosaic IPA (8.6% ABV): Regularly considered the best of Dallas IPA's by barstool philosophers and some local publications, the spark of this stellar beer comes from the use of the, you guessed it, Mosaic hop variety. There's also a touch of maltiness for a balance not seen in many American IPA's these days.
Nine Band Brewing Company – Cactus Cat Kolsch (5.2% ABV): From one of the area's newest breweries comes a pretty straight-forward, but deliciously crisp, clean, and slightly grassy German-style Kolsch. There are more adventurous beers to be had, but if you're in the northern Suburbs of Dallas on a typically sweltering day, this local option will satisfy.
Audacity Brew House – Black Widow Imperial Chocolate Stout (8.8% ABV): It's worth a trip to the college town of Denton, 30 minutes north of Dallas, so you can enjoy a snifter of this award-winning elixir. Audacity, Denton's first true operating brewery, has a nice enough tap room, and some solid beers, but the Black Widow, with its perfect combination of rich and roasty, will likely ruin you for any other less lethal beers for the day.
---
The Festivals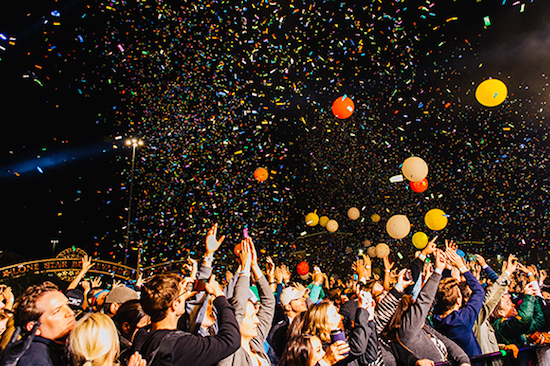 Untapped Indie Music and Beer Festival
With a spring edition held every year in Fort Worth, and a Fall edition in Dallas, as well as others in Houston, San Antonio, and Austin; Untapped has become the model for putting equal emphasis on the quality of both the massive beer list as well as the carefully curated artist roster. The Dallas November fest will be it's biggest yet, with Flaming Lips, Dr. Dog, Elle King, and Cloud Nothings belting out the jams while thousands of two-ounce taster cups slosh around in approval.
Best Little Brewfest in Texas
Just an empty bottle's throw away from Cobra Brewing in Lewisville's historic downtown district, this festival features national favorites such as Avery and Odell, but places a keen emphasis on what's closest to home. This festival has been a great spot for newer breweries such as Bitter Sisters Brewing Company, 3 Nations Brewing Company, and Oak Highlands Brewing Company to share their wares and to get the word-of-mouth spreading across the region.
Brew Riot
Without question, this festival is for the adventurous dreamer that lies inside of each beer-lover, especially those who may fancy themselves as future brewers. With over 50 proven home brewers offering multiple styles of their own beers to thousands of people on the streets of Dallas' ultra-cool Oak Cliff Bishop Arts District, the next great Texas beer(s) will be sampled at some point in the afternoon. Dallas-area breweries such as Noble Rey Brewing, and On Rotation have slung their cups here before opening their full-fledged breweries in the past couple of years. But first, build up a thirst by running the 1.1-mile Beer Run. You get beers along the route, front-of-the-line-access into the fest, and one of those cool-looking marathon stickers with 1.1 proudly displayed.
Big Tex Beer Fest
Started by husband and wife team of Chad and Nellie Montgomery after an inspirational GABF trip, Dallas' largest beer festival has quickly become the surest sell-out in town, aside from a Dallas Cowboys season opening game. While the brewers are many, and well organized inside one of the largest building Fair Park (where the Texas State Fair is held each year), local pride shines as the booths offering the latest in local beers seem to always have the busiest taps. Of course, that simply means the lines for the equally worthy, but not quite local, breweries are shorter, which is never a bad thing. Local bands the best local food trucks keep the party going outside for an all-around swell time.
---
The Growler Fillers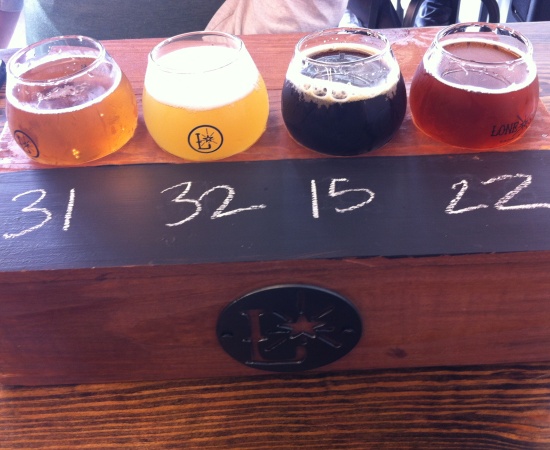 Craft and Growler
Located across the street from Fair Park, C&G was the first bar of this kind in Dallas upon opening in 2012, and has been a star of the scene ever since. Not only are the 40 taps always worth checking out, as the offerings are varied and frequently rotated, but browse around and choose from the grandest collection of growlers in town. Go high-end with a massive ceramic one, or go fast and easy with a space-age "Beer Pouch."
Lonestar Taps and Caps
The sister shop to the Dallas-area's finest bottle shop, Lonestar Beverages, Taps and Caps is the most adventurous of tap-heavy growler fillers. Local beers typically flow from only a dozen (or less, sometimes) of the 40 taps, while a range of ciders, craft root beer, and kombucha find their space here also. The electronic menu board, available to see online as well, displays the real-time amounts of each keg, along with all of the necessary info, which is key, because not only are many of the choices here unique, but often this is the only spot in town where an empty growler can be filled with some prized, strange brews. When the keg icon is flashing a low level on the screen, it'll be OK, there are plenty of other killer beverages to choose from here.
---