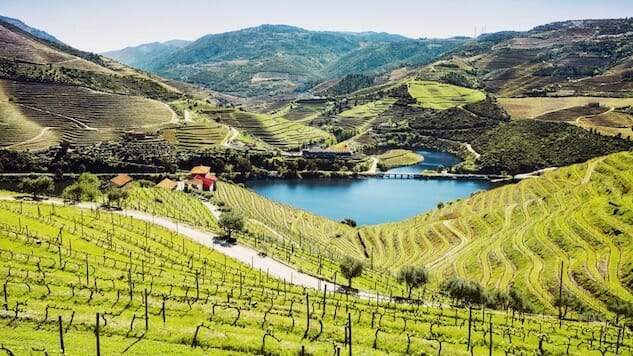 One of the things that can make reading wine labels a little confusing is that American wine tends to call out the grape varietal, while many European wines are named according to region. "Bourgogne" isn't a grape, it's a place, and if that word appears on a bottle of red wine, that bottle is going to contain Pinot Noir. By the same token, Portuguese wines labeled "Douro" come from the Douro Valley, but there are several varietals grown there and they are often blended. In fact, in the Douro area in particular, historically the vineyards have been so mixed that winemakers might or might not know exactly what they were growing, it can vary from vine to vine. While that's changing, those old, mixed-varietal vineyards are still producing great blends and will do so for decades.
Main grapes you'll find in a Douro wine: Touriga Nacional, Tempranillo, Bastardo, Tinta Roriz and Tinta Amarela. Styles range from light and clear to dense and chewy, to the fortified dessert beverage known as Port, so this is a region to dig into and explore.
Four Bottles to Try

Quinta do Crasto Douro 2014 Tinta Roriz (Douro, Portugal, $65)
While many Portuguese wines are a screaming bargain, this baby is not; you'll be lucky to find it under $60. Made of 100% Tinta Roriz grapes, this is a special varietal Douro wine that's only made in really good years. It's not a lightweight: opaque purple in the glass, it has a full-bodied, oaky character, with a strong red fruit nose, odd but not unpleasing hints of menthol (that note in a California red usually means the grapes grew near eucalyptus trees; in the Douro I am not sure what accounts for it). It's powerful and voluptuous with a longer finish than a Broadway show tune. That said, it's not a diva; indeed I'd call it very food friendly. It probably enjoys red meat, mushrooms, and aged cheeses.
Quinta Dos Avidagos Douro 2012 (Douro, Portugal, $15)
A great value for a supple, soft-tannin red blend with a soft plummy character that will probably please fans of Merlot. Juicy with vivid acidity and hints of cherry and blackberry, this is an agreeable, crowd-pleasing wine that will play nicely with anything you're serving.
Quinta do Vallado Douro 2013 (Douro, Portugal, $15)
Another example of terrific value for the bucks, this is a crimson red with an intense "jump out of the glass" nose, leading with ripe raspberries and plums, with a little violet and some balsamic notes. Elegant, mature, lingering. If you are a fan of pork, so is this wine. If you're not, trust me, it's willing to be flexible.
Dow's 20 Year Tawny Port (Douro, Portugal, $50)
Port is its own thing entirely and deserving of its own little tutorial (no doubt that'll happen at some point), but to convey a sense of the range of what comes out of the Douro region I'm including it here. A 20-year port means 20 years is the average age of the wines in the blend. Port is a fortified wine and it's powerful stuff, usually enjoyed after a meal. This particular one is on the drier side for port, and it has a complex, nutty, caramelized bouquet. Honeyed and slightly viscous, it has notes of dried fruits (dates, mango, apricot), chocolate, toffee and almonds. It's a treat served with cheese and nuts, and can also be enjoyed on its own. Some people enjoy it chilled; it's also suitable at room temperature. Either way, it's finesse in a glass. Also, you tend to drink it in small amounts and it'll keep for months if stored in a cool dark place, so the price tag, while it might look formidable, will give you more than you think.
Tchau!