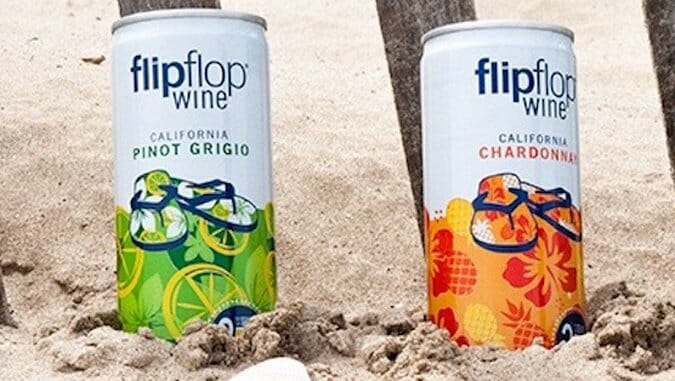 You know how some people get really uppity about the size, contours and color of the thing their drink is in? And how they roll their eyes if you serve them something in a highball glass that is supposed to be served in a martini glass, or you have wine glasses that are, say, blue, because you happen to like blue glass, and your spouse whines about how it destroys the experience because it prevents adequate inspection of the wine's color?
Yeah. So for those of you who are not particular about the vessel of their vino, we found a couple of new things to help you get your wine outdoors this summer, without risk of shattering your hand-blown Murano flutes or your Bordeaux hurricane lamps or whatever.
First, Flipflop wines is putting their stuff in cans. Yep. Cans. These guys are all about taking the pretentions out of the wine-drinking experience, and that goes to the next level here. Chardonnay, Pinot grigio, a sparkling white and a sangria are available in two-serving cans. These are very handy for the following situations: Picnics. Camping. The beach. Anywhere you'd rather not have a glass in your hand or your car. (Halloween trick or treating runs come to mind, but maybe that's just me.)
So… how's the wine? Well, for the price point (bottles of the same wine are around $7) – yeah, pretty decent. I think the Pinot grigio is the best one – very dry, citrusy, nice finish; actually a really good value. I noticed a slight metallic note, but to be honest, I cannot tell you for sure that the faintly metallic note was my imagination or not. I wish someone had served it to me blind and that I didn't know it had been packaged in aluminum because I am always suspicious that part of what we taste is what we see. The chardonnay is going to be popular with folks who like tropical, oaky chards (Wine Enthusiast gives it an 86 point rating). The fizzy white was quite a bit sweeter than what I like in a sparkler, but if you are a fan of off dry sparkling wines, give it a shot. The sangria wasn't my thing, but I am, if not a stemware purist, a bit of a weirdo about sangria that you don't make yourself with Spanish wine and fresh seasonal fruit that you actually chopped up with your very own knife. If you are not like me, by all means give it a try as well.
But wait, there's more. If you're really into drinking outdoors, Ruffino Prosecco has paired up with Govino to offer sets of BPA-free plastic flutes that let you go al fresco without a hassle as well. These little glasses are shapely and come with a limited-edition floral wreath motif that's very cute. Good for the pool. The boat. The deck. The Jacuzzi. I will admit that these glasses feel like the plastic that they are and do not have the pleasing heft of glass. They are, however, adorbs and will save you the heartache of losing your flutes to backyard dinner party elbowings. As for the Prosecco itself – yes. In any vessel this is a nice little Tuscan sassypants with a straw-yellow color, clean apple and pear notes and some quite pronounced floral aromatics, elderflower and orange blossom among them.
So, go forth, enjoy the outdoors, and don't worry about your prize vintage Waterford set. It'll be waiting for you when you get home.
Wine Maker: Flipflop Wines
Location: Livermore, California
Style: Pinot grigio
Availability: Year round