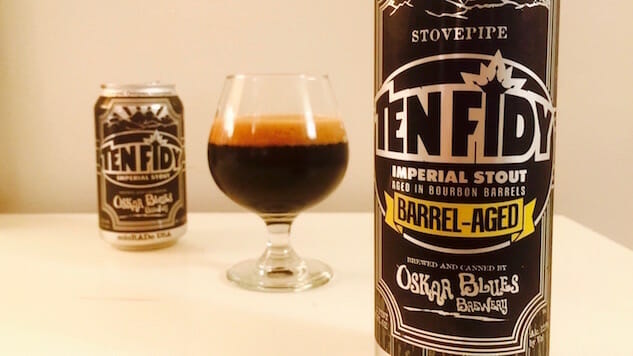 Oskar Blues put out a very limited amount of Barrel Aged Ten Fidy last fall. Like, 17 cans to half a dozen people. The rest of us were out of luck. But this year, OB is going big, releasing Barrel Aged Ten Fidy in really tall "stovepipe" cans nationwide, which means just about everyone reading this will be able to get their hands on a can in November. And you should. Because it's awesome. But the only way you can truly appreciate this beer is if you drink it side by side with the standard Ten Fidy. Not that there's anything "standard" about Ten Fidy. It's an imperial stout in every way—loaded with two-row and chocolate malts as well as roasted barley and flaked oats, but also so well-hopped that all of that malt can actually get lost in the bite of this beer. There's nothing subtle in Ten Fidy. It's a big, bold, boozy beer all on its own, and the Barrel Aged version is a different beast altogether.
But like I said, to truly appreciate that beast, you have to start with the standard. So I crack my can of Ten Fidy first, and watch as the beer pours a solid black without any hint of light. The head is tan and so thick you could rest a quarter on it. The nose is enticing, dominated by something sweet, but roasted, like a marshmallow after you let your kid roast it in a campfire for 45 seconds too long. There are definitely layers of malty sweetness (a bit of chocolate, mostly) but this beer is so roasted, and so hoppy that it comes off as bitter as hell, like the darkest chocolate matched with the blackest coffee kind of bitter. It has a hell of a bite, all the more so because of the booze you find in this can.
Put that beer in a bunch of different bourbon barrels and things change. The Barrel Aged pours just as black as the standard, but has a thinner head that dissipates pretty quickly. The nose isn't so much "burnt marshmallow" as it is "whiskey barrel." I mean, you can smell the booze, man.
The mouthfeel evolves too, moving from somewhat chalky in the standard Ten Fidy to something that's downright silky in the Barrel Aged. There's more carbonation that I expected, but the beer is rich and far more complex than the standard version. It's still bitter as hell, but it's more balanced after all that time hanging out in barrels, which manages to mellow out some of the harsh edges of the standard version. You get the coffee and cocoa, but also layers of vanilla and caramel, and plenty of action from that whiskey barrel too, which adds an element of astringency to the backend of the sip. And yet, somehow, it seems less boozy than the standard version. The Barrel Aged comes in at 12.9% compared to the standard's 10.5%, but there's so much going on in this stovepipe can that it's hard to focus on the booze.
At least, it's hard to focus on the booze until that booze knocks you on your ass. And then it's just hard to focus. This is what happens if you drink Ten Fidy alongside Barrel Aged Ten Fidy. You get knocked on your ass and you can't focus. And it's totally worth it.
Brewery: Oskar Blues
City: Longmont, Colorado
Style: Barrel Aged Imperial Stout
ABV: 12.9%
Availability: Seasonal, but nationwide in super tall cans