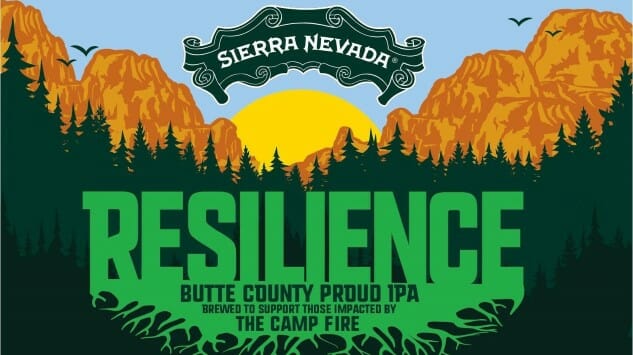 This isn't exactly breaking beer news at this point, but it bears repeating: Sierra Nevada has accomplished something pretty amazing via the response to its charity driven Resilience 'Butte County Proud' IPA. In the wake of a devastating set of fires that have burned more than 153,000 acres, killed 88 people and destroyed more than 9,700 homes at last count, it would have been commendable to simply brew a fundraiser beer, in addition to all the direct aid that the brewery already delivered to those who were displaced by the disaster. But Sierra Nevada didn't stop at simply brewing a beer—they reached out to the rest of the industry and urged everyone else to join them, and the response they've received is nigh unprecedented. More than 1,200 breweries have stepped up to the plate to brew Resilience IPA at this point, with all the proceeds going directly to wildfire victims through the newly established Sierra Nevada Brewery Camp Fire Relief Fund. What we're saying is this:
1. Sierra has done an incredible job of mobilizing support for these charity efforts.
2. The industry as a whole has astounded us with their ability to come together in this endeavor.
3. You should really buy some Resilience IPA, once it's available at a brewery near you. We certainly will be.
All of this came about as the result of a letter that Sierra Nevada founder Ken Grossman sent out to as many breweries as he presumably could. That letter read as follows:
"As you may know, on November 8, the Camp Fire broke out near the town of Paradise, California, and within minutes raged through the community, obliterating a football field per second of everything in its path, destroying nearly 10,000 homes, killing many residents and leveling the town of 27,000 people. The fire is still raging on, but it is already the most destructive wildfire in our state's history. Although Chico and the Sierra Nevada brewery were spared, the Camp Fire has devastated neighboring communities where many of our employees lived.
I'm writing to ask you to participate in a nationwide fundraising effort to support impacted communities. Sierra Nevada has created a beer called Resilience IPA. We're inviting you to brew a version at your brewery and sell it at it your Pub or Taproom, with 100% of the proceeds going to support those impacted by the Camp Fire."
Still, it doesn't seem as if Grossman could possibly have been expecting such a robust response. Consider the number of participants: At more than 1,200 brewers, that's roughly 20 percent of all the breweries in the U.S.A., all making the same beer for one charity. With 100 percent of sales going to charity, you've got to figure that's going to be one hell of a lot of money when all is said and done. For the 10,000 families that lost their homes, that money could be an absolute godsend, or the difference between being able to rebuild and being destitute.
The additional good news here: The beer has already been brewed, and it should be showing up pretty soon. Breweries coordinated to brew Resilience IPA on Giving Tuesday, Nov. 27. Depending on fermentation rates and dry-hopping schedules, that should mean we'll probably start seeing this beer crop up on draft systems within a week or so. With the sheer number of participants, it shouldn't be hard to find a local version to sample—as the below map illustrates, Resilience will be spread all over the U.S.A. From Maine to Washington to Alaska to Hawaii, it's an inspiring tableaux.
Congrats to Sierra for having the gumption to pull this kind of thing off, and for generally being class acts. Resilience IPA may well go down as the biggest charitable movement in the history of the craft beer industry.