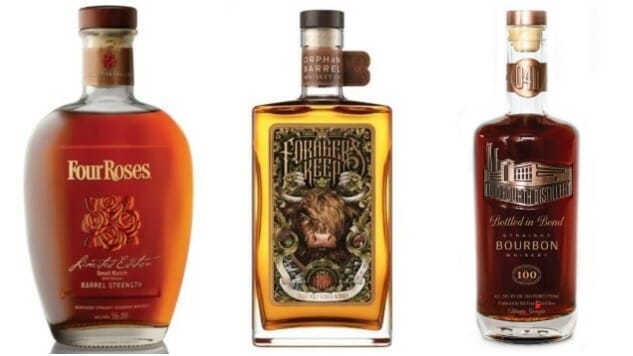 Now that I look back on it, 2019 may have been the first year of my adult life where I consumed more alcohol in the form of spirits than I did in the form of craft beer.
Perhaps that can be seen as commentary on the state of the beer industry these days, increasingly segmented as it is and often defined in the minds of drinkers by objectively unpalatable IPAs. But it was also an acknowledgement of the way my palate has continued to grow in its appreciation of myriad styles of liquor I largely ignored in the past. 2019 was the year that my appreciation for aged rum (and classic tiki cocktails) fully bloomed into a veritable mania. It was also the year I genuinely grew passionate about malt whiskey for the first time, realizing the obvious: That there was so much more to discover beyond the peat-dominated drams of Islay. When I look back on myself just 365 days ago, I'm a bit embarrassed by just how little I understood about several niches where I now have a good working knowledge.
2019 was also a year of travel; one that saw me quaffing gin in Scotland, blended whiskey in Canada and of course bourbon in Kentucky, further broadening my experience with various facets of the spirits industry. In fact, I likely tasted more new spirits in 2019 than in any previous year at Paste, and as a result, it's time to recognize the best of the year. Considering that I consumed more whiskey than anything else, I've broken this down into three categories: best whiskeys, best additional spirits and bonus awards.
Without further ado, let's get into it. Oh, and if you're looking for more value picks? We did blind taste the best bourbon under $15 as well.

The 10 Best New Whiskeys of 2019
In order to appear in this section, these whiskeys (be they bourbon, rye, scotch, etc), simply had to be released in 2019. I won't try to compare them against each other; they're simply presented here in alphabetical order.
Bardstown Bourbon Co. Discovery Series #1
MSRP: $129.99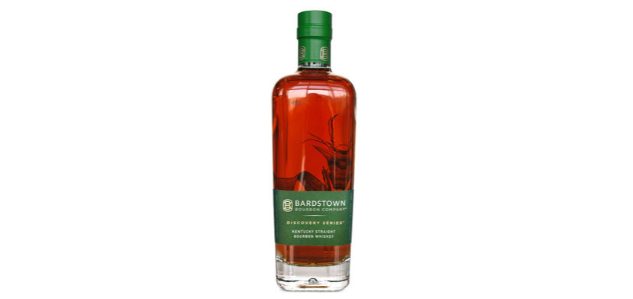 Bardstown Bourbon Co.'s distilling operation began in only 2016, which means they're obviously reliant on sourced whiskeys right now, and will be for quite a while until they have significantly aged stock. They are, however, doing some cool things in terms of their sourced whiskey blends, the operative example being the Discovery Series #1. This is a blend of four different sourced bourbons, with varying mash bills, aged between 5 and 13 years, with the majority being 11 years old. It's bottled at a cask strength-like 121.2 proof, so this is unsurprisingly a big and characterful bourbon. As I wrote when tasting it:
On the nose, Discovery #1 is heavily oaked, with a combination of dusty/charred tones that are lifted by notes of flamed orange peel, licorice and caradamom spice. It's a classic Kentucky bourbon nose you wouldn't mistake for anything else, but the preponderance of oak has me a little bit concerned. On the palate, the 121.2 proof makes itself felt, with a rush of hot cinnamon candy and heavy oak throughout. This is quite potent, and actually fairly dry for the proof, with a leathery/old wood quality that lingers in an extremely long finish that is slightly astringent. I felt like there were multitudes here that I wasn't quite able to get to, past the proof, so I added a little bit of water at this point and was quite impressed with the transformed spirit I tasted next. Suddenly, much more sweet caramel comes through, cutting through the old oak and revealing more stone fruit and spice notes at the same time. Round and still quite full-bodied on the palate, even after the water, it doesn't lose its Kentucky hug sensation in the chest, while amplifying spice notes of cinnamon and rich, buttery toffee to become quite an enjoyable spirit indeed. One might hope for the spirit to present in a slightly more palatable way without the dilution, especially in an age when many whiskey geeks only seem interested in drinking neat, barrel-proof, non-chill-filtered drams, but this is one case where a bit of water helps to reveal a classic bourbon experience.
---
Four Roses Limited Edition 2019
MSRP: $140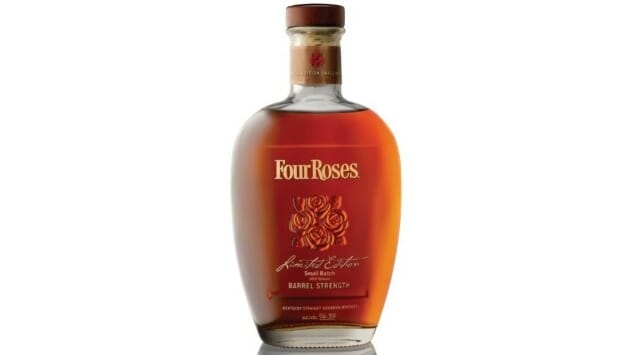 Bourbon geeks look forward to each annual Four Roses Limited Edition regardless of whatever profile the distillery is trying to capture in each year's barrel-proof release, but this year was a home run, even by Four Roses standards. We're not the only ones who were blown away here, with many other whiskey writers also citing this one as one of the best of 2019. As I wrote then:
On the nose, this LE Small Batch sings with inviting notes of vanilla custard, old oak and plenty or orange essential oil—very orange grove-like, if I do say so myself. It's a butterscotchy richness and sugar character, complemented by twists of citrus and a variety of baking spices. On the palate, this bourbon is plenty flavorful, but shocking in its approachability. This is without a doubt the easiest drinking 113 proof whiskey I've ever encountered, at least in terms of how the alcohol expresses itself on the palate—it drinks like many 90 proof or less whiskeys, if we're talking purely about alcohol burn. At the same time, however, it enters the chest with a long-lasting warmth (the "Kentucky hug") that lasts ages, giving it the impression of being the sturdy bourbon it is. Never have I experienced such a disparity between how hot something presents on the palate, and how big one feels it in their chest. Suffice to say, I am impressed.
As for flavors, this bourbon is likewise rich and delightful. It's very thick and oily feeling on the tongue, a viscous whiskey that carries immediate impressions of caramel sauce, old oak, butterscotch and lively orange citrus. There's a hint of oak tannin running throughout, but not so much that it contributes anything in the way of bitterness, merely a little structure. This is a "rich" bourbon overall, but still isn't overtly over-sweetened, despite expressive notes of vanilla bean, brown sugar, cinnamon and candied ginger. It feels very warm, comforting and "autumnal" in profile—bourbon for watching the leaves change color, if you will. It's a beautiful palate overall, and combined with the remarkable way it integrates the alcohol into the whole, it makes for an outstanding dram.
---
The GlenDronach Master Vintage 1993
MSRP: $350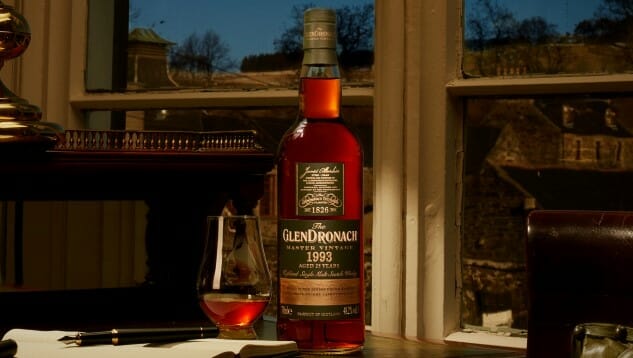 This ultra-luxe (that price tag is devastating) limited release from The GlenDronach is a rare chance to sample one of Scotland's best sherried single malt specialists at an age (25 years) that is rarely commercially available, but you'll certainly be paying the price to do so. Still, the results speak for themselves. As I wrote when I tasted it:
On the nose, this one is delightfully fruity, with a bouquet that kept changing and evolving each time I stuck my nose back in the glass. Cherry, apricot and vanilla buttercream were the first things I picked up on, followed by caramel and marzipan. There's an enticing melange of stone fruit and red fruit impressions here, along with the suggestion of deep caramelization. On the palate, those flavors follow through in fine style. This is a big, red fruity dram, likewise on the sweeter side, but without the limiting ethanol dominance of the Cask Strength Batch 8. Very creamy on the palate, it is explosively fruity, with a panoply of berries and mixed nuts, combined with peaches and vanilla. Returning to it, impressions of richness and caramelized sugar continued to build, culminating in a very nice hint of maple syrup. On the back end, a little wisp of peat or earthiness that isn't present in the Cask Strength release is a welcome change of pace, reminiscent of a similar finish on the 18-Year-Old Allardice. This is still very much a sherry bomb, and a fairly desserty whisky, but it is neither dominated by sherry or residual sugar, with plenty of complexity and a bevy of tasty fruit flavors. That $350 MSRP will still put it outside the range of most consumers, but if you're a fan of sherried single malts and The GlenDronach's house style, this is another winner.
---
Glenmorangie Quinta Ruban 14 Year Old
MSRP: $55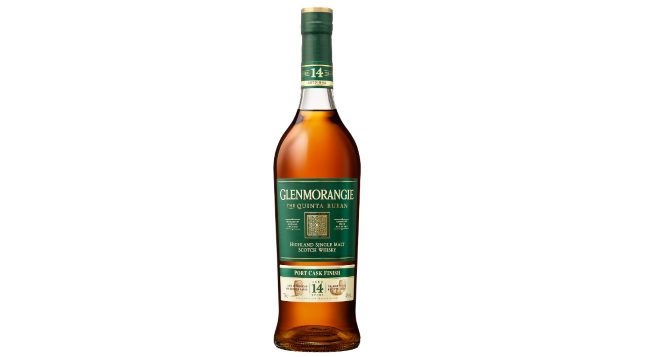 Glenmorangie refreshed its "extra age" lineup (Lasanta, Quinta Ruban, Nectar d'Or) this year with some new packaging and subtle tweaks, essentially leaving the Lasanta alone while stripping Nectar d'Or of its previous age statement, which I'm sure probably ticked off some of that expression's fans. The venerable Quinta Ruban, on the other hand, actually had its age statement increased by two years, from 12 to 14, which made this an excellent opportunity to revisit the classic, port cask-finished Highland single malt. I found myself suitably impressed, enjoying it more than the Lasanta despite the fact that I usually lean toward sherry-influenced single malts over port-finished ones. Also, at an unchanged $55 MSRP, this pick gained a little bit more value. As I wrote earlier this year:
On the nose, I get a lot of raisin, plum, toasty malt and buttery toffee on the Quinta Ruban, all notes that one would expect from a malt finished in port barrels. On the palate is where things diverge from what I was expecting. This is considerably more dry and not as fruit dominated as the nose would suggest, with some nicely complementary (but subtle) notes of brine, peat and hints of smoke/tobacco. It has a nice, warming hug that builds in the chest, with slowly blooming notes of dark, stewed fruit, into nuttiness, finishing with hints of smoke and earth. This expression is not so dominated by its finishing barrel as Lasanta, and is a more complex and satisfying whisky for it. I wasn't really expecting Quinta Ruban to be my favorite offering of these three, but that's what it ended up being. Very nicely balanced.
---
The Glenrothes Whisky Maker's Cut
MSRP: $79.99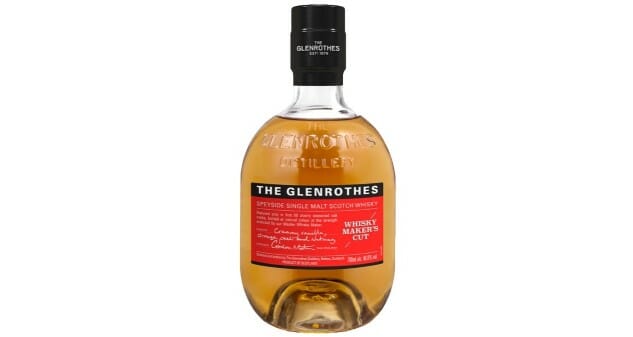 2019 was the year that The Glenrothes—another sherried single malt specialist—finally ditched their longstanding "vintage year" labeling and moved to more traditional age statements for their core Soleo Collection lineup. That is, except for the curious addition of the "Whisky Maker's Cut," a higher-proof expression (97.6 proof, 48.8% ABV) with no age statement, which unexpectedly became my favorite of the new lineup. Matured exclusively in first-fill sherry casks, it delivers on the nutty decadence you'd be expecting, but also evokes American bourbon in an interesting way. As I wrote then:
First of all, unlike all the other offerings in the line, the Whisky Maker's Cut is made solely with liquid from first-fill sherry casks. Coupled with the increased proof, it transforms this spirit into something else entirely. Caramel, vanilla, cinnamon and stewed apples explode on the nose, along with buttered toast and roasted nuts. The palate is likewise intense, flavorful and memorable: Caramel-heavy, but still with a touch of dark honey, sweeter, with a long, lingering spice finish of cinnamon, nutmeg and orange essential oil. There's also a much more pronounced "char" here as well—you'd almost think that some newly charred oak was involved, but I guess it's just those fresher casks. I've often heard various single malt bottles of scotch described as being "the bourbon drinker's scotch," but I've never had one that so fit the bill as The Glenrothes Whisky Maker's Cut. The richness, caramelization and spice profile form an extremely inviting bridge toward American whiskey drinkers, and I can see myself recommending this bottle toward all my bourbon drinking friends who want the same kind of richness (without the peaty assertiveness) in a scotch. Ultimately, this little sample was a wonderful surprise.
---
Kentucky Owl Rye Batch #3
MSRP: $200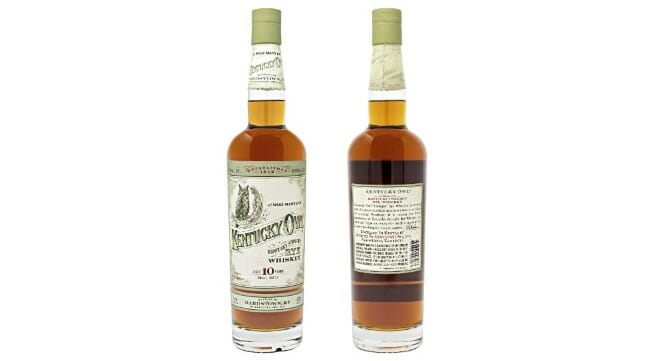 I'd heard a lot about Kentucky Owl over the last few years, as most whiskey geeks probably have, and my recent first opportunity to sample the brand did not disappoint. Both the bourbon (batch #9) and rye (batch #3) were stunners, but I have to give the tip of the cap to the slightly less pricey rye. Nothing from this particular brand is ever likely to be listed as a great "value," per se, but these carefully selected blends certainly do impress in the flavor department. Rye batch #3 is Kentucky Owl's strongest yet, weighing in at 114 proof, and it's a decadent dram to boot. As I wrote then:
On the nose, this rye comes off as burly, fairly sweet and deeply caramelized in character, redolent in baking spice notes. I can certainly see someone thinking that this is bourbon rather than rye on the nose alone, because it gives off a deep, soulful profile of caramelized sugar and spice notes. Only digging deeper do you start to get at rye varietal character. On the palate, Batch #3 is explosively flavorful. This is a big, thick, syrupy textured rye with moderate residual sweetness, which erupts on the palate in notes of orange citrus, vanilla cream, old oak and cinnamon streusel. Tasting it back and forth with the bourbon, it actually seems a bit more overtly rich, but not in a bad way—my initial thought was that this bottle would make an incredible old fashioned, although if you're like me there's no chance you're using anything from a $200 bottle in that way. After returning from tasting the bourbon, however, that's when you can really get at the rye profile more clearly—with the palate refreshed, I'm now getting much more pronounced rye bread, peppercorn and spearmint notes, which integrate nicely with the citrus, vanilla and spice. Combined with the very syrupy mouthfeel, it projects a definite dessert vibe, but in no way is this dram too sweet. In all honesty, it's one of the best ryes I've tasted in a while. If I had a few hundred to throw around on a splurge spend? I'd certainly be considering it.
---
Old Fitzgerald Bottled-in-Bond 15 Year
MSRP: $150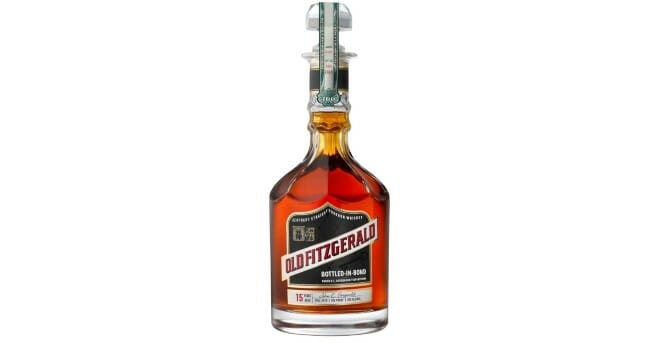 This whiskey hasn't actually arrived everywhere just yet, but Heaven Hill's latest extra-aged Old Fitzgerald release is a good representative of why people seem to enjoy the premiumized version of this brand so much, beyond its beautiful decanter bottle. Since its first 9-year-old release, the age statement on this version of Old Fitzgerald has crept up steadily, all the way to the impending 15-year-old version. Better news: The MSRP has stayed the same, meaning that the $150 asking price has become a bit easier to justify over time. Regardless, it's an elegant expression of what wheated bourbon can be like with some age on it—and a lot easier to find than the likes of Pappy Van Winkle. As I wrote before:
On the nose, Old Fitzgerald 15 Year assertively throws off a bouquet of caramel corn, Werther's originals-like caramel candy, florals, strawberry jam fruitiness, baking spices and old oak. As the age of these batches have increased, the oak presence has certainly crept forward as well, something I can imagine being a bit divisive for fans of the brand. Also surprising: The sheer amount of spice presence on both the nose and the palate, which is far more pronounced than you expect in most wheated bourbons, but complements the profile in a pleasing way. On the palate, there's a good amount of complexity here. Caramel apple, strawberry and creamed corn segue into moderate maple syrup sweetness, big oak and a blast of baking spices—again, more than you expect in pretty much any wheated bourbon. Syrupy and fairly rich on the initial palate, it packs moderate heat, about where you would expect for the 100 proof. The finish turns toward old oak, with a tannic dryness that actually helps temper the initial sweetness/richness, but some drinkers may find the oak presence to be a bit too dominant for their taste. Regardless, this feels (to me) like the furthest one would probably want to push the age statement on Old Fitzgerald, lest it be overtaken by the wood completely. All in all, though, this is a rather sophisticated dram for a wheater, unique enough that there are few immediate comparisons.
---
Old Forester Birthday Bourbon 2019
MSRP: $99.99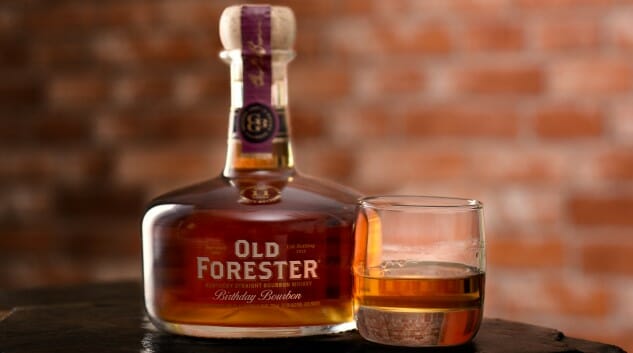 If you're a fan of Old Forester's house style—which is to say, the liquid that is in any given expression of Old Forester—then it almost goes without saying that you're probably a big fan of the yearly limited release Birthday Bourbon. This release is intended to be the brand's shining star, and they're routinely great, as is the 2019 release. This one, specifically, is an 11-year-old bourbon, bottled at 105 proof, which is the highest to date for Birthday Bourbon releases. It's a fiery, sock-you-in-the-face flavor bomb all the way. As I wrote then:
On the nose, Birthday Bourbon certainly announces its overproof nature, but also dazzles with complex notes of fruit and oak. There's a lot of fruit going on here at once: Banana, cherry, old oak, sweet smoke, cinnamon sticks, pepper, caramel and more. The ethanol, likewise, is on the punchy side—perhaps a bit more assertive than I'd like, but an accurate indicator of how everything on this batch of Birthday Bourbon is dialed up to 11. On the palate, this bourbon simultaneously embraces fruitiness and intense richness. The banana is back, and a variety of dark fruit flavors—cherry pie, cherry lozenge and plum, into creme brulee richness and intense caramel. There's also quite a bit of old oak here—it seems oakier to me than previous OFBB releases, although I might be misremembering—which couples nicely with wisps of smoky char, sweet cinnamon, brown sugar and black pepper. The total profile? A bit like hot buttered rum, in a good way, although the alcohol is a tad bracing. All in all, this is an extremely flavorful bourbon, with no shortage of complexity at the same time. Its sheer volume of flavor is even bigger than you'd likely expect for the 105 proof—I've certainly had bourbons with bigger age statements that packed less of a flavor punch than this one.
---
Old Fourth Distillery Bottled in Bond Bourbon
MSRP: $50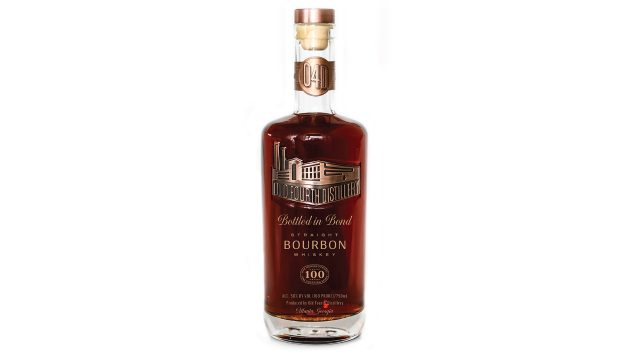 I mentioned above the idea that many younger craft whiskey distilleries had worked to reclaim the value of the term "bottled in bond" as they came of age in the last few years, and Atlanta's Old Fourth Distillery is a prime example. Like so many other small distilleries, their first whiskey is a sourced one … but that's where the similarities end. Although they acquired their juice from MGP of Indiana, they made the truly unorthodox decision to buy it as white dog, presiding over the aging process (including barreling the stuff) themselves in their own Atlanta warehouse. That is, suffice to say, one of the stranger routes toward releasing a first bourbon—a bottled-in-bond bourbon, no less—that I've ever seen, but they were rewarded with a classic, characterful bourbon that truly reflects their Atlanta market as a result. It allowed Old Fourth to use their own distilling capacity for non-whiskey projects, while simultaneously being able to claim a level of personal involvement in the bourbon as well. And I've got to say: I love that bottle design. As I wrote then:
On the nose, O4W BiB is redolent of sweet spice, dark caramel, vanilla bean and barrel char. If that sounds to you like a lot of bourbon descriptions, that's because it is—this offering is quintessentially bourbon-y. It's a classic expression of 100-proof, bottled-in-bond bourbon, with a level of alcohol heat that is nicely suppressed on the nose. As it sits in the glass, it unfolds with a deep profile of sweet spice (ginger, cinnamon, clove), brown sugar and raspberry fruitiness. It's a lovely nose, and an unmistakably bourbon one. On the palate, this is a well-balanced bourbon that eventually tips in favor of richness and baking spices once again. Brown sugar/caramel sweetness, laced with vanilla, carries the front end, with corny impressions and a viscous, rather unctuous texture that is no doubt lent by its unfiltered nature. It's mildly decadent—a good amount of residual sweetness, without going overboard, but enough to give it a "brown sugar cookie" allure. The back end is loaded with baking spices; lots of sweet cinnamon, nutmeg and ginger, with hints of red fruitiness popping up from time to time. Alcohol heat is respectable throughout and well integrated for neat drinking. All in all, this is rather delightful. It's not the most subtle or complex bourbon in the world, and some bourbon fans would probably desire more oak, or find it too spicy and sweet, but in my eyes this is a very obvious crowd-pleaser.
---
Orphan Barrel Forager's Keep
MSRP: $400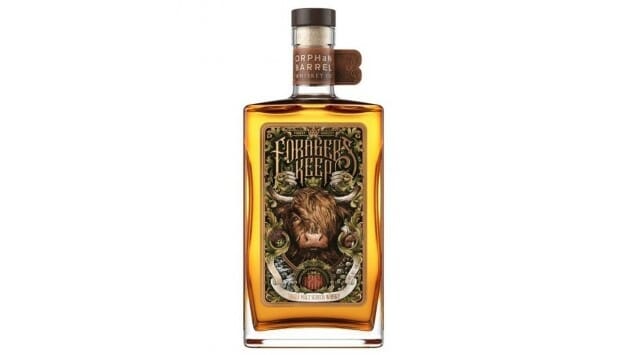 Diageo's Orphan Barrel series has long been focused on obscenely old, "forgotten" small stocks of bourbon, which is all well and good, other than the fact that most of those American whiskeys are typically well past the point that most distilleries would ever want to age bourbon. The release of Forager's Keep, on the other hand, makes a pretty strong argument that Diageo should have been more focused all along on a different spirit segment that can stand up to all those years of aging: scotch whisky. This is the first malt whisky from Orphan Barrel, and it's a pretty damn great one. Hailing from the deceased Speyside distillery Pittyvaich, which largely produced malts for various blends until it closed down in 1993, this 26-year-old single malt makes a case that Pittyvaich could have produced some pretty amazing malts had they stayed in operation. The $400 price tag, on the other hand, I won't pretend to defend—that kind of number is patently ridiculous. But the whisky, suffice to say, is excellent. As I wrote then:
On the nose, this is a lovely, sweet, fruit-forward whiskey, with big notes of marshmallow fluff, apricot, peach and apple. There's a nuttiness and viniferous/slightly citrusy quality that is common to Speyside whiskies that have spent time in sherry barrels, but that's the odd thing about Forager's Keep—it apparently hasn't come in contact with any sherry at all, which is remarkable in terms of how sherry influenced it seems. Regardless, this is quite fruity and soft on the nose, with gentle ethanol character and plenty of vanilla and fruit—positively cobbler-esque. On the palate, this is likewise quite tasty. An explosion of fruit (apples, stone fruit) and moderate-to-high sweetness mingle nicely with grassier, Speyside whisky qualities, finishing on each sip with lingering but nicely subtle kisses of brine and smoke. Impressively, the booze is incredibly well hidden for the 96 proof (48% ABV), being almost absent entirely on the palate but instead showing up in the chest—this is one of the most dangerous scotches I've ever tasted, in that sense. Vanilla richness complements a creamy (although not particularly full) mouthfeel, with long-lasting fruit notes and a spicy finish of ginger and nutmeg that lingers for minutes.

Additional Spirits
I drank plenty of non-whiskey spirits in 2019, especially once we start getting into the worlds of gin and (especially) rum. Here are the selections that stood out most triumphantly, for one reason or another.
Drumshanbo Gunpowder Irish Gin
MSRP: $39.99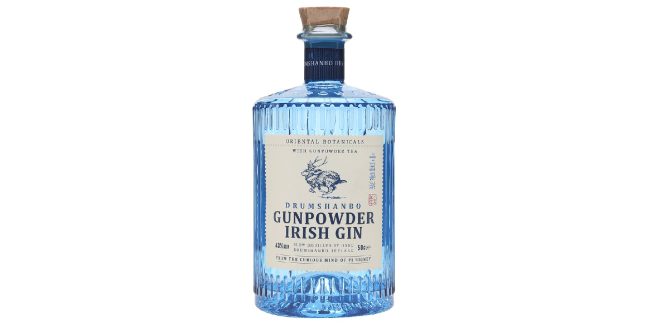 This curiously titled gin comes from Ireland's The Shed Distillery, and is named for its use of Gunpowder Tea leaves, which are rolled into small balls and thus resemble grains of gunpowder. It's a classical gin at heart, but not quite your standard London Dry—it starts with that familiar juniper base and then carves out enough of an oddball, spice-accented profile for itself to have its own identity. As I wrote earlier this year:
On the nose, Gunpowder immediately registers as more crisp and less sweet in comparison with others, with classic notes of juniper pine and berry fruitiness, coupled with pink peppercorn spice. There's a red fruitiness on the nose that almost makes me think of cranberry, which was an unusual thought. On the palate, my initial word was "resinous"—this gin certainly didn't forget about the juniper. At the same time, though, there's some very pleasant grapefruit citrus involved, and a melange of peppercorn spice. It's a little bit sweeter here than the nose implies, but any residual sweetness is nicely balanced by delicate bitterness. In general, this is a very well balanced gin indeed—a lot of subtle flavors, with none particularly dominating, while also being significantly less hot than many standard London dry examples, despite coming in at 86 proof. In short: You could use this in almost any recipe that has ever called for gin, and it would fit perfectly.
---
Hendrick's Gin Midsummer Solstice
MSRP: $43.99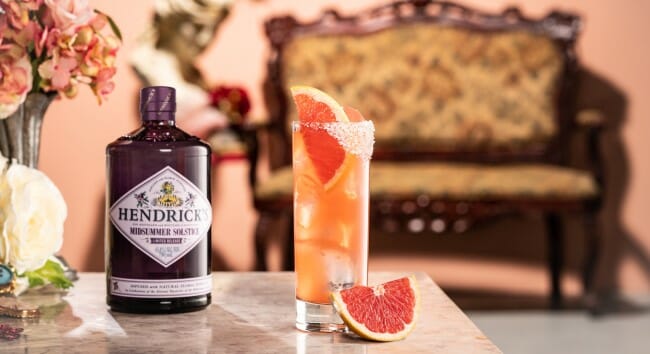 Scotland's Hendrick's Gin was a major influence on the evolution of modern gin, both in the U.K. and the U.S., notable especially for their use of two iconic botanicals—rose and cucumber—that have now become synonymous with the brand itself. And for a long time, that one product was enough to stand alone for Hendrick's as a concept, but the last few years have seen some long-awaited experimentation with the core concept. One of those gins, Orbium, is the "quinquinated" variation intended to make traditional tonic unnecessary in making a "G&T," while also opening up a bracing new flavor dimension. Its 2019 counterpart, on the other hand, is Midsummer Solstice, a gin intended to capture the full floral dimension of a hot summer day in the garden. As a counterpart to the Orbium, it presents as a sweeter, more approachable variation. As I wrote when first sampling it:
Sampled neat, Midsummer is very pleasant and easygoing on the nose. My notes use a term I may or may not have just invented, "bloomy," to describe the impression of a bunch of wildflower notes acting at once, like you're downwind of a field full of pollinators. It smells like an orchard—sweet orange and heady aromas abound. On the palate, however, I registered my first surprise: This is a distinctly fruity and sweet gin, when tasting neat. It lights up the tongue's receptors with impressions of sweet red berries—strawberry and raspberry in particular—in a way I've never really experienced before in gin. It presents as noticeably sweeter than the base expression of Hendrick's, with an initial rush of heat and fruit, like SweeTarts candy and strawberry jam, notes that will no doubt make it extremely accessible to the average drinker, or those who find most gins too dry or bitter. Indeed, this feels very much calculated to be a crowd pleaser, and my ultimate impression was less of "florals" and more of "a delightfully fruity little sponge cake you would eat during high tea."
Imagine my surprise, then, when I later sampled a Midsummer Solstice and tonic, only to find that my initial assessment had changed substantially. This proves to be the magic of Midsummer—it undergoes some kind of change, within the context of cocktails and mixed drinks. The sweetness and berry fruitiness are still there, but they've been filed down and smoothed out, and their lower assertiveness level suddenly allows the more overtly floral notes to come out and shine. Suddenly, thanks to the balancing bitterness and quinine notes you find in your tonic, I'm getting delicate floral notes of violet, hibiscus and rose hips on the nose of this drink. It really is an impressive transformation, and I can't help but think it's probably exactly what Master Distiller Lesley Gracie intended.
---
Holmes Cay Barbados 2005 Rum
MSRP: $149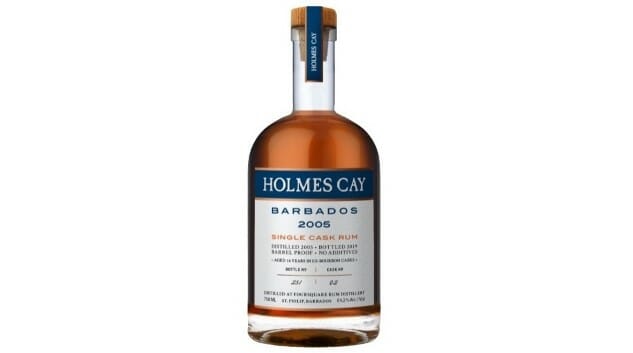 One of the recurring themes of my 2019 writing on rum was an attempt to reinforce the notion that rum is the most misunderstood of the major spirits known to drinkers, and the liquor most plagued by both misinformation and shoddy labeling/marketing. The mere fact that a term like "dark rum" has no actual definition under U.S. law, being equally valid for a 20-year-old aged rum or a "black" rum made with food coloring, speaks volumes on how I feel about that particular term. It is reassuring, then, to sample something from the likes of new bottler Holmes Cay, which lists quite simply where and how it obtained its spirit. This is no more and no less than what it claims to be: A lovely, 14-year-old, cask strength, single barrel rum from Barbados' iconic Foursquare Distillery. And it's fabulous. As I wrote then:
On the nose, the fact that this rum isn't all ethanol is already impressive on its own, given the exceptionally high proof. The oak has clearly tempered the alcohol character nicely, leaving us with notes of butterscotch, buttered popcorn, brown sugar and nutmeg. On the palate, this rum is as assertive as you would no doubt expect, although not too difficult to drink neat—although a splash of water probably makes for the ideal experience here, unless you're specifically trying to impress people. I added a tiny amount of water, leaving this dram still a little on the fiery side, but smoothing it out just a tad. Brown sugar, intense caramel and waves of oak hit the palate first, segueing into something I can only describe as "pumpkin spice" in its complexity. Granny Smith apples make excellent bedfellows with deeply caramelized sugar, with hints of "burn" or "charred" sugar, before a finish that just revels in the contents of the entire spice rack. There are spice notes of every description here, with an emphasis on candied ginger and molasses cookie. If there's a downside to the overall experience, it's that these spicy notes slightly overwhelm the full presentation, but it's delicious nevertheless.
Notably, residual sweetness is only moderate, despite the advanced proof and age. This is a true "aged rum," in the sense that it is the product of the barrel it went into—no more and no less, rather than a sweetened, "premium rum" product that has been molded after leaving the barrel for a specific profile. We are not meant to conflate residual sweetness with quality, here—we are merely meant to appreciate what 14 years in the wood have done to the spirit.
---
Mount Gay Master Blender Collection: Pot Still Rum
MSRP: $170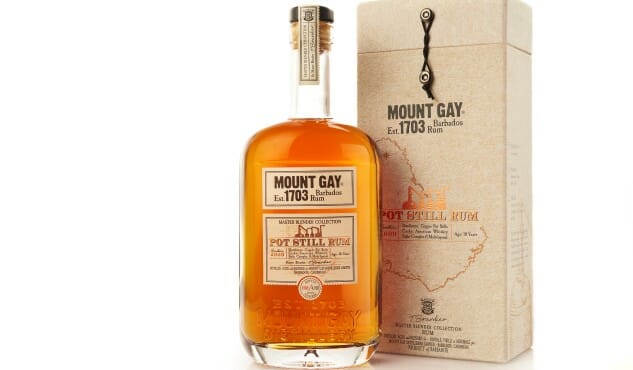 Pot still rum is often treated as a novelty or a flavoring agent in the modern rum market, doled out in small quantities into various blends in order to act as "the spice" or "the flourish" on top of a body largely composed of cleaner, more consistent column-distilled rums. The vast majority of modern rum (and really, modern liquors) come from column stills, which can produce larger quantities and more consistent, concentrated product—but without quite as much individuality and expressiveness that is often seen in high-ester pot still rums. It was exciting, then, to sample this release from Mount Gay, a 100% pot still, well-aged (10 years) rum, bottled at 96 proof. Delicious to the end, it's everything that rum geeks love about aged sugar cane spirits. As I wrote then:
On the nose, the Master Blender Collection: Pot Still Rum is enticingly funky, with bold notes of toffee and butterscotch, along with a distinctly earthy signature that is a bit "forest floor" in nature, along with candied apple fruitiness. On the palate, this release is both complex and plenty assertive, redolent in both spice and fruit, along with its woodier, more sugar-driven side. Candied ginger dukes it out with dessert banana and grilled pineapple, although there's a grassier, funkier undercurrent that is almost reminiscent of well-aged rhum agricoles, which tend to lose their more assertive funkiness as they mellow out in oak. Probing farther, I'm getting notes of spearmint, pineapple and custard/creme brulee, although I should note that this really isn't a very sweet rum overall—it evokes all sorts of confections in terms of flavor rather than residual sweetness, finishing fairly dry overall, with a savoriness that suggests tobacco leaves and cedar cigar box. All in all, this is a wonderfully complex, well-rounded and tasty dram, which is what you'd be hoping for in something that is meant to be a showcase for Bajan rum purity.
---
Ten to One White Rum
MSRP: $29.99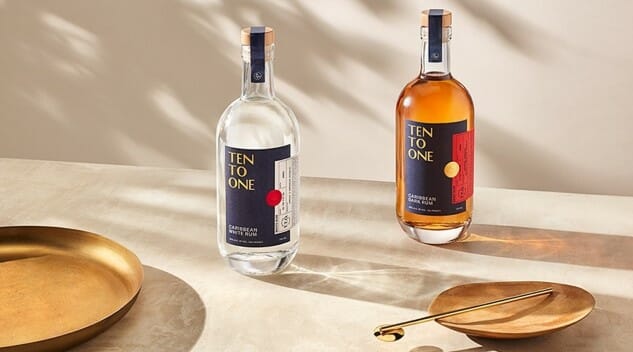 It's always nice to be thoroughly surprised, when appraising a spirit. Suffice to say, I really wasn't expecting too much when I approached this year's newly released Ten to One Rums, which are simply offered in "white" and "dark" (warning flags), and marketed as being the product of a guy who is "formerly Starbucks' youngest VP." To me, that said "someone is looking to cash in and make a quick buck on premiumized rum," but after actually getting to know these products, I can thankfully say that I was wrong. Both of them, in fact, are artfully composed blends of rum, aged to where they should be and made to stand out from their competition. And of the two, unexpectedly, it was the aged white rum that really caught my attention, being one of the best pure daiquiri rums I've ever had. As I wrote then:
On the nose, Ten to One White Rum is immediately funkier and more interesting than expected, with prominent grassy and earthy tones, segueing into juicy pineapple. This is likewise packed with flavor on the palate, featuring notes of fresh cane, white pepper, fresh cut grass, pineapple, green bananas and marshmallow fluff, while being overall fairly dry. It reminds me favorably of one of my favorite daiquiri white rums, Denizen 3 Year, and is, I must admit, far better in general than the vast majority of unaged white rum found on store shelves in the U.S. The thing is, at an MSRP of $29.99, which is high for white rum, and without a concrete age statement to factor into the rationalization of that price, Ten to One White Rum essentially NEEDS to be great in order to justify itself. Unexpectedly, it does exactly that. This is excellent, being pleasant to drink neat, and with a complexity and assertiveness of flavor that will work wonderfully in a variety of cocktails. I simply can't deny how good this is.
---
Virago Spirits Four-Port Rum
MSRP: $31.99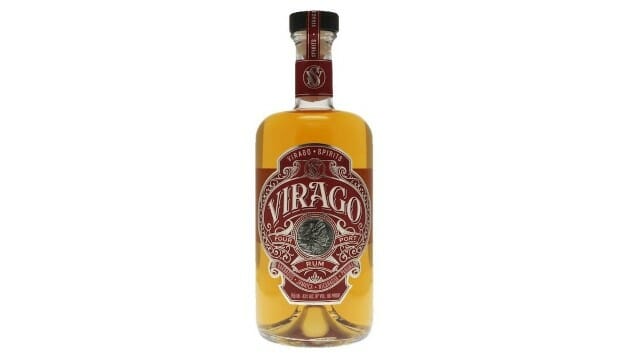 If there's one trend I love seeing in the modern American craft distillery game, it's distilleries that are assembling these beautiful little blends of Caribbean rums, rather than attempting to offer up their own unaged (or very young) rums instead. Richmond, Virginia's Virago is indeed working on their own rum, but they're taking the slow, authentic route to get there, which means we won't be seeing that spirit for a few years. But in the meantime, they've assembled one of the best Caribbean blended rums I've had, and done it at a ridiculously attractive price point to boot. This is a blend of 4 to 8-year-old rums from Barbados, Jamaica, Nicaragua and Panama (the titular four ports), and it has both an approachability and complexity that is baked right in, making it a perfect rum for either neat drinking or classic cocktail applications. As I wrote when first tasting it:
On the nose, Four-Port is redolent of warm baking spices, with plenty of vanilla bean, caramel creme, dessert banana and pineapple. On the palate, sweet cinnamon stick is a major component, with hints of funk and grass giving way to deep caramelization and significant richness, without too much overt sweetness and residual sugar. This rum strikes a very attractive midpoint between richness, sweetness and acidity, allowing individual flavors of tart green apple, brown sugar, cinnamon, butterscotch and Jamaican funk to each shine through one at a time. It is unmistakably "rummy," but difficult to nail down. In comparison with say, a Mount Gay XO (MSRP $43), it's a tad more brash and less smoothly composed, but absolutely not lacking in assertiveness or a wide array of flavors—and $10 cheaper, to boot. In other words, it's pretty much exactly what you're hoping for, if you buy a bottle of blended aged rums in this particular, mid-shelf price range. It's lovely to drink neat, thanks to the balance of sweetness, spice and richness, and it makes an outstanding daiquiri that allows the funk and richness of Four-Port to shine through.

Bonus Awards
And finally, allow me to pass out a handful of awards to spirits I want to recognize for one reason or another, regardless of whether they were released in 2019 for the first time (although most still were).
Best Classic Malt I Discovered: Oban 14
MSRP: $60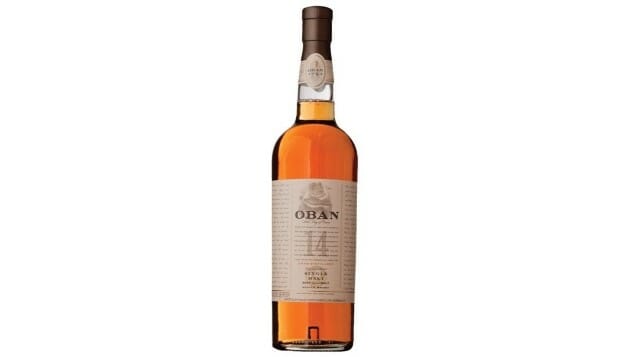 2019 was the year I really dove deep into truly appreciating scotch, and malt whisky in general, and that meant a lot of exploration of classic Scottish distilleries that the scotch geeks have known for decades. I tried dozens of classic scotch distillers for the first time this year, but the one that struck me as the most perfect synthesis of various regional styles? That would be the tiny West Highland producer Oban, and its flagship 14-year-old single malt. It's a true happy medium between Highland and Islay scotch influences, and it's easy to see why Diageo chose it as a representative in their "Classic Malts of Scotland" series. As I wrote then:
On the nose, there's a hint of medicinal tones to this malt, and a whiff of smoke—not like burning tires, or heavy peatiness, but a present and comforting impression of campfire. Orchard fruit, especially peach, is present, along with impressions of dark clover honey, salt and wildflowers. On the palate, this is immediately interesting as a mix of styles, with excellent balance between a host of competing impressions. There's more stone fruit here, but it's darker—plummy and slightly vinous. Smoke is again moderate—I'm more sensitive to smoke than most, and didn't think this was too pronounced by any means. Shortbread cookies and vanilla wafers make up the sweeter, biscuity malt impressions, while there's enough of a nutty almond character to almost make you think a few sherry barrels could have been involved, although I don't believe this malt comes anywhere near one. It's fairly sweet overall; a rich but not overly sticky dram that is beautifully balanced between moderately intense fruit, smoke and brine. All in all, even without having tasted this before, it seems like a classic and an old friend.
---
Best Overall Value Play: Old Forester Straight Rye Whiskey
MSRP: $22.99
There's a lot of cheap bourbons under the $20 mark that are perfectly pleasant to drink, but the same can't really be said about rye. Perhaps as a result of the cocktail boom, which introduced a lot of new rye brands to the market, rye whiskey now has a tendency to be somewhat premiumized in its pricing, as compared to bourbon. Aside from the likes of Heaven Hill's Rittenhouse or Dickel Rye, which can hopefully still be had for around $25 (but sometimes rise higher), cheaper quality rye has always been harder to find, which is why I'm certainly thankful that Old Forester decided to put its own straight rye out into the world in 2019. Bottled at a strapping 100 proof, just like Rittenhouse, and with a price tag that can get as low as $20, it's probably fair to call this the best pure value in rye whiskey today. And the whiskey is solid too! As I wrote earlier this year:
On the nose, I'm definitely getting the floral impressions that Old Forester attributes to the large percentage of malted barley in this rye. Distinctly maple-like sweetness is also present here, with hints of butterscotch, wet oak, green apple and old leather. I'm reminded a bit more of Kentucky-style ryes than I am of nouveau, high-rye whiskies, but this is still pretty interesting. On the palate, this whiskey is thinner of body and on the drier side overall than most Old Forester bourbons. Big black pepper spiciness announces the presence of the rye, with additional notes of apple and rye bread, supported by hints of maple sweetness. As I return to it, I find more of those floral impressions from earlier, and a pine-like woodiness that seems "fresh" and pleasant, if young. Alcohol heat is moderate—it's there, but this goes down easy for 100 proof. I'm struck by how spicy this is overall, but for the most part it's a purely peppery sort of spice—not big on the baking spices, aside from some light cinnamon. Personally, I'm a fan of peppery ryes, so I take this as a positive. Ultimately, this rye is mildly unusual, but it succeeds at being a hybrid between Kentucky-style ryes and more modern rye whiskey recipes. I imagine that it would be versatile as a cocktail rye, while also being decent for neat drinking, and I absolutely cannot argue with the price. In terms of bang for your buck, it immediately becomes one of the best value bottles of rye whiskey on the market.
---
Best Surprisingly Good Branded Whiskey: Walking Dead Straight Bourbon
MSRP: $35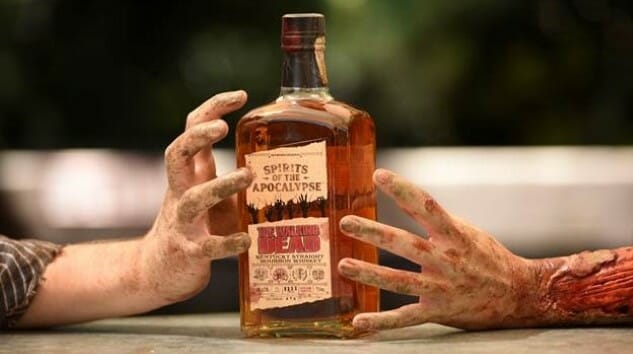 Another case where low expectations were easy to justify—I mean really, no spirits reviewer is going into drinking promotional tie-in spirits with the expectation that they're going to be awesome. In most of these cases, it simply isn't necessary for there to be a great whiskey in the bottle—you could slap the Walking Dead logo on just about any bourbon, and the show's (remaining) fans would be curious enough to give it a shot. Every once in a while, though, you get a promotional tie-in like this one where the liquid in the bottle genuinely goes above and beyond what it needs to be. Since receiving this bottle, it's become one of my favorites for whiskey mixed drinks—not what I would have expected, but there you go. Credit where credit is due, folks. As I wrote then:
On the nose, this projects some classic Kentucky bourbon notes: Mint, stone fruit (peach), caramel, light oak and something a bit less familiar, like pears in heavy syrup. It smells like something in my personal wheelhouse, and oddly familiar, if I'm being honest. I get the feeling I've likely sampled this in some other form before. On the palate, most of these notes are replicated—peachy stone fruity and a combination of dark honey and caramel richness, with a dollop of vanilla buttercream, complemented by later-developing notes of pepper and grassiness. The oak character is young, but not in an unpleasant way—although this whiskey has no age statement beyond being labeled as "straight," it comes off considerably older than 2 years of age to me, which is what you'd hope for with a $35 MSRP. It drinks easily, with not much heat on the palate, although it blooms with a deeper burn in the chest. All in all, I am both surprised and impressed, especially with the plastic cap nature of this bottle. The Walking Dead straight bourbon is significantly more characterful than it would need to be in order to market itself to the show's fandom, and displays a nice profile of fruit and caramel, with fresh mint as a signature note.
---
Jim Vorel is a Paste staff writer and resident brown liquor geek. You can follow him on Twitter for more drink writing.