Jacob's Pardon 18 Year American Whiskey Review (Small Batch #3)
Photo via Jacob's Pardon, Palm Bay International
Drink
Reviews
whiskey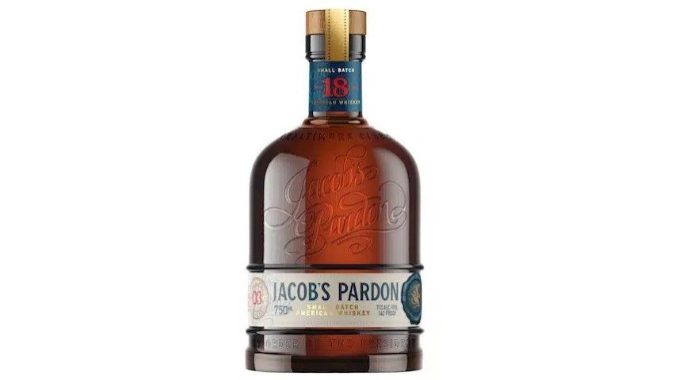 As part of our job, spirits writers do a lot of splitting of hairs. It's our duty to search for the factors that make any new product unique in some way, something easier said than done when you're tasting the 100th modestly aged bourbon from a new craft distillery in any given year. In those cases, you end up poring over the details, looking for something to key upon as the defining aesthetic of a new release–something to make it distinct. But then, every now and then, you have a release that shows up that is genuinely unique in pretty much every way imaginable, and it makes the job embarrassingly easy. Jacob's Pardon 18 Year American Whiskey is one of the latter.
This is a pretty freaking weird concept, right here. This is, for starters, light whiskey, the history of which we've written about several times. But to the uninitiated, what is "light whiskey"? Well, it's a category that was created in 1968 when the short-sighted distillers of the industry attempted to change the definition of bourbon, wanting to be able to distill to a higher, less flavorful and more neutral proof, and age their spirit in re-used barrels rather than newly charred ones in pursuit of a cheaper, "lighter" spirit. The predecessor to the TTB thankfully nipped this attempt in the bud, safeguarding bourbon whiskey as we know it while establishing a new category of light whiskey for the products the distillers were envisioning. The subsequent light whiskey boom never really took off on its own, but they've been produced and used ever since as part of cheap American blended whiskeys.
In recent years, though, there's been a trend of non-distiller producers (NDPs) acquiring well-aged, sourced light whiskey–MGP of Indiana seems to still have big stocks of it available–and releasing it on its own, or blending it with their own whiskey. But even in these cases, I've never seen a light whiskey release nearly as old as this one from Jacob's Pardon, a brand from Palm Bay International. Oh, and did I mention that this monster is presented at a cask strength of 71.35% ABV (142.7 proof) as well? In every way, this is just totally unlike any of the sourced MGP light whiskey releases I've encountered in the past.
It does make one wonder what kind of market there is for this niche, and whether there are really a lot of people out there champing at the bit to spend $195 on an extremely mature, cask strength light whiskey. But who knows, there's always a chance that this category continues to grow into the next big thing. In the meantime, let's taste this very unique juice.
On the nose, it's immediately interesting that even with all the age, this whiskey has maintained some of its grain-forward notes, likely thanks to its 99% corn mash bill. It's a little bready or doughy, combining with dark chocolate to evoke a dipped biscotti. I'm getting cornbread and significant cinnamon spice, along with clove and the stinging booziness you would no doubt expect at this proof point. As it sits in the glass, the baking spices and oak are becoming progressively more pronounced.
On the palate, this hits like a bomb, with a huge rush of baking spice and big spicy oak, with lots of cinnamon sugar, brown sugar, candied ginger, cardamom and general woodiness. It's quite sweet, with corny sweetness and toffee, but it's the massive baking spice and spicy oak notes that steal the show, being pretty unlike what one typically encounters in American oak. Honestly, it's more akin to French oak, for whatever reason. That wood also contributes some moderate drying oak tannin, but it's not exorbitant. The booze is likewise intense, though not as overpowering as I feared it might be at more than 140 proof. A splash of water, meanwhile, barely seems to affect the profile at all–it's still dominated by spice and oak, but water seems to bring out the tannic dryness more strongly.
All in all, this release from Jacob's Pardon is intriguingly unique, though it's not always the easiest thing to drink. More than anything, it reminds me of a visit to a large Canadian distillery, where the distillers were using many strongly flavored components to create an overall blend in a new whiskey brand. Jacob's Pardon 18 Year is like one of those components, one that you would use to impart wood and spice notes in a finished product, albeit in a small quantity. What they've bottled here is like tasting one of those components on its own, undiluted, which has more than a little novelty.
This is an acquired taste, but I imagine there are some drinkers out there for whom it would specifically register as nirvana.
Distillery: Jacob's Pardon (Palm Bay International)
Style: American light whiskey
ABV: 71.35% (142.7 proof)
Availability: Limited, 750 ml bottles, $195 MSRP
---
Jim Vorel is a Paste staff writer and resident beer and liquor geek. You can follow him on Twitter for more drink writing.