Let's Review Some Downton Abbey Wines like the Sophisticates We Are
Photos via BBC
Drink
Features
wine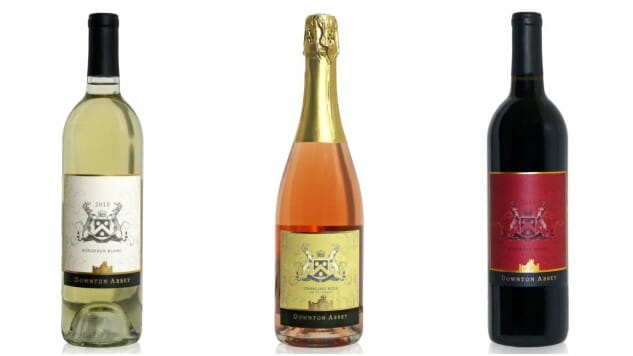 Well, Downton Abbey is coming to the big screen. You knew that. What you might not have realized is that it is bringing with it a trio of Lot 18 limited edition wines (a red, a white and a pink bubbly) so you can toast the upstairs-downstairs drama in high style. The labels are bee-youtiful, with heraldic elements and understated cream, dusty rose and gold colors. Which is well and good-appearances are crucial, after all. But, not to break decorum with ungainly declassé questions about what's going on beneath the surface or anything, but one does wonder about … well, about taste, my dears. Without that, what do we really have?
Of the three, the white is the nicest. It's a Bordeaux blanc blend (I taste Sauvignon Blanc and Semillon; there might be supporting cast members as well) with very decent balance-the Semillon imparts a Carson-esque unctuousness and the Sauv Blanc confers a certain tart dryness not unlike a Dowager Countess witticism. It's totally drinkable and would be a nice pairing with some goat cheese gougeres … or some popcorn.
The red, also a Bordeaux, meaning a blend of Cabernet Sauvignon, Cab Franc and Merlot, is very competent as well, with a Grantham-worthy ingratiating attitude and the robust confidence born of knowing you come from an impeccable bloodline. It's rich (naturally), and a bit stolid, with notes of plum and stone and blackcurrant.
The Crawleys would no doubt stock their cellar with Champagne-this sparkler is a charmat rosé from Loire and Languedoc grapes, which suggests it is probably made at least partially from Cabernet Franc. For my taste it's a bit overripe; I tasted raspberries and strawberries but also quite a bit of sugar. If you like your bubbly to be sweet and kind of big, you're in luck-if not, this wine might strike you as a little blowsy, if still good natured. You know, like Mrs. Patmore after an unexpected dinner service for 20.
The trio of wines will probably contain something for most everyone in your viewing party, theme dinner, or house of superfans. They are available in-store at Cost Plus World Markets as well as online at Lot 18. Supplies are, of course, limited. But effective today, you can feed your Downton cravings with some festive themed wine.