We've all experienced it. The dread that comes after a fancy feast of holiday ham and hearty sides — your aunt's or your grandma's or someone's fruitcake. As it is a family function, those dry, oh-so-sweet slices of fruit cake are hard to avoid. Fruitcake has been around since the 16th century, when people used sugar to preserve their fruits. Then, because why not, they threw it in cakes. The most common modern version of fruitcake includes candied fruits (like those awful bright green and Rudolph-red cherries), nuts and spices—and, sometimes, a bit or a lot of booze.
Do yourself (and your family) a favor and skip this horrendous tradition this year. Here are five way better alternatives to that strange concoction called fruitcake.
Three Kings Bread
Watch out for the baby! The Three Kings Bread, or Rosca de Reyes, is made predominantly in Latin American countries and Spain around Christmas and early January. The bread is spongy, slightly sweet, and studded with fruit and nuts. A small doll or plastic baby is usually hidden inside the crown-shaped cake, and if you find it before your family, it signals fortune in the new year. It's not to be confused with New Orleans' Kings Cake, that other sweet bread with a plastic good luck baby baked into it. Fancy a recipe? Head here.
Panettone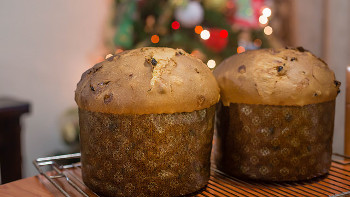 N i c o l a CC BY
This Italian sweet bread, packed with raisins and orange zest, is eaten throughout Europe. It's also leavened with yeast, so unlike fruitcake, Panettone is oh-so-fluffy and high as Texas hair. A special pan will help you achieve that tall finished look. Recipe here.
Stollen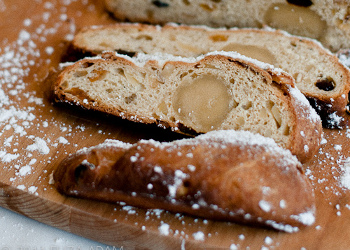 Eliza Adam CC BY-ND
Stollen is a traditional German yeasted cake baked especially for the holiday season, hence it's full name: Christollen. While it contains dried fruits, it differs from other breads since it contains marzipan, a concoction of almond paste and sugar or honey. Talk about delicious. In Germany, you can find it everywhere from markets to grocery stores. But here, you can make your own without too much hassle, and here's how.
Julekake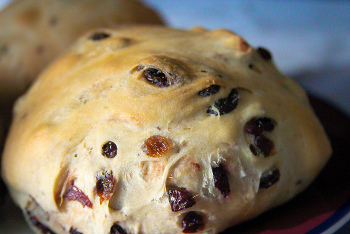 Rich Renomeron CC BY-NC-ND
Julekake comes all the way from Scandinavia, more specifically Norway. The bread brings a wonderful cardamom scent to your kitchen, and it's decorated with raisins and candied citron or fruits. You can use dried cranberries too. It often served with a single swipe of butter and side of fireplace. Inspired? Make your own.
Cozonac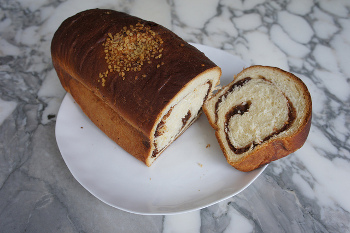 Dan Costin CC BY
This Romanian sweet bread is often served at Christmas and Easter. The dough is heavy with eggs, sugar, milk and butter for a crumbly finish. You can add rum to it, poppy seeds, orange zest, and more nuts. While it's very similar to the panettone, the dough may vary due to consistency or ingredients. Peek at this recipe for more.
Muriel Vega is a freelance writer based in Atlanta, GA. You can follow her cooking adventures on her Instagram: @kickmuri.