8 Ways to Crush Your Cooking Game with Vinegar
And without making salad dressing or pickles!
Food
Lists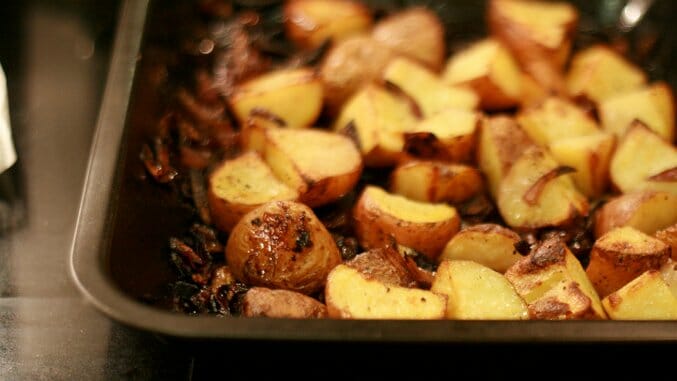 Humans have touted the virtues of vinegar for millennia. Ancient Romans dunked their bread in it. Islamic scientists prescribed it for burns, rashes, and digestive ailments. King Louis XIII brought barrels of it to the battlefield to clean and cool the cannons of his warring armies. Early colonists figured out how to preserve food with it to survive harsh New England winters. The Victorians used white vinegar to polish their windows and gave it to prostitutes to fight venereal disease. Emma Bovary, the 19th century's desperate housewife, slurped bottles of "sour wine" to stay thin.
Vinegar's cultural significance is huge, but what about its culinary possibilities? Some home cooks dismiss it as a cheap condiment stashed away in the pantry, unearthed only for the purposes of salad dressing or pickles. That's a shame, because vinegar is nothing short of magic. Vinegar, in its endless varieties, coaxes bright, fresh flavors from food. Whether your cooking game is on point or suffering the winter doldrums, now is a good time to take an (acetic) acid trip.
Hot and Sour Soup
A steaming bowl of hot and sour soup, a classic Sichuan dish, relies on vinegar for its addictive tang. While the list of ingredients is long, recipes for this warming soup leave plenty of room for improvisation. Food & Wine has a roundup of nine variations here.
Spicy Relish
At 101 Cookbooks, Heidi Swanson's Magic Ancho Chile Relish combines apple cider vinegar with dried ancho chiles. It takes five minutes of work to throw together and lasts for weeks in the refrigerator. Assertively smoky, sweet, and sour, it's like Mexican chutney. Try a few spoonfuls swirled into white beans or soft scrambled eggs.
Vinegar Chicken
Have you tried vinegar chicken? Bon Appétit put out a version a couple of years ago that deserves a spot in your chicken dinner repertoire. It uses sweet onions (Cipolline or pearl), golden raisins, and crispy pancetta to balance the sour power of a cup and a half of red wine and balsamic vinegars. The result is satisfyingly complex and leaves you craving the next bite. Use bone-in chicken thighs and brown them well to get the best flavor.
Gastrique
A sweet and sour sauce called a gastrique – a reduction of vinegar and sugar – is a great way to finish duck and other rich meats. See this version from David Lebovitz, by way of Bobby Flay.
Dessert Vinaigrette
Why stop at strawberries and balsamic? A dessert vinaigrette adds sparkly tanginess to a bowl of mixed berries. Dan Barber at Blue Hill at Stone Barns does a version with strawberries, peaches, and basil. For your berries, grab a medium saucepan, combine a cup of fresh orange juice with 1½ Tbsp. of sugar, 1½ Tbsp. champagne vinegar, 1 Tbsp. extra virgin olive oil, and a dash of salt. Bring to a boil, lower the heat, and simmer for 15 minutes, until reduced by about half. Let stand for a few minutes before gently stirring the mixture into two cups of fruit.
Roasted Potatoes
Salt and vinegar potato chips leave some of us licking our fingers and stabbing at empty bags in search of malty crumbs. Chez Panisse's potatoes roasted in vinegar and thyme are the grown-up version, and just the right accompaniment to a roasted chicken or almost any meat. Prep is easy, then the potatoes sit in a 325-degree oven for a couple of hours.
Sherry Vinegar Glaze
Spain's less-syrupy answer to balsamic contains sugars, making it ideal for brushing over meats (especially pork), mushrooms, and vegetables. Its sugars caramelize in a hot oven, creating a tart glaze that elevates almost anything you're roasting or sautéing. Martha Stewart's simple sherry vinegar glaze uses brown sugar to maximize the effect. In a small saucepan, bring ½ cup of sherry vinegar and a ½ cup of brown sugar to a boil. Simmer for about 5 minutes, until reduced and syrupy. Stir in a teaspoon of water. Try it brushed over pork tenderloin or on mushrooms sautéing with garlic.
Poached Fruits
Pears poached in sherry vinegar are sweet, like the usual wine-based versions, but with a welcome hint of funkiness. Combine 2 cups of cold water with 1½ cups of sherry vinegar. Stir in 1 cup sugar and 1 tsp. black peppercorns. Add any or all of the following: 2 cinnamon sticks; 4 star anise pods; 4 cardamom pods, lightly smashed. Peel, core, and slice 3 firm Bosc pears. Bring liquid to a simmer, add pear slices, and cover with a circle of parchment paper to ensure even cooking. Simmer pears for 20 minutes, or until tender when pierced with the tip of a knife.
Photo by missy CC BY