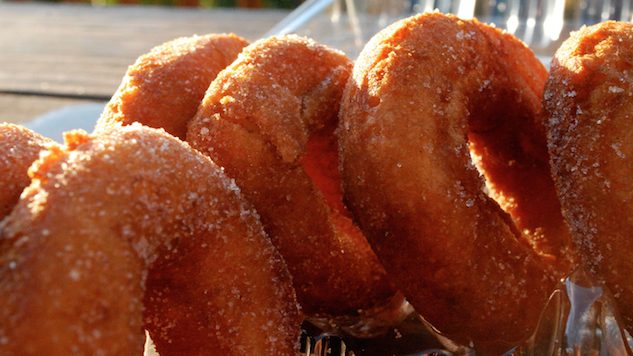 Everyone knows the classic apple cider and apple cider donut. It's a staple of crisp autumn bonfire nights and apple picking excursions. But with new cideries popping up all over the place, there's been a burst of new flavors to choose from beyond basic apple.
What better way to satisfy your sweet tooth than pairing innovative new ciders with savory or sweet donuts you can make at home? You'll need a donut pan, but baking donuts is much easier than you think. Try this basic but tasty recipe from King Arthur flour and you'll have all that you need. Then, you can add your own flair with additional toppings and flavors to rival your local bakery.
When it comes to pairing apple cider and donuts, it's important to keep texture in mind. Baking or frying the donut will dramatically change the texture (though both techniques result in something delicious). Finding the right mix of sweetness and dryness in the ciders is key so that you don't end up bouncing off the walls in a sugar rush.
Here are our favorite pairings:
1. Maple Cider and Pumpkin Donut
Channel your inner New Englander with this maple and pumpkin pair. You'll almost see colorful autumn leaves falling outside your window. Stock up on pumpkin pie spice for these easy pumpkin donuts, or save yourself the trouble with this three-ingredient version from Betty Crocker drink, try Downeast's Maple variety, or make your own version with a little bourbon.
2. Passionfruit Cider and Toasted Coconut Donut
Enter the Caribbean with fruity, bright ciders like passionfruit or summer brews and pair with a toasted coconut donut for that summer "aah" feeling. Picture yourself with your toes in the sand. For this donut variety, top with a vanilla glaze and sprinkle toasted coconut. We like Rekorderlig's fruity flavors or Woodchuck's summer blend as a partner.
3. Iced Cider and Glazed Vanilla Donut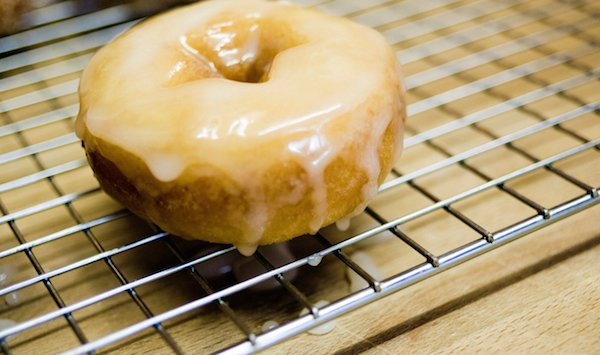 Photo by Tavallai, CC-BY
Pair the super-sweet classic, glazed vanilla, with a drier, lighter iced cider that tastes more like wine than cider. It'll balance out the sweet! A great choice is Angry Orchard's The Muse, aged on French oak with notes of clove and vanilla, but this list of winter ciders would work just as well. For the donut, include an extra dash of vanilla in the batter and make a vanilla glaze by mixing together vanilla, confectioner's sugar, corn syrup, melted butter and milk. Try this vanilla glaze as a good start.
4. Honey Cider and Cinnamon Donut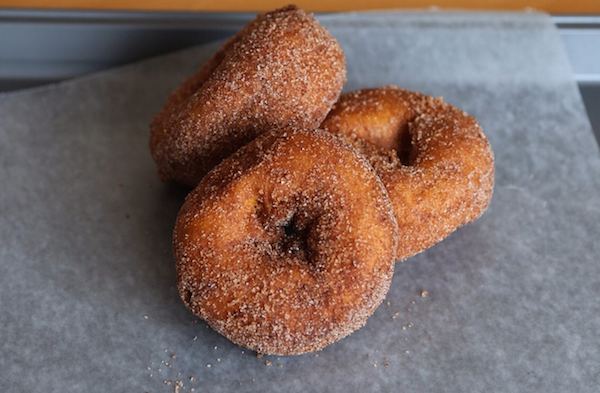 Photo by Jerry Huddleston, CC-BY
For the ultimate sweet tooth, pair sweet, bubbly honey cider with cinnamon-sugar heaven in donut form: The powdered cinnamon donut. The lighter honey tones from Strongbow will pair well here. To add cinnamon-sugar to your donut, shake warm baked donuts in a plastic bag with about a half cup of cinnamon-sugar. Or, try this variety with pure powdered sugar for extra sweetness—the same method applies, but with confectioner's sugar instead.
5. Ginger Cider and Apple Cider Donut
A twist on the classic apple cider with apple cider donut pairing, ginger cider contains a hint of fall flavor without being overly apple-flavored. Almost every major cidery has a ginger variety (we're fond of Wandering Aengus' Wanderlust Cider), or you can make your own cocktail version. To make the donut apple cider-style, glaze the donut with a mixture of heavy cream, boiled cider, and confectioner's sugar, and then toss with cinnamon-sugar.
6. Original and Chocolate Sprinkle Donut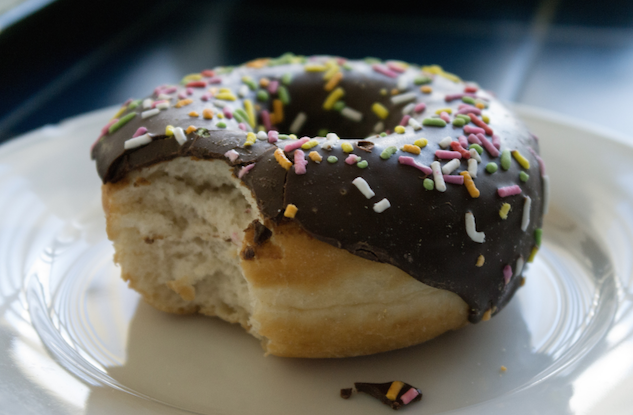 Photo by Kiran Foster, CC-BY
Where apple cider shines best is in its original flavors—not too sweet, not too dry. Pair with a chocolate sprinkle donut for a melding of chocolate and apple flavors. For the donut, add cocoa powder into the dough and top with either a chocolate glaze or chocolate frosting and rainbow sprinkles. Everyone has their own favorite original cider—we're partial to Downeast and Crispin, but try your local cidery, too.
7. Spiced Cider and Potato-Rosemary Donut
Spiced cider adds deeper flavors, like cinnamon, ginger or cloves, which pairs well with a more savory donut like potato and rosemary, pioneered by the geniuses over at Holy Donut Portland, Maine. This savory donut is a slightly different dough, much more fluffier and cake-like. Try this list of savory donuts, or top with rosemary and sprinkle with sea salt. These you'll have to fry, but trust us, you will not regret your first potato donut, New England-style.