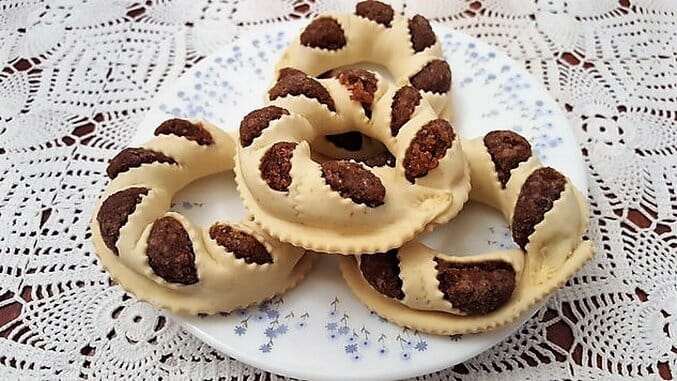 Dubbed as the Hawaii of Europe, the Portuguese archipelago of the Azores comprises nine volcanic islands in the mid-Atlantic ocean. The islands offer fresh seafood, homemade cheeses and tender beef, but what is less apparent to visitors is the wealth of delicious desserts at almost every corner bakery.
Luis Nunes, founder of Azores Getaways, a travel company that offers package vacations to the Azores and throughout Europe, shares his love for his home islands. He says that while pineapple is a staple dessert on nearly every menu, it is not native to the island (Azoreans just happen to love it and grow them in greenhouses) and urges visitors to try more local creations. "Azoreans know how to make flavorful sweets. The Moors may have first planted the seed for Azoreans' affinity for egg-enriched desserts, but each island excels at offering a uniquely different sweet. Moreover, the same cow's milk used to make our famous cheeses also produces our butter: a key ingredient for our desserts."
Here's Paste's scoop on the best sweets in the Azores:
1. Especies
Especies are a specialty of Sao Jorge island. As evidenced by the name, the horseshoe cookies are stuffed with a spiced filling which includes fennel, black pepper, cinnamon and lemon. The popular usage of spices goes back to the early days of global exploration, when the Azores were a popular stopping point for sailors heading to and from Europe, Asia and Africa; the result of such interactions brought many new "exotic" ingredients, spices and recipes to the islands and helped enrich their overall cuisine landscape.
2. Fofas da Povoação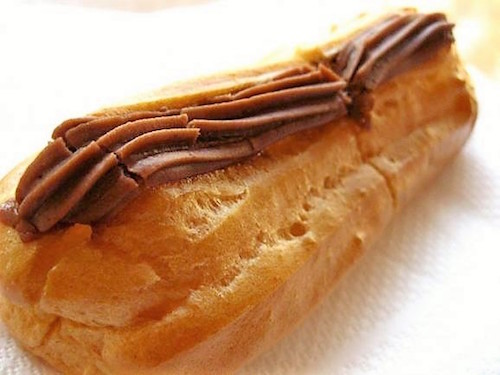 Photo courtesy of Guia Da Cidade
Fofas da Povoação are similar to an eclair — the golden brown exteriors are puffy and chewy, while the insides are stuffed with fresh whipped cream or pastry cream. Find them on São Miguel island.
3. Azores Filhós and Malassadas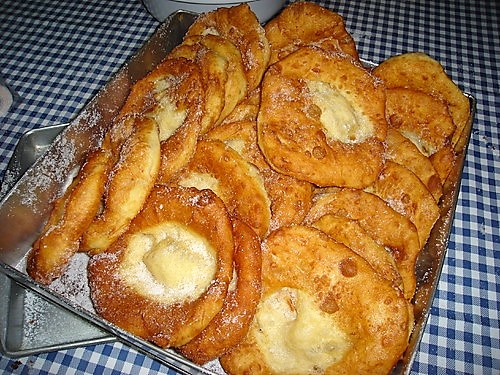 Photo courtesy of Santa Maria Azores
Azores Filhós and Malassadas are variations on Portuguese sweet fritters. They are a homemade, yeast leavened dough with a bit of lemon zest. As with donuts, after a rest, roll out and proofing, they are deep fried in lard or vegetable oil. They are eaten best while still fresh and hot out of the fryer without any adornments. Malassadas differ only in shape and finishing touches: they are flattened oval discs rolled in granulated sugar.
?4. Bolos Lêvedos and Massa Sovada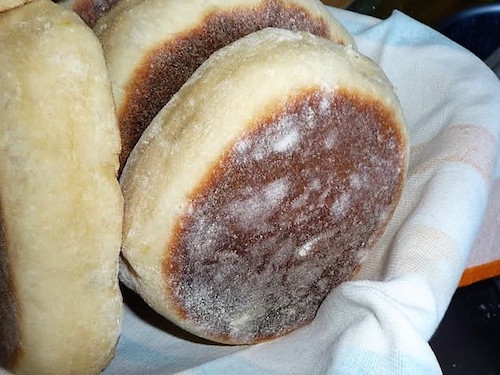 Photo courtesy of Visit Azores Tourism
Bolos lêvedos and massa sovada are not exactly desserts; however, both are certainly sweeter than any brioche or challah, for instance, you could find in North America and Europe. The former are cooked on a large round griddle; the bread has an airy, soft crumb and delicate sweetness: it's cake-meets-muffin-meets-bread. You can find bolos lêvedos on every island (either sold in supermarkets or the street corner where local market vendors are cooking them in small batches). Massa sovada is a Portuguese sweet bread enriched with butter, sugar, shortening, milk, eggs and sometimes honey. Traditionally, it's eaten during Easter, with an egg added to signify Christ's Resurrection. When an egg is added, the bread becomes folar — but as massa sovada, it can be enjoyed year-round on all the islands.
5. Queijadas de Vila Franca do Campo
This dessert gets its origins from convents. Nuns in the 1600s used egg whites to starch their clothes, but didn't want to waste all the leftover yolks and so (of course) made dessert with it. It's mildly inaccurate to say that it is a custard cake (it's not like a Portuguese egg tart aka pasteis de nata) but rather the use of many egg yolks results in a canary-colored dessert with a texture that is creamy and pleasantly chewy. Find it on São Miguel island.
6. Queijadas da Graciosa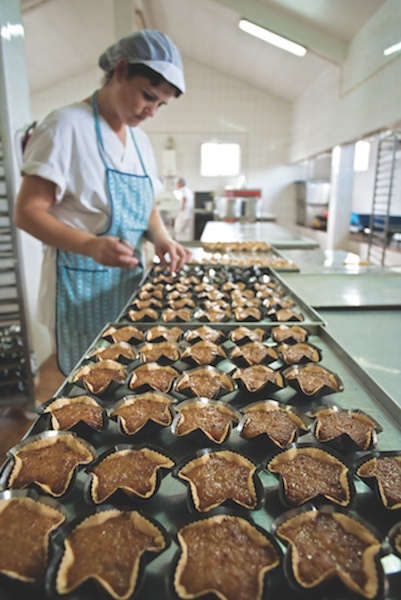 Photo courtesy of Azores Gateways
Queijadas are plentiful in the Azores with each island offering its own rendition — in fact, they are as ubiquitous as the pasteis de nata (with brûléed tops) on the mainland. The variation that is most popular is found on Graciosa Island and similar in texture to a pecan pie or butter tart. The compact, star-shaped treats have a wafer-thin butter crust made of farmer's cheese, eggs and sugar, followed by a cinnamon custard filling. All at once, they're crisp and chewy. Their dainty teatime size makes them easily addictive.
7. Cream-Stuffed Fofas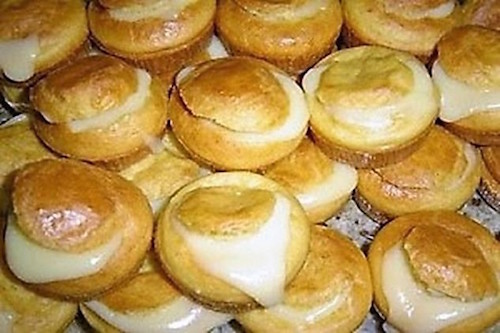 Photo courtesy of Doces Regionais
Available on Faial Island, these fofas are a cross between a domed, mini sweet bun and a puff pastry; the choux dough itself is enriched with eggs, butter and a touch of fennel seeds. Portioned out, the dough is baked as small balls. Once cooled, the tops are ?cut off and stuffed with fresh whipped cream, lemon or vanilla custard.
8. Donas Amelia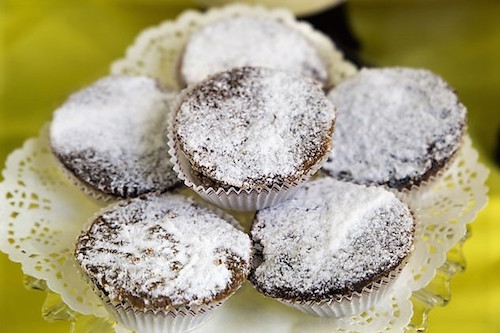 Photo courtesy of Azores Gateways
This is a hallmark dessert of Terceira and it honors Queen D. Amelia's first visit to island in 1901. It's a dense, mildly squishy cake in the shape of a small cup or tart; it is made with eggs, honey, cinnamon and island corn flour and dusted with confectioner's sugar. Sometimes raisins are added as well as molasses for intensity of flavor and a touch of bitterness — similar to gingerbread.
9. Alfenim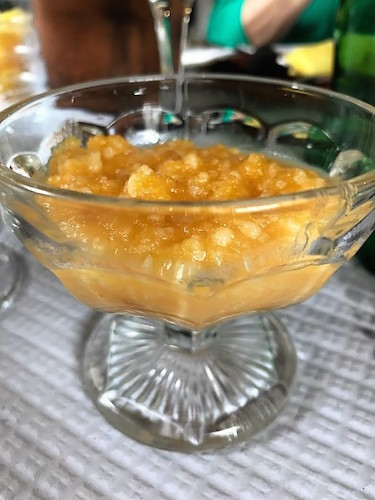 Photo by Tiffany Leigh
Also known as "vinegar dessert," this pudding is sunshine-hued and made of sugar, water and a dash of vinegar. The addition of the acid causes the mixture to curdle, resulting in a tapioca pearl texture within the pudding. The recipe is centuries old and was brought to the island of Terceira when the first Portuguese settlers arrived in the early 15th century.
10. Pasteis de Feijão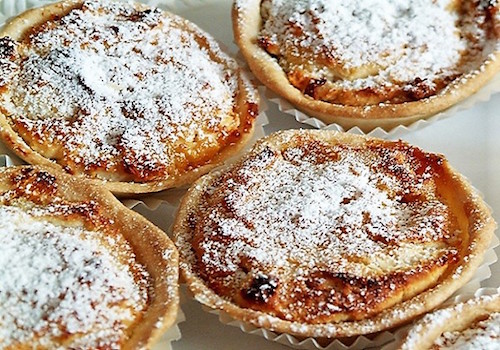 Photo courtesy of Doces Regionais
Pasteis de feijão are dense cakelets made with pureed white beans and ground almonds. The dessert recipe was developed on the mainland of Portugal in the region of Torres Vedras. Commercialization in 1940s made the sweet available outside of municipal borders and eventually made their way to the islands. Since then, homegrown recipes have been adapted on the Azores and produced locally. They are intensely sweet with a fibrous texture. An abundance of pasteis de feijão can be found on Terceira Island.
11. Biscoitos de Orelha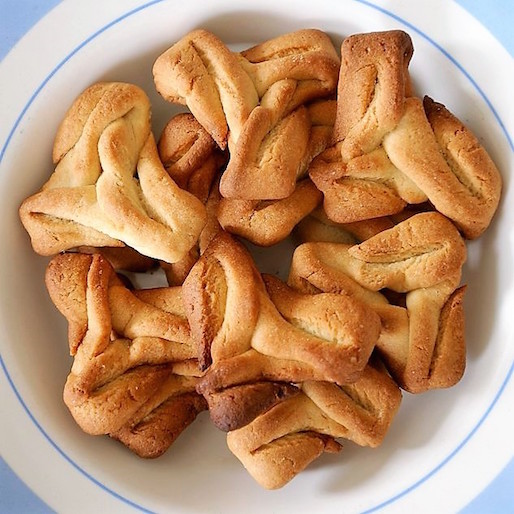 Photo courtesy of Visit Azores Tourism
Biscoitos de orelha are a specialty of Santa Maria island. During occasions such as weddings and festivities pertaining to the Holy Spirit and Christmas, these golden-brown cookies are given to children by their godparents. They are overlapping "ear" shapes which create a sort of triangle-looking cookie. Enriched with wheat flour, butter, lard, sugar and eggs, the exterior is crisp with a melting tenderness on the interior.
12. Suspiros
Suspiros, or "meringue kisses," are ubiquitous throughout the Azores islands. They are shaped simply like Hershey's kisses or as more elaborate religious scenes celebrating the Holy Spirit. Depending on how the meringue is piped out, the edible confections can result in two taste experiences: piped large and served fresh — the thin, delicate exterior melts to reveal a chewy, eggy texture inside, reminiscent of caramel squares. When piped into bite-sized pieces, they crackle on the tongue and instantly melt.
---
Tiffany Leigh is a Toronto-based food, travel and science writer.