Garlic Confit Is the Inflation-Friendly Delicacy You Should Always Have on Hand
Photo by Kadir Celep/Unsplash
Food
Features
Garlic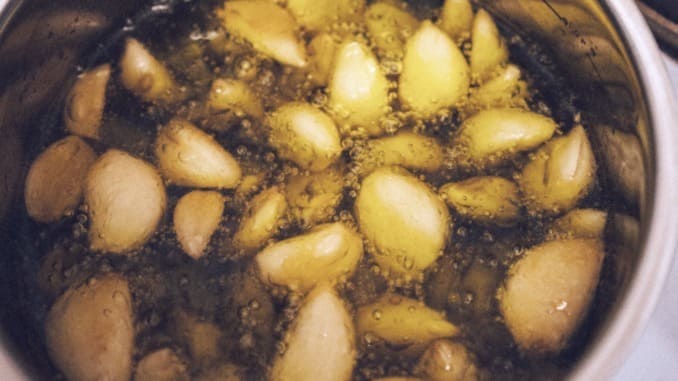 Now that the prices for even basic staples like eggs are on the rise, you may assume you have to sacrifice your favorite luxurious dinnertime ingredients in favor of ramen and frozen vegetables. But luxury is about a state of mind—not a price tag—which means you can still find ways to punctuate your meals with budget-friendly delicacies from time to time.
Enter garlic confit. It's one of my favorite cheap-ish ingredients to make at home. Garlic confit adds a slightly sweet, pungent punch to everything from salads to pasta dishes, and when you cook it for long enough, it becomes soft and spreadable and perfect for smearing on toasted bread. Plus, even after you've finished up the garlic itself, you can still take advantage of that glorious, garlic-infused olive oil.
---
What Is Garlic Confit, Anyway?
Never heard of garlic confit? Well, to confit anything means to cook it slowly in oil. With this cooking method, you're not deep-frying; rather, by cooking whatever you've got soaking in the oil, you leave it soft, tender and extra juicy. Confiting actually helps preserve the food you're making, which means you can keep it in the fridge for longer than you would, say, fresh garlic. Although some confited dishes, like duck confit, can be tricky to master, that's not the case when it comes to garlic confit—it comes together surprisingly easily, even for the novice home cooks among us.
---
Keep It Simple or Infuse It with Your Favorite Flavors
One of the best parts of making your own garlic confit is the fact that it's so easy to customize each batch. If you want to keep things simple, all you really need are the garlic cloves and some olive oil. I personally love the richness and spiciness of olive oil, but if you prefer a more neutral flavor base, you can always use grapeseed or canola oil instead. Peel the garlic cloves, throw them into a pan, cover them with foil and put them in a 250-degree Fahrenheit preheated oven. Let them cook for about two hours before taking them out and placing them in a sealable jar.
If you want to go beyond the basics, though, you can add in a wide variety of other ingredients to up the flavor ante. For example, I think whole dried chili peppers can make an excellent addition to garlic confit. They add a touch of spice without making the garlic overwhelmingly hot. Peppercorns, thyme, rosemary and other hearty herbs can also enhance the flavor of your garlic confit. Feel free to get as creative as you please.
---
Garlic Confit Makes a Thoughtful Gift
Once you make your first batch of garlic confit, you're always going to want to have some on hand. After giving your friends and family a taste, they'll probably feel the same way, which is why I love the idea of giving garlic confit as a gift. It's nothing you have to break the bank to make, but it's a lovely addition to any friend's fridge. Make a small container for a housewarming party, or confit a large batch of garlic to make simple but flavorful holiday presents.
---
Garlic Confit Hack: Use Peeled Garlic
Listen: I'm not usually one for taking a ton of shortcuts in the kitchen, especially for a fun project like confiting garlic. However, if you're making a large batch of garlic confit, you may want to spring for a jar of already-peeled garlic rather than spending hours peeling every clove one by one. Keep in mind that you'll want to find the jars of whole garlic cloves, not pre-minced garlic.
---
Simple Garlic Confit Recipe
-Garlic
-Olive oil
Submerge cloves of garlic in olive oil. Add herbs if desired. Cover with foil, and place in a 250-degree Fahrenheit oven for one to two hours. Check for doneness halfway through the cooking process. Your garlic should come out looking soft and golden but not browned or fried. Transfer garlic and oil to a sealed jar.
---
Samantha Maxwell is a food writer and editor based in Boston. Follow her on Twitter at @samseating.