6 Chefs' Holiday Pantry Essentials
Photo by Carl D. Walsh/Portland Press Herald via Getty Images
Food
Lists
Gift Guide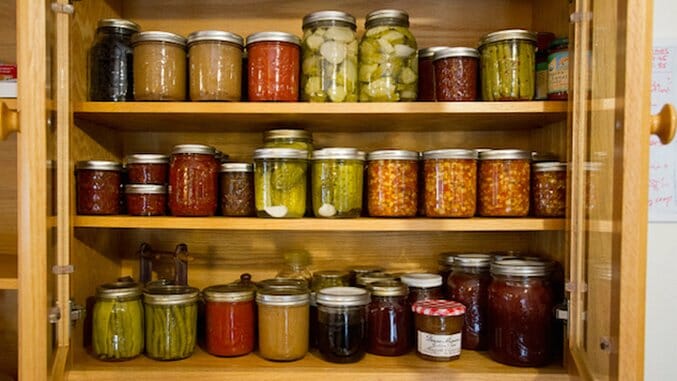 The holidays are tricky times. There's tons of food including copious amounts of sugar, ample supplies of booze and, oftentimes, stressful family dynamics at play. The best way to cope: Make sure whatever you're eating is delicious as hell. To keep it interesting, we spoke to six chefs with customs that span the globe about their favorite holiday pantry essentials.
1. Nina Compton, chef/partner Compere Lapin, New Orleans
Compton is known for her use of spice at her Caribbean- and Creole-infused NOLA restaurant. Her curried goat with sweet potato gnocchi is otherworldly. To her, brown butter for roasted vegetables ("adds a nuttiness and sweetness," she says) and warm spices, like clove, star anise, cinnamon and allspice, are essential for the Christmas season. "The smell and flavors of these spices speak to all things holidays," says Compton. "Add them to tea, use them in cooking, or simply make a potpourri of whole spices for your holiday gatherings."
As a native of the Caribbean, one ingredient is an absolute must for Compton: rum-soaked fruit. Fresh produce is soaked in the spirit for an entire year, which is then added to a traditional baked dish. "Every Christmas in St. Lucia we eat 'black cake,' a fruit cake made with rum soaked fruit," says Compton. Compton and her family like to wash it down with boozy milk punch.
2. Michael Fiorelli, chef/partner Love & Salt, Manhattan Beach, Calif.
Hailing from a Long Island-Italian family, Fiorelli's holiday pantry essentials come straight from the Motherland: olives, sharp provolone cheese and spicy salami. "Growing up, my grandmother would always have three things in the living room on Christmas Day — olives, sharp provolone cheese, and spicy salami — and now, I can't have Christmas without it," says Fiorelli. "The trio is great for many reasons. It gives your guests something to snack on right away and it's a great pairing with pretty much any wine you're going to serve. People can gather around it while they arrive and catch up. But the number one reason why these items are great (and why I later realized my grandmother was a genius) was that if properly positioned, it would keep people out of the kitchen while you're busy making the holiday feast."
3. Adonay Tafur, executive chef The Dutch Miami, Miami Beach, Fla.
Born in Santa Catarina, Brazil and raised in Colombia, before moving to the United States at the age of 16, Tafur says, he doesn't "Come from a traditional background," but he still has his own must-have holiday ingredients.
"Apples are always making an appearance somewhere or in some dish." Usually in season around the holidays, Tafur thinks the quality and price are outstanding. "Mustard is always great, in many different ways — from the greens to the seed." Tafur uses different parts of the plant pickled, braised, used in a sauce or a vinaigrette, stuffed, as a salad, or just simply rubbed on some sort of roast. His third necessity is grapes, in all different forms. Wine is the most important, but he also likes to add depth to dishes with vinegars and different reductions. "All these items are in season during the holidays and used in all different ways and most likely you will find them in all holiday meals somehow from the first cup of wine to the last slice of pie," adds Tafur.
4. Jessi Singh, chef/co-owner Babu Ji, New York and San Francisco
At his string of restaurants, Singh offers powerful modern riffs on traditional Indian classics by way of Australia. Singh's first outpost debuted in gourmand haven, Melbourne, Australia and it has since branched out across the U.S.
It should come as no surprise that Singh's pantry is full of bold flavors throughout the year. This time of year, Singh likes to bring "beautiful holiday flavor and fragrance to dishes with fennel seed." He rubs meat with it before roasting to give it new dimensions. Black cardamom is one of Singh's perennial standbys. More robust than traditional cardamom, Singh uses black cardamom powder to flavor coffee or chai tea. It adds an eggnog-like quality to beverages that's more subtle than ubiquitous holiday reliable, cinnamon, and for Singh it conjures fond family memories. "Cardamom is the main ingredient in Indian sweets, so it always reminds me of the holidays back home." The chef rounds out his long-lasting spices with in-season pomegranate, drying the seeds to preserve whatever isn't consumed fresh. Singh adds it to salads and, instead of dried cranberries, dishes like stuffing. "It's also good as a snack with just a sprinkle of salt," say Singh. And "you can use it in marinades for meat for a sweet-sour flavor."
5. Silvia Barban, chef-partner LaRina Pastificio e Vino Brooklyn, New York
Top Chef: Charleston contestant Barban looks home to Northern Italy for her holiday traditions. "It can't be Christmas without a traditional Panettone [a traditional Italian Christmas sweet bread] — it would be like Thanksgiving without a turkey," says Barban. Her other practices are centered on her immediate family. Her dad loves mascarpone and her mom adores dates, so those two ingredients have "Become a tradition in my family," she says. "And my last pantry item is another family tradition, Veneziana bread." Slightly sweet, somewhat similar to brioche, the Barbans make it savory by stuffing the loaf with ingredients like smoked salmon, caviar and salami. "My dad is from Venice and we never go without it," she adds.
6. Gabriel Israel, chef Green Fig, New York City
Israel is known for his lauded for his melting pot-inspired Mediterranean cuisine. Raised in Israel with frequent summer trips to visit his grandparents in the South of France, the chef combines his diverse background and varying life experiences — he spent time in the military and once worked as a tattoo artist. Yet, his holiday traditions stay close to home with traditional family dishes. "Baking soda is essential because of my grandmother who always made sufganiyah (a round jelly doughnut) for Hanukkah," he says. That's followed by Nutella, which Israel must always have on hand, but it was also a favorite ingredient of his grandma, who would make layered crepes of the hazelnut spread (crepe, Nutella, crepe, Nutella) then slice it like a cake. "Lastly, it would have to be sour cream, the perfect pairing for latkes," Israel says.
Sara Ventiera is a roaming eater and traveler who looks for amusing stories across the United States. She works from New York, Los Angeles and various places in between. Her work has appeared in theVillage Voice, New York Daily News, Zagat, FoodNetwork.com and more.