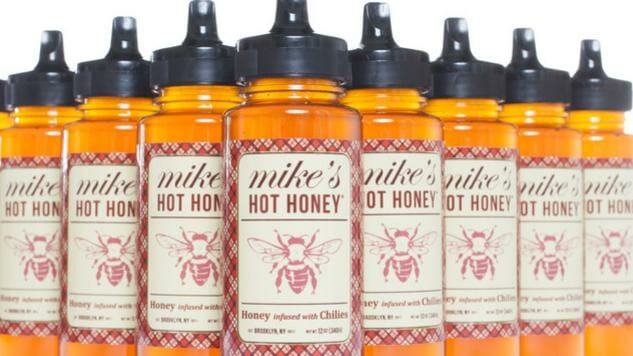 A bottle of hot sauce is a longer-lasting gift than you might think. For National Hot Sauce Day today, get your mom, your lover, your best friend, and your boss spicy gifts that they'll savor through the year.
For Your Boss of a Boss: Sosu Barrel-Aged Sriracha
Does your boss only wear the finest pearls, or drink Scotch at her desk when she thinks you're not looking? Surprise her with this smoky sriracha that's been aged for over a month in whiskey barrels and then sweetened with a touch of brown sugar.
For Your Majestic Mum: Queen Majesty's Jalapeno Tequila Lime Hot Sauce
What else for the queen of the roost than Queen Majesty? This rocking Brooklyn brand has won as many awards as your mom should've for her time management skills, and will be as tasty and versatile in her dishes as her tomato sauce. Queen Majesty is also a perfect ingredient for kicking up a bloody mary or a margarita.
For Your Gourmet Chef Dad: CaJohns Bourbon Infused Chipotle Habanero Hot Sauce
If your dad is one of those stereotypical suburban dads who excels at backyard barbecuing but uses a lame gas grill, this smoky sauce is for him. Infused with Jim Beam Black Label, with a nice balance of chipotle and habanero flavors, this is a versatile before or after sauce for steak and burgers, and a flavorful marinade for ribs and wings.
For Your Sweet Valentine: Dawson's Chocolate Chili Sauce
This is such a divine spin on both hot sauce and chocolate sauce from the talented folks at Dawson's. It's more of a chocolate sauce with spice, to be honest, but that doesn't make it any less fiery for a night of cooking at home with your valentine. Add this thick, seductive sauce to the mole and you'll be in for the night, promise. This rather sweet sauce is also perfect on top of ice cream, on cake, and in milkshakes and hot chocolate.
For Your It's-So-Wrong-It's-Right Illicit Lover: Dark Heart Chili Sauce's Chillies Erotique with Cayenne, Rosewater, & Cardamom
Dark Heart is not messing around when it comes to unique ingredients. Steeped in silky walnut oil, with almonds, dates, and cardamom, this is a sauce to sweep your lover away with. Made of cayenne and mild New Mexico chilies, this is easy on the spice and simple to incorporate into dishes. With its rosewater, it's also a perfect sauce for Middle Eastern cooking.
For Your Boozehound Best Friend: McClure's Bloody Mary Mix
This friend is always the one ordering too many bloody expensive Bloody Marys at brunch, so why not get her a delicious mix to make them for you at home? This is no ordinary Bloody Mary mix, with McClure's excellent spicy pickle juice as the main ingredient. She can even use it for her hangover blender juice or Bloody Mary gumbo the next day.
For Your Local, Non-GMO, Organic Vegan: Homesweet Homegrown's Aramingo Mango Pineapple Habanero Hot Sauce
Everyone's got one—someone who's vegan and ends up eating chips for dinner at the potluck. You might be surprised to find that not all hot sauce is vegan, and your vegan might be very stringent about their vegan-ness. In that case, go safe with Homesweet Homegrown's Aramingo Mango Pineapple Habanero Hot Sauce, made with peppers the founders themselves grow in their Kutztown, Pennsylvania field. Not only is it vegan and non-GMO, but the acid and flavor in this fruity baby will give great flavor to vegan protein staples like tofu, seitan, tempeh, especially on the summer barbecue grill.
For Your Sweet Tooth Baker: Java and Co.'s Spicy Habanero Caramels
Okay, so it's not a hot sauce, but these creamy caramels are made with pesticide-free habanero peppers grown in Illinois and won first place in the 2016 Scovie Awards (the Oscars for hot sauce) for the Sweet Heat category. They aren't so hot that they'll send anyone to the hospital, but the spicy flavor is there in every chew.
For Your Hot Sauce Hater: Vesta's Dry Hot Sauce
You might be surprised to find out that not all hot sauce is so saucy. If your friend is not so into hot sauce, try out these dry hot sauces. The chile peppers are grown in North Carolina, where they are dried and chopped into a flaky powder. These sauces are perfect for pizza and great sprinkled on top of casseroles, string beans or other veggies.
For Your Annoying Younger Sibling: Torchbearer Sauces' Zombie Apocalypse
You may want to give your younger sibling a million noogies, but you'd still save him or her if it came to the Zombie Apocalypse. Torchbearer Sauces' Zombie Apocalypse is a habanero-ghost pepper blend is fun, young and overly enthusiastic, just like your younger sister. The cartoon on the front even looks just like the ones she used to scrawl all over your notebooks. It's a sauce that works well on all those discount delivery sliders and wings your little sib is ordering every night from GrubHub, and it's sweetened just enough with mandarin oranges, carrots and sugar.
For Your Know-It-All Older Sibling: Pablo's Bull Fighter
You've always wanted to shut your older sibling up when he waxed poetical at the Thanksgiving dinner table. Here's your chance to give that snotty sib a taste of his own medicine with Pablo's Bull Fighter, an equally stubborn aged habanero-ghost pepper concoction that doesn't let go of your taste buds until you've eaten the appropriate amount of sweet potato pie.
For Your Little Cousin: Mike's Hot Honey
You know how crack dealers woo the young ones, right? They give them just a taste while telling them they're not ready for the big stuff yet. There's no better way to get your young ones hooked on hotness than with Mike's Hot Honey. Michael Kurtz started creating his just-spicy-enough sauce after trying hot honey during his trip to Brazil. The sweet balances out the spicy in this honey, to the point where this is going to be palatable for kids, especially on Kurtz's fave—pizza. Pizza party!
For Yourself: Heat Hot Sauce Shop's Hot Sauce of the Month Club
You didn't think we forgot you, did you? Fantastic Berkeley hot sauce shop Heat has a Hot Sauce of the Month Club that features small-batch, award-winning sauces. They even sometimes send you early releases that aren't available to the public yet. Their taste is impeccable, and you can choose one or three bottles a month.
Dakota Kim is a food writer living in Brooklyn. Tweet her at @dakotakim1.