Where to Eat & Drink in Nantes: 5 Perfect Settings to Take in the "Portland of France"
Photos by Emily Dilling
Food
Lists
portland
Nantes is experiencing a cultural and economic boom, with the city being home to significant employment growth that is luring new residents from around the country. But France's sixth largest city isn't only an appealing place to work—it's also a super-fun place to live. The animated and innovative cultural scene here mixes arty and weird in a way that has led Nantes to be considered "the Portland of France."
Every few years, local street theater company Royal de Luxe constructs a massive marionette that parades around town the delight of Nantais of all ages. A similarly astonishing attraction is the giant mechanical elephant that takes visitors on a tour of the Machines of the Isle of Nantes neighborhood, spraying spectators with its trunk as it makes its way through the crowds.
Nantes has a lively music scene with regular concerts held at the impressive Lieu Unique, a biscuit factory turned all-purpose event center, which hosts art exhibits, cultural events, and a variety of performances.
As a city the straddles the border of the wine-making regions of the Loire and the gastronomically rich Brittany, Nantes also has a ton to offer when it comes to eating (and drinking) out. Here are a few spots to make sure to include on your next trip to Nantes.
Reserve in advance and plan on this restaurant being your big night out in Nantes. With lunch menus ranging from 38-68 euro per person, and dinners averaging between 50-100 euro per head, this Michelin-starred restaurant is definitely a splurge. The use of fresh ingredients (particularly when it comes to seafood), and the views of the river from its open and airy dining room on the fourth floor of the Chamber of Commerce building, make this address a tempting place to blow your budget.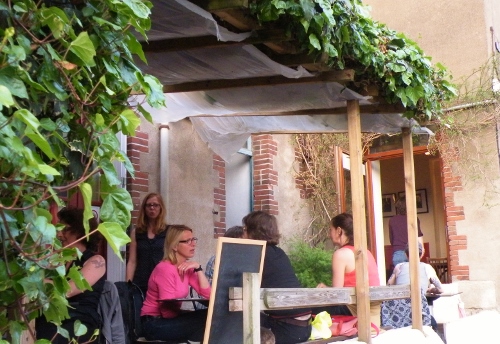 This classic French bistro is cozy in the winter, but really blooms in the spring and summer months. A large terrasse is constructed in front of Le Brocéliande at the first sign of sun, but even more enchanting is the small secluded patio on the side of the restaurant. Draping vines and potted plants create an enclave for a few small tables that invite intimate gatherings. This is the perfect place to enjoy an assiette of cheese and charcuterie paired with any of the bistro's bottles of excellent natural wines from the region.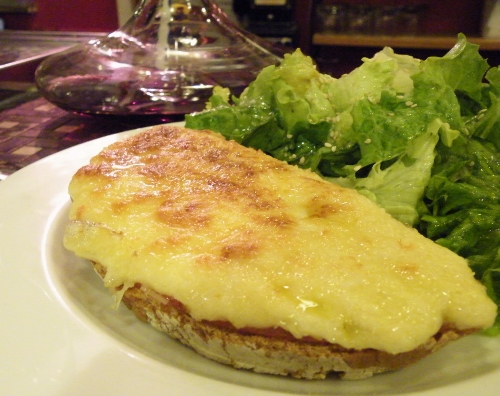 As the name suggests, this charming bistrot specializes in natural, or "living" wines, which can be enjoyed on site or taken to go. A constantly changing selection of wine from the Loire and beyond keep locals coming back to stock up their wine racks and stay for a drink. The warm welcome, neighborhoody feel, and comforting buzz that comes from friendly chatting over a glass of wine, make Le Vin Vivant an instant favorite for its home-away-from-home feel. This classic neighborhood bistro serves simple dishes for lunch and dinner, including a croque monsieur that shouldn't be missed.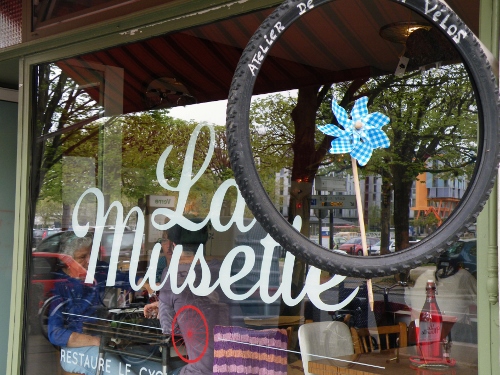 Nantes has been named the fifth most "bicycle friendly" city in the world, and one visit to La Musette proves why. The cheery café co-owners Esther and Yvan have created a space that brings together their love of bikes and home-made, organic food. Affordable lunch menus are served in the dining room, which doubles as a bike boutique. Everything you need for stylish cycling—bags, lights, and locks—can be found at La Musette, which also offers bike repair services. Faulty brakes, flat tires, or loose chains can all be fixed and tuned up on site as you enjoy a coffee or beer at this affable address that welcomes everyone from extreme bike geeks to hungry locals.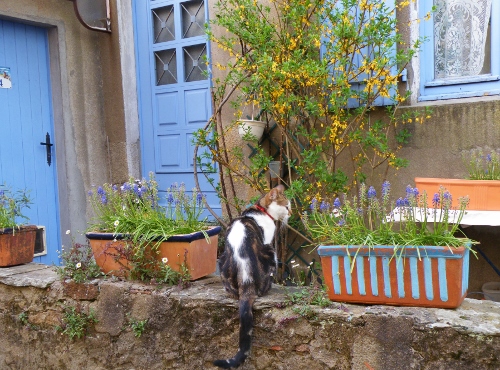 A short boat bus ride across the Loire River will take you from Nantes to the breathtaking former fishing village of Trentemoult. The fishermen have since been replaced by artists and freelance graphic designers, but the charm still remains as you wander narrow cobbled streets lined with colorful tiny houses. Take a tour of the town, where cats dart across your path and postcard-perfect scenes await around every corner. Riverbank dining is at its best at La Civelle, where you can enjoy a glass of wine with a selection of small plates or stay for a summer dinner watching the sunset from the terrasse.
Emily Dilling is the author of "My Paris Market Cookbook: A Culinary Tour of French Flavors and Seasonal Recipes" (September 2015) and the founder of the blog parispaysanne.com, which documents her quest to explore Paris markets and French terroir. Emily's writing has appeared in Beer Advocate, The Portland Mercury, HiP Paris, and EcoSalon.