When you see rhubarb's nascent reddish-pink knobs start to poke up from the earth and announce themselves with showy green leaves, you know that asparagus, strawberries and summer cannot be far behind. And when the strawberries do surface, our kneejerk reaction is to pair them with rhubarb, whose sour-bitter tang tames the sweetness of the season's first legit fruit.
Rhubarb's an herbaceous perennial and a veggie—yes, a veggie—despite the immediate propensity to pair it with sweet things and its informal moniker as "pie plant" in some parts of the country. Its leaves are poisonous, which is why you typically see them sold in big hulky bunches without them. It's not typically an item you find early in the season, or flown in from elsewhere in the off season—it needs places that have at least two months of cold weather—but it does happen. I recently read about a supermarket in Canada offering forced rhubarb in late March/early April. I don't know about you, but I already feel affronted when I see fresh corn from Florida or the Carolinas on the shelves this time of year. If I encountered rhubarb in late March and early April in my Pennsylvania supermarket, without seeing them at my farmers' market, I'd likely become hostile to the innocent produce. What are YOU doing here, now?
If you spy rhubarb at your local farmers' market during spring and early summer (depending on where you live, naturally), make sure the stalks are firm and crisp. And don't worry if it's green or red or some combination thereof; there's little difference in flavor. When I see those long, tall, ruby stalks, I grab a bunch and quickly, as if someone were about to steal them from under me. The season is short—maybe not as fleeting as ramps, spring's other coveted offering—so make the best of it.
And what does it mean to make the best of rhubarb? Strawberry rhubarb pie comes to mind without thinking, but rhubarb does well cut up into small pieces and tossed into muffins and pancakes; it keeps its shape and does not give off too much water while baking. However, when rhubarb is cooked for jams or chutneys, or even for use in a simple syrup, its membranes break down considerably and it turns to goo. One chef I spoke to, Eric Skokan of Boulder, Colorado, aptly called it "mucilaginous."
With that in mind, I asked a few chefs who operate with a farm-to-fork ethos to help us take this "pie plant" out of the fluted tart and pie pans and into more unexpected culinary territory.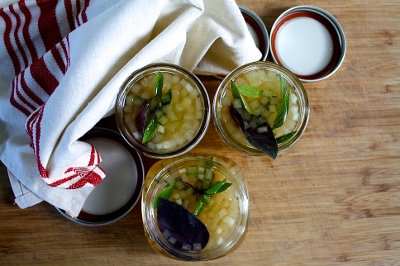 Jason Hook/h2okitchen
In eastern Pennsylvania, where seasonal and local fare is increasingly de rigueur for chefs, Chef Jason Hook of h2o kitchen uses rhubarb in many ways, but one of his most popular preparations is to pickle it. "Otherwise you have to use a lot of sugar and it turns to mush," he says. (Yes, this is a recurring theme here.)
Another Pennsylvania chef, Taylor Mason of Ma(i)son, an intimate farm-to-table spot in Lancaster so deeply committed they've got their own dedicated farmer working for them, offers a few ideas. He's gone the sweet route, with a rhubarb curd, served in twee Mason jars with lemon zest and vanilla bean shortbread. He's also combined it with mustard seed, honey from the restaurant's bees, white balsamic vinegar, coriander and mustard seeds, plus whole chilies, for an agrodolce.
Jeremy Bialker, general manager and executive chef of Two Rivers Brewing in Easton, has included it in a barbecue sauce, a condiment where tang is welcome on the taste buds; it's a role rhubarb happily fulfills. To that end, chefs at the Hamptons Aristocrat, a farm-to-fork catering/delivery service in New York, make a rhubarb mustard that has me dreaming of an idle Saturday afternoon of experimentation, once the plant comes up in my yard. Taking the savory element even further, "the Beekman Boys" in upstate New York, a.k.a. Josh Kilmer-Purcell and Brent Ridge, offer a chicken masala with rhubarb in their The Beekman 1802 Heirloom Vegetable Cookbook.

Con Poulos/Black Cat Farm
Chef Eric Skokan of 130-acre Black Cat Farm and its eponymous bistro, along with the restaurant Bramble & Hare, has used it in countless sweet preparations. Most notably? The strawberry and rhubarb tart, which looks more like pizza: the rhubarb is in the sauce, the strawberries look like tomato slices, the mint reminds one of basil and the white chocolate calls to mind mozzarella cheese. It's from his IACP-award nominated cookbook Farm, Food, Fork: A Year of Spectacular Recipes Inspired by Black Cat Farm. "And you have all the classic flavors I grew up with. I can't think about my grandmother without thinking about strawberry rhubarb pie."
Skokan gets to the nitty-gritty with rhubarb, reminding us that a little goes a long way. Rhubarb is so sour, it doesn't need acid from citrus. "Young rhubarb is more sour than a lemon. The key thing is, don't serve big, hungry-man chunks of rhubarb unless you like eating lemons whole," he says. For use in raw applications, he recommends looking for thin stalks—the thick ones are more mature. He suggests a crisp salad, thinly slicing it and tossing with equally thin slivers of fennel, along with oil and salt, and maybe a little fresh mint and some toasted pine nuts. The puree can work in savory applications, too, such as a grilled chicken salad. "Making vinaigrette with rhubarb is a winner because it adds a layer of background flavor; it builds flavor out better than just lemon."
When seeking some surprising ways that chefs have offered rhubarb, Chef Richard Jones of Green Door Gourmet, a farm market situated on 350 acres in Nashville, answers the question literally. "Giving it to someone raw and watching them eat it who's never had it before. They are shocked at how sour it really is," he says, chuckling. On a more serious note, he's employed it in a sherbet, and roasted it for a salad with kale and strawberries (there they are again), and in the classic English dessert with perhaps the best name ever, Eton mess.
Although you may not opt to put your tastebuds through such an arresting experience, it's often useful to taste an ingredient in its raw state in order to understand its complexity, and its potential. Chef Jones is onto something with this light-hearted, prankster gesture—he's trying to prove that rhubarb is more than a pie plant.
Carrie Havranek is a recovering music critic and part-time baker who writes about food, farmers' markets, chefs and restaurants—and sometimes travel—from her home in Easton, Pennsylvania. You may have seen her work elsewhere in Edible Philly, the Kitchn, or Frommer's.