Taco Bell Invites You to Toy With Doom, Unveils New Naked Chicken Chalupa
Photo via Taco Bell
Food
News
Taco Bell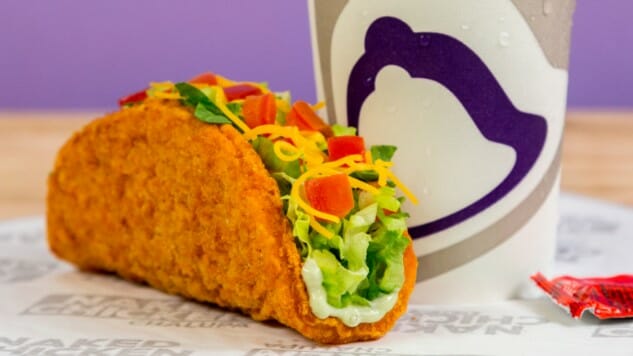 One day, future generations will look back on how we failed. How we, of countless innovations in technology, communication and medicine, failed our children's children and their children's children's children. Some will point to obvious flaws in society: oppression, senseless violence and Donald Trump. But eventually, one will find the source of how everything collapsed, when science stretched way too far: The Naked Chicken Chalupa. And they will take what they learned and lead the people to a revolutionary new future, one that doesn't contain monstrosities brought to life by man himself.
Taco Bell has unveiled its mind-boggling new creation, The Naked Chicken Chalupa, through a press release that goes into full detail of society's faults. They have identified it as the world's first and foremost taco shell made entirely out of meat. Yes, you read that correctly. Meat. The release explains:
The shell is made with four ounces of marinated, all-white-meat, antibiotic-free chicken kicked up with bold Mexican spices and seasoning, and is packed with fresh shredded lettuce, diced ripe tomatoes, cheddar cheese and creamy avocado ranch. The mouthwatering combination brings a fresh, crisp flavor with a kick of spice to the menu like never before.
The horror … Somewhere rational voices are crying out, "No, this can't be!" Oh, but it can. A new addition in the same vein as the Doritos Locos Taco and the Quesalupa, two intriguing variations of Taco Bell's ever-growing, ever-consuming "Mexican food" menu, the Naked Chicken Chalupa just encapsulates the way that fast food has continually treated its customers: by handing them new, horrific variations of meat sandwiches, in which the bread has all but vanished. Taco Bell actually first tested their new creation in the fall of 2015, so we can't say they didn't warn us.
Marisa Thallberg, the Chief Marketing Officer of Taco Bell Corp, defended the franchise's dangerous game in a statement, saying:
Something this delicious yet different is bound to ruffle some feathers; some might even cluck their tongues at it. However, we feel confident that once our fans get a taste of the Naked Chicken Chalupa they are going to understand exactly why this is our next big, fun and craveable innovation, following in the footsteps of the Doritos Locos Tacos five years ago and the Quesalupa just last year.
Oh boy. Well, for those of us eagerly watching the Doomsday Clock, we can all turn the second hand to midnight on Jan. 26, when the Naked Chicken Chalupa hits menus (price: $2.99) at Taco Bells nationwide.