In just a few decades, Thai cuisine has gone from obscure to a favorite in North America, and Thailand has become a culinary travel destination—thanks in part to the enthusiasm of chefs like Andy Ricker of Pok Pok fame. But the dishes that come to mind when we think of Thai staples—rich and sweet curries, jasmine rice, salads made with tropical fruits—actually only represent a subsection of what the country's cuisine has to offer. The food found in northern Thailand is a different thing entirely from the country's southern cuisine…and may be even more delicious.
Two things northern Thai cuisine is not are the ones we might first think of when we consider the country's food: sweet and made with coconut milk. That general sweetness, and the tempering of heat with coconut milk, that we associate with many Thai dishes is largely absent from the mainstays of the country's north. "The flavors tend to be punchier but also very complex," explained Naomi Duguid, who has written extensive about the region's cuisine and hosts annual culinary tours in Thailand.
Northern Thailand is most simply defined as the northern lobe of the country. Chiang Mai is the region's best-known city, and is known for its diversity of ethnic and regional groups. Its landscape, full of rivers and mountains, differs from the beaches of the south, and its climate is more temperate than in other parts of the country. That northern lobe of land borders Myanmar and Laos, and the people of northern Thailand traditionally represent many different ethnicities, including Lao, Burmese, Shan, southern China's Jin Haw, the Hmong, and Karen.
That ethnic mix, along with the close borders and the region's long and varied history, all melds together to influence northern Thailand's unique cuisine, with its intense flavors and international notes. "I think there is a conversation back and forth," said Duguid of the cuisine's history and ongoing evolution, "as people have conquered and been conquered." Those edges continue to blur today—for example, as fish sauce, not generally used in northern Thai cuisine, becomes more common there.
What else defines northern Thai cuisine? Ingredients like lemongrass, shrimp paste, fermented soybean discs, and fresh and dried chilis, for starters, provide a depth of flavor. You'll find some of the same aromatics used throughout the country, including lime leaves, salt, garlic, and fresh turmeric. Chicken, pork, beef, and freshwater fish are all commonly used, along with more exotic proteins like wild boar. Brightness comes from fresh herbs added at the end of cooking, Duguid said—plants like Vietnamese coriander, fresh galangal, chilis, and sawtooth are often used.

Cooking times tend to be long, leading to flavors that are deep and aromatic. And curries are still traditionally found in the north of the country, but might surprise you if you expect them to taste like the more familiar green or red varieties from the south. "There's an acidity and a sharper intensity in northern Thai curries," Duguid said.
Fire and flame is not just a source of heat for cooking in northern Thai cuisine, Duguid said. "People use fire as a flavoring in the same way as in Mexican cuisine," she said. For example, some of the flavoring in nam prik in the north comes from the smokiness added by the grill itself.
All of this is influenced by the care and work that goes into the dishes: stoking the fire, pounding the herbs and spices with a mortar and pestle, putting the rice on to steam in the morning. "Essentially it's a cuisine that is made by hand, with attentiveness," Duguid said. "It's a solution to shortages of some things and an abundance of other things."
It's hard to narrow this fascinating—and delicious—regional cuisine down to a selection of just a few recipes, but if you want to start exploring the culinary traditions of northern Thailand, these four dishes are a great place to start.
Khao niaw, or sticky rice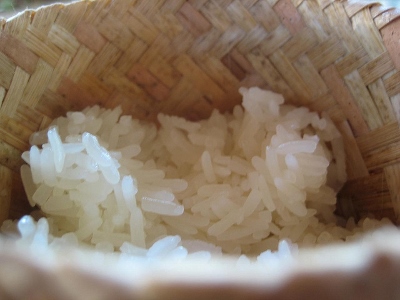 Flickr/Thomas Wanhoff
A key difference between meals in the north of the Thailand versus those further south is that in that while rice plays an important role in the north of the country, as it does for all Thai cuisine, it's not the jasmine rice often served at Thai restaurants—rather, it's sticky rice cooked by steam instead of in water. The traditional way to cook it is to steam it over a vessel of boiling water, and the traditional way to eat it is to form it into an edible utensil of sorts.
Khao soi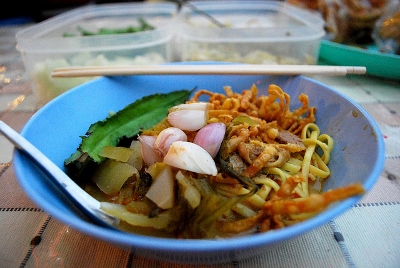 Flickr/Alpha
This noodle dish is something of an anomaly for northern Thai cuisine, Duguid said, because unlike most of the others from the region, it does contain coconut milk. Khao soi is actually related to a similar Burmese dish—what she described as a "very close cousin." The dish also contains ingredients more commonly associated with Chinese cuisine, like black cardamom and ginger. It's a taste of the history of northern Thailand in a bowl.
Laap

Flickr/Christina Xu
There are endless varieties of laap found in northern Thailand, and laap is an Issan dish as well, coming from the northeast of Thailand—but if you've eaten that, you still haven't had this minced-meat dish northern-Thai style. Pok Pok's Andy Ricker refers to the dish as a "crash course of the flavors of northern Thai food," thanks to its pungent and bitter but still fragrant flavor. There are restaurants specializing in laap throughout northern Thailand, and it varies by town and family.
Naam phrik ong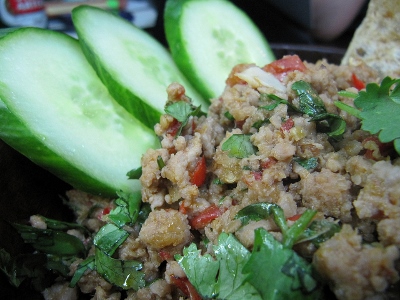 Flickr/ Jo del Corro
Naam phrik is essentially a chili dip, but in reality there is nothing essential about it—other than the fact that you will find it used throughout Thailand. This variation of naam phrik is made with pork and tomatoes, with the very northern additions of fermented shrimp and soybeans. It's perfect served with nothing but sticky rice and mixed veggies to help scoop it all up.
Want to learn more? Check out these essential Thai cookbooks:
Pok Pok by Andy Ricker: There are no kitchen shortcuts here, but Ricker intersperses stories of his extensive travels in Thailand, as well as detailed information about the dishes and ingredients, in this cookbook.
Hot, Sour, Salty, Sweet by Naomi Duguid and Jeffrey Alford
Northern Thailand is among the parts of southeast Asia that Duguid and Alford explored in this book, which starts in China and keeps traveling south.
Simple Thai Food by Leela Punyaratabandhu
As she does at her blog She Simmers, Punyaratabandhu assembled an accessible but authentic collection of Thai recipes for the home cook for her first cookbook.
Thailand: The Cookbook, by Jean-Pierre Gabriel
This Phaidon food bible is a survey of the country's food that covers everything from more familiar curries to dishes made with crickets.
Greater Mekong by Luke Nguyen
Traveling along a path set by the Mekong River, Nguyen explores the cuisines of northern Thailand, Myanmar, Laos, Cambodia, Vietnam, and China's Yunnan Province.
Terri Coles is a freelance writer living in St. John's, Newfoundland. She's a recovering picky eater.