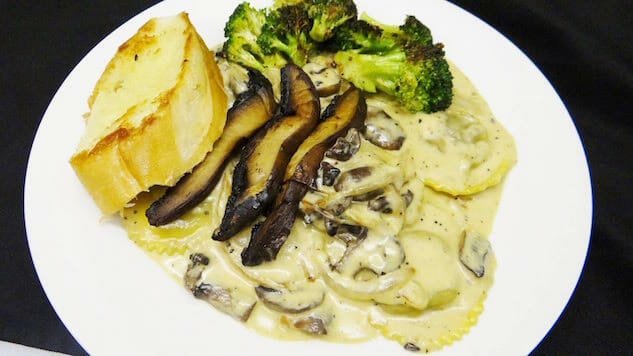 In a state where the governor refuses to acknowledge the term "climate change" — you might not expect anything progressive to be happening in the capital city. But when it comes to plant-forward eating, Tallahassee, Florida, is a pleasant surprise.
Home to Florida State University, the city is awash with college students … presumably a market ripe for vegan eats. From hot dog stands to pizza joints to fancier ethnic eateries, Tallahassee's lineup of herbivorous options doesn't disappoint.
So should you take a tour of this tree-lined metropolis, here are fsix of the city's most veg-friendly spots:
1. Sweet Pea Cafe
This all-vegan eatery is just as adorable as its name implies. The cozy interior, complete with chalkboard menus and minty green accents, is comfortable and shabby chic.
The fixed menu is big on sammies like the tempeh reuben, the spicy BLT and the falafelawesome, plus sides, quesadillas and coffee — but they're also known for their daily specials (often with wildly creative nicknames).
The Kraby Patty, a homemade "krab" cake with tempeh and lion's mane mushroom; the Eggplant Emoji, a wrap filled with baba ganoush, veggies, and homemade tzatziki sauce; and the Positive Lentil Attitude, a homemade chipotle lentil burger with local okra. They serve weekend brunch, too with offerings like the Tofuevos Rancheros and the Heil Seitan Tacos.
Don't leave without putting a homemade cookie in your mouth. Green tea sugar cookies are a creative win.
2. Voodoo Dog
The walls at this purple, pop culture-obsessed spot are lined with framed photos of iconic characters. Feast your eyes on Bill and Ted, Captain Picard, The Lost Boys and a gazillion other famous and forgettable weirdos and iconoclasts.
Voodoo is all about burgers, beer and dogs, but as the name implies, the dogs are the real attraction. Anything on the menu can be made with a vegan hot dog, so you can go insane with the topping options. While some are off limits (BACON), most aren't, from jalapenos to sauerkraut to grilled pineapple. House dogs are all kinds of creative. Try a veganized Abe Froman, topped with fresh tomato, onions, pickles, relish and celery salt. Or, an Atomic Veggie dog, topped with onions, tomatoes, cucumber and jalapeño.
And if you're short on cash, they even have a hot dog happy hour.
3. Decent Pizza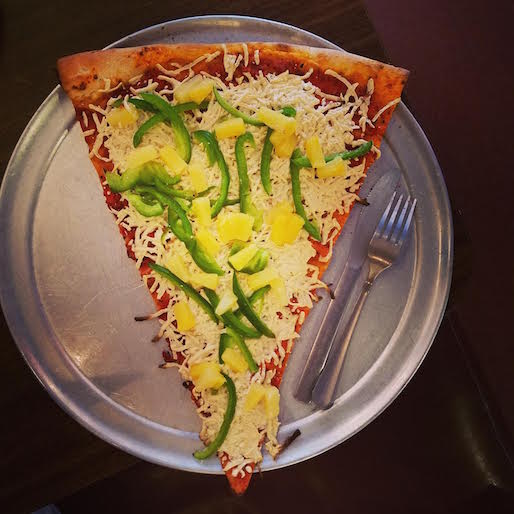 Photo by Hannah Sentenac
Despite the charmingly modest name, Decent Pizza is more impressive than its moniker implies. A local favorite, the spot is an expert in whipping up plant-based versions of its more traditional options.
A vegan pie (with delightfully chewy crust) is a standard on the specialty menu, but customers can create their own with anything in house — plus vegan cheese, of course. Vegan slices (as big as your head, literally) are also an option, and customers can choose from an array of veg-friendly toppings, from peppers to pineapples.
Don't forget calzones, which can also be veganized. Ben Wyatt would approve.
Pair your menu choice with one of several on-tap or bottled beers, and sit down for an afternoon of college football. This is Tallahassee, after all.
4. All Saints Cafe
The quintessential hipster coffeehouse (every college town needs one), All Saints is the spot for college kids, intellectuals, non-conformists, anarchists and anyone else who eschews Starbucks banality.
The coffee is artfully crafted. The baristas super friendly. And for the hungry, the display case is always packed with vegan eats: homemade mac and cheese, burritos, hummus and other edibles, plus an array of fresh baked goods, from peanut butter cookies to banana bread.
5. Lofty Pursuits
Vegans love ice cream as much as anyone else … assuming it's made with something other than cow's milk.
At Tallahassee's classic ice creamery, there are always vegan ice "kreme" flavors on the menu (and sorbets!). The choices change frequently, and can be made into indulgent, (vegan!) whipped cream-topped sundaes, milkshakes, banana splits, sodas, floats or an array of other favorite soda fountain treats. Many of the specialty sundaes can be veganized, like The King Is Alive, made with vanilla ice cream, peanut butter, marshmallow, banana and chocolate whipped cream; or the Cardinal Cin, a delightful combo of cinnamon ice cream, marshmallow sauce, toasted coconut and vanilla whipped cream.
They also have a toy shop on site, and an iconic ice cream bus that makes its way around town. Breakfast is served there, too, and they have a vegan hash and vegan pancakes! Nom!
6. Nefetari's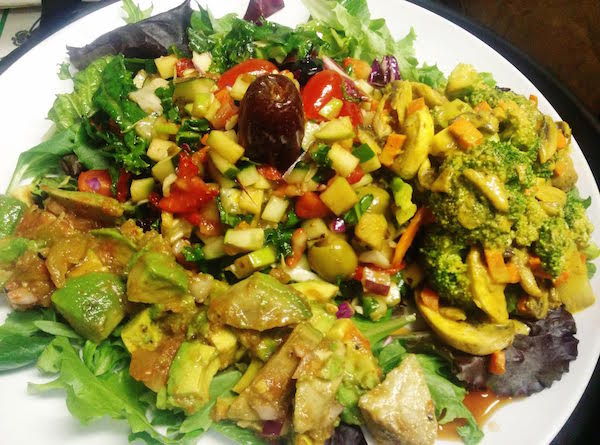 Photo by Hannah Sentenac
This royally-inspired spot is lavish, indeed. Named for the famous Egyptian queen, the walls are lined with African artifacts and imagery, and the menu is an eclectic mix of international dishes, many of which are vegan.
There's the Ethiopian stew platter, complete with spongy injera; the spaghetti with tofu crumbles; the pad Thai noodles with peanut sauce; and the forbidden black fried rice. Desserts change regularly, and typically include at least one vegan option. The food is rich, flavorful and aromatic — an ideal match for the exotic atmosphere.
If you're feeling fancy — or going with a group — reserve The Queen's Table. It sits center, and is bedazzled with gold-encrusted tableware, colorful flowers and animal print-seating.
Hannah Sentenac is a freelance writer and journalist who covers veg food, drink, pop culture, travel, and animal advocacy issues. She's written for Live Happy magazine, Foxnews.com, MindBodyGreen.com, and numerous other publications and websites. Hannah is also the Editor-in-Chief of LatestVeganNews.com, a publication dedicated to positive, original news from the vegan and plant-based world.