I don't know when I first noticed that my mom cooked with chopsticks. It may have been when I first started climbing on top of a kitchen chair to watch her make kkampoongi, our favorite Korean fried chicken, which was spicy and sweet and sticky and delicious.
Mom would use the pair of wooden chopsticks (long if available, short if not) to nimbly move the chicken into a deeper patch of oil as the oil evaporated, and then she'd use her two wooden friends to pluck the crispy pieces from the oil and place them on a paper towel to dry. She'd use the chopsticks again to transfer pieces of chicken to the sauce-dredging Tupperware.
For always-rushed, restaurant-running Mrs. Kim, fumbling with an oil-draining spatula, desperately shoving it against the side of the wok to try to scoop up a piece of chicken, and waiting for the oil to drain was not an option. Pluck, shake, done.
Cooking with chopsticks seemed so natural. I always considered it commonplace. This is not to say we never used a spatula or tongs—certainly, flipping the delicious, savory Korean pancake called pajun is easiest with a spatula, and folding up a perfect gyeran mari (Korean rolled omelette) is not a job for chopsticks (I use a Rubbermaid spatula).
But I've found that tongs, which are supposed to perform a similar function to cooking chopsticks, are never as adjustable as you want them to be, leaving you pressing hard to effectively grip that piece of meat, which ultimately ends up mauling a gorgeous cut for no reason.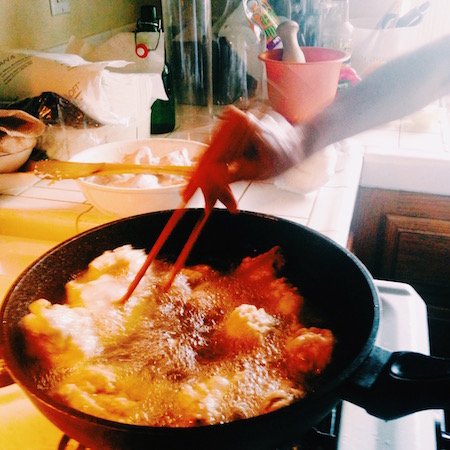 Chopsticks are the light touch. They are easily adjustable to any reasonably-sized object. If you pick up a gigantic bamboo cooking pair in Chinatown or online, they're usually sturdy and won't splinter for years, and you could have light-colored ones for raw meat and a darker wood pair for cooked meat.
Chopsticks can play the Eastern counterpart to the West's kitchen tweezer. If you need to get fancy and precisely lay delicate herbs, microgreens, gold leaf, chocolate shavings, crystallized fruit or edible flowers on your plate, chopsticks will help you do so quickly, cleanly and without transferring damaging heat, odor or oil from your fingers. You can even drip precise dots of sauce with chopsticks.
And these nimble pick-up sticks do so much more than tweezers. They are also efficient soldiers in the stir-fry game and minimize the switching of utensils when you're cooking quickly. Did you just add lo mein noodles to your veggie stir-fry? With chopsticks, there's no need to transition from a spatula to tongs in order to whip those noodles around in the sauce, stir-fry them evenly, and pick them up and transfer them to your place. Making spaghetti? Test a strand by plucking it out with your chopsticks.
Blanching asparagus, bean sprouts or string beans, or making soup with them? Pluck one out of the water to test its readiness with our friend chopsticks. Flipping bacon? You'll find it easier with chopsticks. Grilling meats and veggies? Long chopsticks are great for flipping. Steaming dumplings? Pluck them from their bamboo baskets without damaging the delicate skins (as a spatula or tongs might). Making a cold summer ramen? No need for a strainer—just grab those long strands with your cooking chopsticks and throw them in an ice bath.
For prep work, chopsticks can make your life a cinch. Grab olives and pickles out of long jars with chopsticks. Coax ketchup, mustard, hot sauce and glazes out of bottles with chopsticks. Whisk sauces and scramble eggs. Pit cherries. Poke holes in foil for the grill or oven with chopsticks. I even stir my French press coffee grinds with them so I'm not using a million spoons a week.
All of this being said, chopsticks aren't great for everything, at least for me. If I'm cooking a huge steak, I obviously don't use chopsticks for handling because they're often not strong enough to hold a 16-ounce porterhouse. They're not so great for deglazing a pan or grabbing a bunch of peas from a pot.
If you don't know how to use chopsticks, it can take a while to acclimate to picking up very small or thin items. I remember practicing as a young kid. Don't give up! You'll master them eventually if you keep trying. It's a little like that classic childhood game, Pick Up Sticks.
Perhaps you don't need to purchase so many cooking utensils for your apartment, especially if you're in a small space or living there temporarily. There's so much you can simplify by having a couple pairs of cooking chopsticks. I like their rapid utility and delicate touch. Chefs and moms in Asia have been doing it for centuries. Try it for yourself and see.
Dakota Kim is a food writer, gardener, mushroom hunter and burlesque producer living in Brooklyn. She likes to brew strange Korean medicinal teas and bake vegan desserts. She is currently working on a cookbook featuring burlesque performers called Bombshell Bakers. Tweet her at @dakotakim1.
Shrimp in wok photo by Andy LoPresto CC-BY-NC
Frying in wok photo by Dakota Kim