Avalanche Studios Announces New Game, Generation Zero
Simon Stålenhag-inspired art design plus Left 4 Dead equals hell yes
Images via Avalanche Studios
Games
News
Avalanche Studios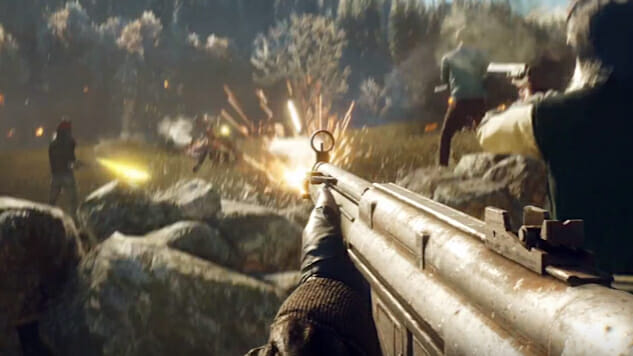 Avalanche Studios, following yesterday's tease, have officially unveiled their new game Generation Zero via an in-game trailer that acts both as a gameplay tease and a genuinely inspired tone-piece. As Avalanche is the studio that made Mad Max and Just Cause, Generation Zero seems to be an excitedly fresh turn, and the fact that it is a new IP is quite nice.
The almost-two-minute trailer for Generation Zero offers players a glimpse at a dangerous, alternate version of the 1980s-set Swedish countryside. For every ounce of beauty and idyllic imagery that the landscape conjures forth, danger lurks in an even larger degree. Mechanized monstrosities, reminiscent of the robotic style often found in the art of Simon Stålenhag, roam the countryside looking for prey. These machines have taken over and it is up to the player, solo or in co-op, to take back the countryside from the mechanized invaders. Gameplay-wise, it is an open-world, first-person shooter that looks to be equal parts Far Cry and Left 4 Dead in its gameplay loop. Knowing Avalanche, the core gameplay loop will probably be familiar to players but with tweaks, both big and small, to create an original and engaging gameplay formula. The four-player cooperative mechanic is seamless—players can leave or join any time and it won't affect the other players' games—and the cooperative mechanics are quite played up. Reviving downed teammates is present, of course, and Generation Zero urges players to take up a more guerilla-style mentality when it comes to engaging with the enemy. All enemies are persistently simulated in the world and have their own intents and purposes for being, and damage dealt with the robotic enemies is permanent. Knock a piece of armor off of a robot and run away? Well, when you encounter said robot again, it will still be wearing its battle scars. Thus, the guerilla mentality towards combat makes sense in that it is probably easier to piece-meal encounters over time with larger, more formidable foes.
Generation Zero is made using Avalanche's Apex engine and the game, from the trailer, already looks to be quite gorgeous. A dynamic day/night cycle with unpredictable weather will make for a world that feels more real than possibly anything else that Avalanche has designed. Mad Max had a day/night cycle with hints toward randomized weather, but its sense of place, whilst on Earth, still felt purposefully otherworldly. Generation Zero, despite its sci-fi enemies, feels far more grounded. The AI behavior is complex, all weapons have simulated ballistics, and the game's acoustics aim to be as dynamic and realistic as possible. Plus, there is a dynamic, '80s-themed soundtrack that gives the game an extra pulse of energy.
Generation Zero looks to be a passion project for Avalanche Studios—it is their first independently developed open-world title—and, judging by the first trailer, its sense of place and player intent seems to be as assured as any other Avalanche title. Plus, the thought of playing as a Swedish punk fighting mechs in the 1980s just sounds pretty damn appealing in itself.
Check out the announcement trailer for Generation Zero below and afterward, for the sake of 1980s Sweden, go listen to some Roxette.