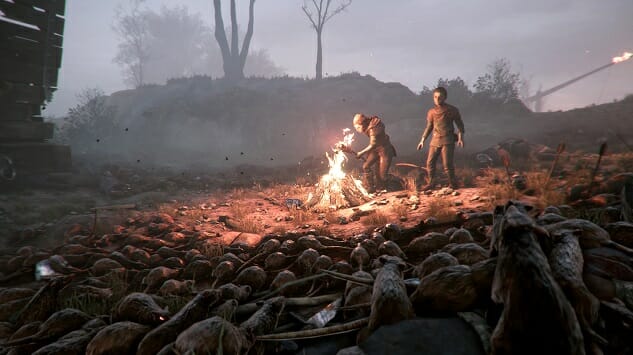 May's the best month of the year because it's the one that we're currently living in. Every month is the best month, except for those months where really terrible things seem to happen, like April, or Thanksgiving, or every month since you turned 13. May is fine, though, just fine, and part of that is the fact that new videogames will once again exist during it. Here are five of those games, the five we're most excited about playing here at Paste. And of course this doesn't include the games we don't yet know are coming out in May, since everybody is so fond of surprise releases these days. Take a seat, read the list, and get ready to play some games—assuming games are the kind of thing you like to play.
5. Rage 2
Platforms: Xbox One, PlayStation 4, PC
Release Date: May 14
It's okay if you don't remember Rage—it came out eight years ago, which is like three eternities in videogames. The long-gestating sequel is an open-world first-person shooter by Id and the developers about the Just Cause games, Avalanche Studios. Expect more mutant-blasting action in a deeply post-industrial world that's struggling to stay alive after some kind of apocalyptic disaster. It's got shooting, monsters who are basically zombies, a bunch of vehicles you can drive, and even the severed head of Andrew W.K. (but only if you order the collector's edition, apparently). It might seem like a weird pick for such a delayed sequel—it's not like the original Rage set the world on fire back in 2011—but it's just about the only major release from a top studio in May, so it could wind up selling pretty well.
---
4. Puyo Puyo Champions
Platforms: PlayStation 4, Switch, Xbox One, PC
Release Date: May 7
The real champs are all of us lucky folks who get to play some more Puyo Puyo in just a few days. This is a different brand of puzzle game, though, one with esports in mind. Expect to compete online for ultimate Puyo Puyo glory against players from all over the world. If you're not too sure of your Puyo Puyo skills, though, you can work on 'em in the local tournament mode, which lets eight players bash it out. Tile matching games might not seem especially exciting or innovative in 2019, but the Puyo Puyo series has always headed those complaints off at the past with colorful characters and the kind of puzzle action that's almost impossible to put down. It's only been a couple of years since Puyo Puyo Tetris, but we're still ready for this one.
---
3. Castlevania Anniversary Collection
Platforms: Switch, Xbox One, PlayStation 4, PC
Release Date: May 16

The earliest Castlevania games get bundled up together in this compilation, which features three NES games, three Game Boy games, an one game apiece from the SNES and Genesis. This is largely before the series was reborn as a Metroid-style backtracking adventure—although Castlevania II: Simon's Quest is legendarily obtuse. If you're looking for some classic platforming that's tougher and less forgiving than a Mario game, this bundle's for you.
---
2. Pathologic 2
Platforms: PC, Xbox One, PlayStation 4
Release Date: May 23
Once a remake, the second Pathologic is now a reimagining of the 2005 original, which is basically just fancy marketing speak for "remix." If you played the first game, you'll recognize a lot of its guts in the new one, along with some sweeping changes that bring it more inline with modern-day game expectations. The first of three episodes arrives near the end of May, which is as good a time as any to get terminally spooked out by this grim, survival-minded Russian thriller.
---
1. A Plague Tale: Innocence
Platforms: Xbox One, PlayStation 4, PC
Release Date: May 14
Asobo's adventure game promises to be something unique. With the unrest of the Hundred Years' War as a backdrop, A Plague Tale is set during the Black Death, a plague outbreak that swept through Europe and Asia in the 14th century. You guide a girl and her brother throughout France while trying to avoid masses of disease-carrying rats and soldiers willing to kill almost anybody who crosses their path. Paste saw a close-up look at this during Focus Home Interactive's media event in 2017, and it's loomed large on our radar ever since.
---
Garrett Martin edits Paste's comedy and games sections. He's on Twitter @grmartin.