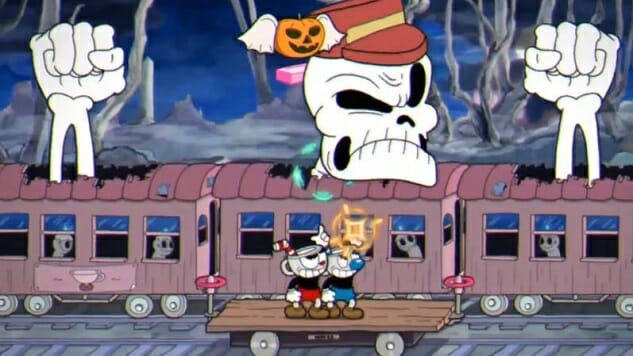 The way Nintendo has been pursuing indie games on the Switch these days, it's almost easy to forget that once upon a time, they were considered averse to third party titles. Lately the company has had an impressive eye for quality, consistently snagging the most innovative and successful indie games on the market. And this is especially true of this week's release of Cuphead, the 1930s animation-inspired platformer that since its original debut a year and a half ago has been practically the only reason to own an Xbox One. Its release on the Switch has been highly anticipated, including by folks like myself who already own a copy, but, as it's a straight port with no additional content or features, I didn't expect my preference for the Switch version to go beyond my appreciation for the console's portability. But to my surprise, a stronger reason emerged right away, edging out this one as the superior.
Switch ports can be hit or miss depending upon the original format—I find Diablo III and Civilization 6 obscenely slow and clunky compared to the quick ease of using a mouse on PC. As a side scrolling platformer, though, Cuphead is perfectly at home. The loading screens seem to be just a bit longer than on Xbox One, but other than that, you'd be hard pressed to find much of a difference between the two.
That is, until you get the Joy-Cons in your hands and see how much better it is for the controls. I didn't even realize I had a problem with the Xbox One controller until playing on the Switch. At a casual glance, you wouldn't think the difference in their design would make a substantial difference, but it made sense after a few hours of play and a bit of closer inspection. A game like Cuphead is best played, well, a lot like an early Mario game: keep the sprint button pressed down and use another part of the thumb to jump. Only in Cuphead, the run button, crucially, shoots the gun, and keeping a constant line of fire and an itchy jumping finger at the ready is key to being good at the game. This is much easier with the more compact size of the Joy-Cons, the slightly closer layout of the action buttons, how slim and flat the buttons are and how easily they respond to pressure. By comparison those on the Xbox controller are stiff and sluggish, not quick or efficiently spaced well enough to maintain that key dynamic. It's not the best way to play or experience the game.
Anyone who has played games on Nintendo systems the past few decades (especially Mega Man fans) wouldn't be surprised that, between the Switch and Xbox controllers, Nintendo's is the most ideal for Cuphead's demanding, fast paced action. I guess I just hadn't anticipated there would be such a noticeable difference, much less a substantial benefit. I'm glad I made the switch.
---
Holly Green is the assistant editor of Paste Games and a reporter and semiprofessional photographer. She is also the author of Fry Scores: An Unofficial Guide To Video Game Grub. You can find her work at Gamasutra, Polygon, Unwinnable, and other videogame news publications.