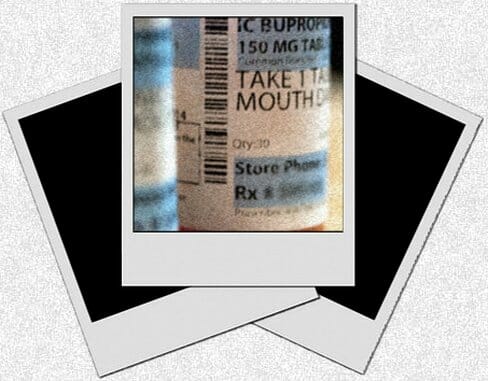 People usually play video games for fun. They want to experience joy, excitement, or any number of other mostly positive emotions. They maybe want to escape their everyday lives and go somewhere new, or be someone else. Depression Quest therefore seems like a bit of an anomaly. It isn't fun in any sense of the word, but it needs to be played. It does not allow you to escape reality, but instead forces you to accept it, and come up with a new understanding of yourself and the people around you.
This is the game you wish you had in high school when you felt that nobody understood your pain. Maybe it's the game you wish you had right now. If you know somebody who seems down, or if you are that person, Depression Quest is something to be played.
However, it really isn't technically a videogame. It's a piece of interactive fiction, depicting the life of an average twenty-something struggling with depression. The game has about 40,000 words and over 150 encounters that you can experience by deciding how your character deals with certain events in his life.
You start off the same each time. You are Alex. You have an unbearable job, no close connections besides your girlfriend, and a project that you have been trying to work on, but have not found the motivation. You're feeling down about yourself, but you have to decide what to do about it. You are given certain choices to start off the game, and this is what can determine the level of your depression. These choices can either alleviate your depression, or exacerbate it. You are alerted of this by a message at the bottom that reminds you of how depressed you are after each event, whether or not you are seeing a therapist, and how your medication is working if you are on any.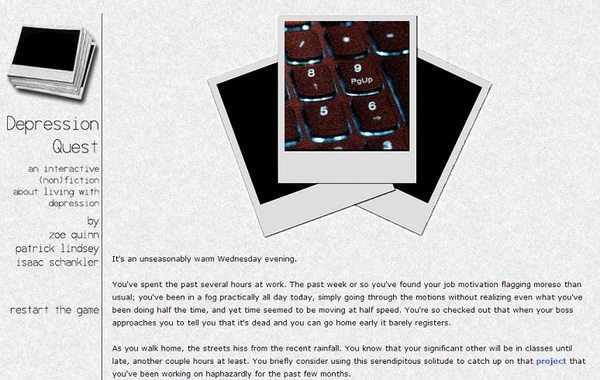 I played through Depression Quest twice. I played once through deliberately choosing what I felt were the choices that would give me the best outcome. The second time was the real run, wherein I made choices based on my own experiences with depression. I delved into my memories and brought out the worst in me and applied it to the character. The results were unsettling and terrifying.
This is because over time you begin to realize that it is less about the choices you make and more about the choices you don't make. You can choose to watch television instead of working on your project, but in the end you are not being productive, and that is going to apply to your overall mood.
However, this also applies to the choices you are ultimately allowed to make. The more depressed you are, the less choices that are available. Players will notice options crossed out in red at the bottom, and as the motivation of your character lessens, the more disturbed you feel as a player. You don't want to choose the option that isolates your character from the rest of the world, but after a while, you are forced to do it because in reality, that's how depression works. Playing through it twice definitely gave me more of a sinking feeling, especially knowing that there were so many more options closed off to me as a player because of my depression. The personal experience associated with my second play-through also led itself to a deeper understanding of mental illness as a whole despite the fact that it was associated with despair.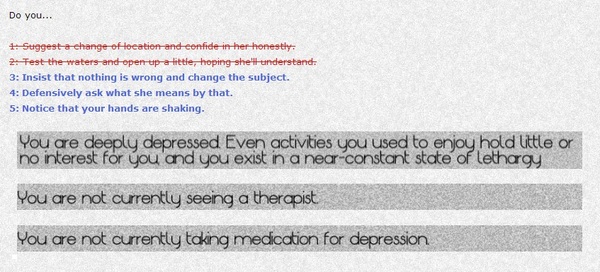 More than anything, though, this piece of fiction is about spreading awareness through a hyper-realistic depiction of what depression feels like. Your character's journey does not end by the time the epilogue appears, and neither does the player's. Players not familiar with the disease first hand are encouraged to learn more, and those that are unfortunate enough to have experienced it can gain strength knowing that there is hope for them as well. All players are encouraged to donate to the International Foundation for Research and Education on Depression (iFred), which seeks to spread awareness and research treatments.
Depression Quest should be experienced directly and individually. Words can't really relate the true power of the game because everybody's life experience is different. The game takes the variety of human experience into account with the drafting of certain situations and events, and in a way that's its most interesting aspect. Depression Quest unites the human condition through a series of familiar scenarios, making you feel sympathy for this unknown character and the large group he represents.
Depression Quest is special because it treats the issue with the seriousness it deserves while also injecting a sense of community. It may not be fun, but living out a moment of time with depression can not only help you understand the disease, but also connect you with those that have experienced it to some degree. So in a way it is escapism, even if you're just escaping back into reality.
---
Depression Quest was designed by Zoe Quinn, Patrick Lindsey and Isaac Schankler. It is available for the PC, Mac and Linux.
Carli Velocci is a freelance journalist in Boston, Massachusetts. She has written for DigBoston, Gameranx, and isn't afraid of anything. You can find her on Twitter @revierypone.