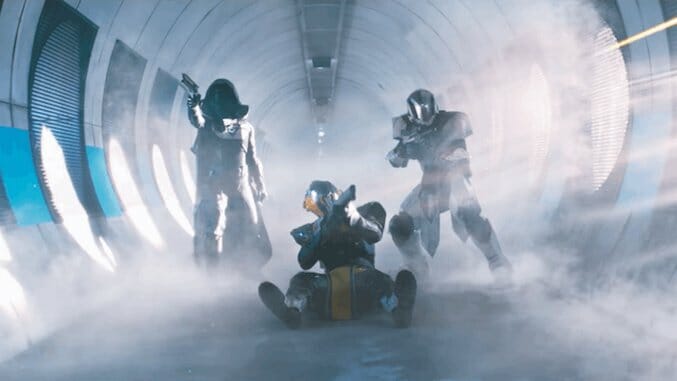 The marketing for Destiny 2 hasn't exactly been playing it straight. This continues to be true today, as developer Bungie has unveiled the live-action trailer for their sequel, featuring Nathan Fillion-voiced Cayde-6 explaining the game's premise in a rather light-hearted fashion.
The basic premise: Everything you know and love is gone, include binge-watching, Taco Tuesdays and (most importantly) puppies. It's time for the player to literally "bring out the big guns" and collect loot—and probably defeat the villainous Ghaul as well. It's certainly a well-produced and fun short, hopefully conveying how enjoyable shooting up baddies will be with friends online.
The use of heavy rock music seems to be a trend; utilizing "Sabotage" by the Beastie Boys, the trailer ends up resembling something for Star Trek Beyond or a Guardians of the Galaxy movie. Like the recent Thor: Ragnarok trailer, the live-action trailer for the first Destiny game made use of "Immigrant Song" by Led Zeppelin. Remember marketing people: rock music = fun.
Check out the trailer, embedded above. The live-action short was directed by Jordan Vogt-Roberts (The Kings of Summer, Kong: Skull Island). Destiny 2 launches on Sept. 6 for Playstation 4 and Xbox One, with a PC version coming Oct. 24.