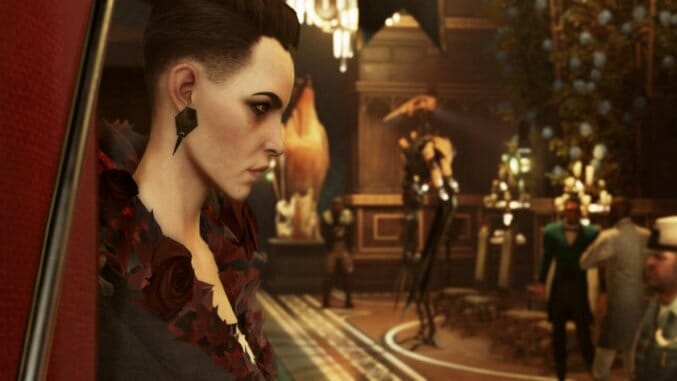 Last year, while writing about the first Dishonored, Gita Jackson was fascinated "that Arkane Studios thought so much about the world they were creating that they even thought about the fashion." Dishonored 2 is now out, and if anything Arkane spent even more attention on how their characters dress. They even brought in professional help for their two female leads, Emily Kaldwin and the diabolical Delilah, hiring renowned Spanish fashion designer Maya Hansen to create their outfits.
Born and raised in Madrid, Hansen's designs have been worn by Lady Gaga, Kylie Jenner, Italian pop singer Laura Pausini, and RuPaul's Drag Race winner Violet Chachki, among other celebrities. She uses a variety of fabrics and materials to create forward-looking fashions that echo corsetry from various historical eras, and that makes her a perfect choice to design clothes for Dishonored 2's pseudo-Victorian setting.
Although Hansen has worked with musicians, painters and other artists before, Dishonored 2 is her first videogame work. It's a collaboration that she found creatively fulfilling. "I found it very interesting working on a character from the designs and ideas that have been created for the videogame since we, as fashion designers, can contribute our own point of view to support the development of the videogame story," she says.
"It's really fascinating to discover how extensively the designers of the videogame developed [both Delilah and Emily]," Hansen says. "It was impressive to receive so much information in advance. Once we started defining their style, it was relatively easy to offer different possibilities. It's very interesting to have that much information about the characters for which you are going to design something, because they are the ones that will tell you what kind of fabric, what colors, or what shapes they would like to wear."
In order to give us a better look at that collaboration, Hansen, Arkane Studios and Bethesda Softworks have shared a number of images from the design process. Over the next few pages you can follow Emily and Delilah's outfits from Hansen's original sketches, to their refinement through a gallery of concept art, to their final appearance both in the game and in the real world. You can click on any image to open up a larger image to inspect any details more closely. Along the way Hansen will share insights from her first videogame work. If you're at all interested in fashion, be it in life or in games, this should be an illuminating look at the process.
All quotes by Maya Hansen.
The Original Sketches
DELILAH
"Delilah is a woman with a strong inner life, a very tormented person. That might be the reason why her clothing is so theatrical and dramatic. She has this need to express that she's been through a lot and that her life matters."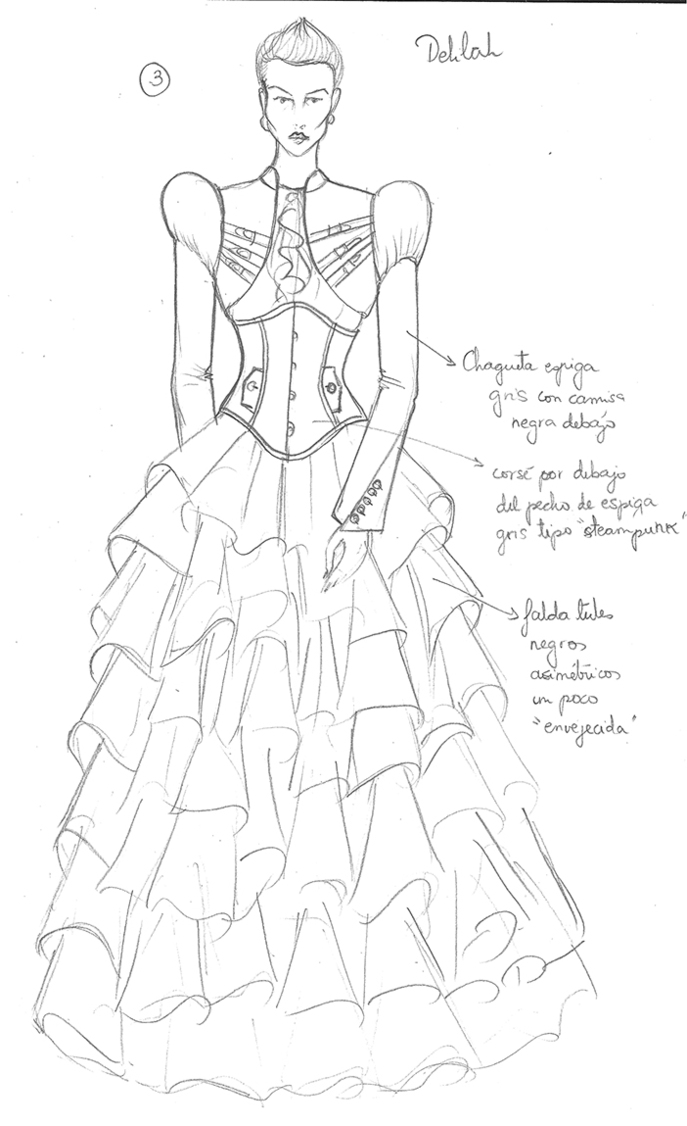 EMILY KALDWIN
"Emily is a very dynamic character and she feels very modern and mysterious at the same time."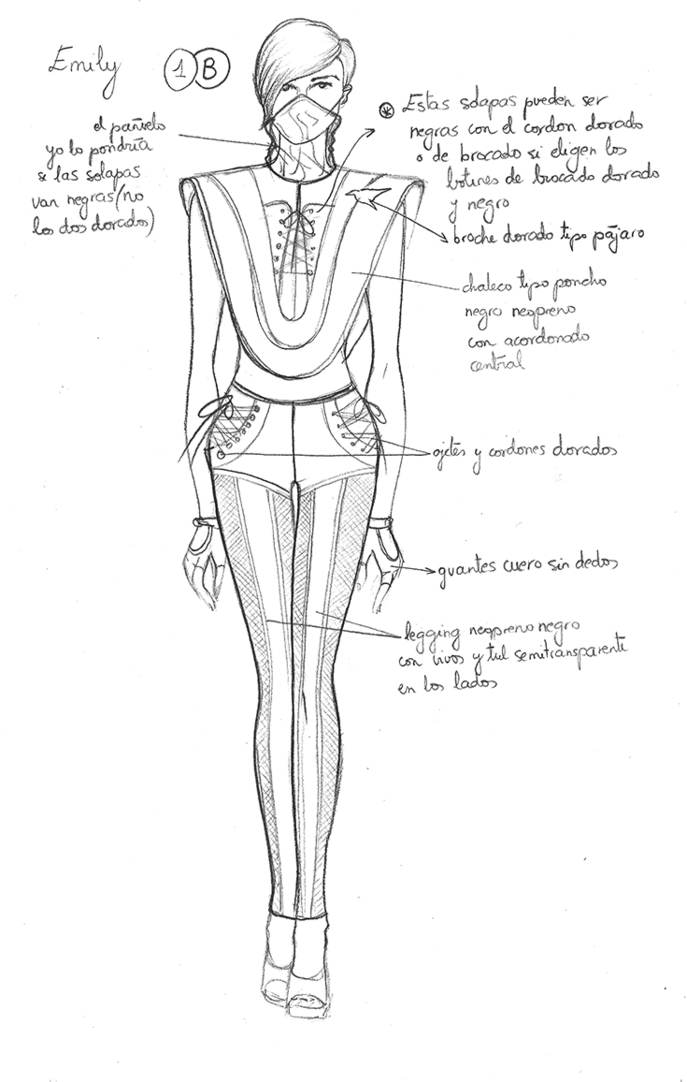 The Concept Art
DELILAH REFERENCES
"I wanted to highlight [Delilah's] figure and that's the reason we chose to use a corset on top of the skirt. It was a way to rescue that Victorian feel of the game and to emphasize the complexity of the character by superposing clothes."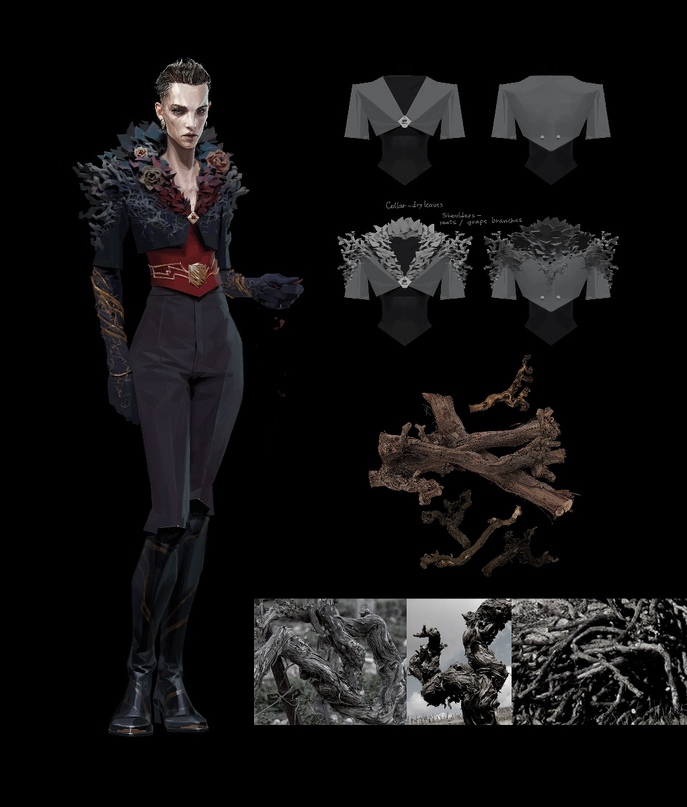 EMILY COLOR REFERENCES, ARM DETAILS, PORTRAIT AND COSTUME STUDY
"[Emily] seems to have a darkness about her and this is what we wanted to highlight; that's the reason we went with black for her clothes and why we thought she had to use technical materials like neoprene and fishnets, but also comfortable materials that allow mobility and adapt to her athletic body shape. All of her clothing is basically black except for a few golden patterns that show, again, a more classical, intricate and opulent style."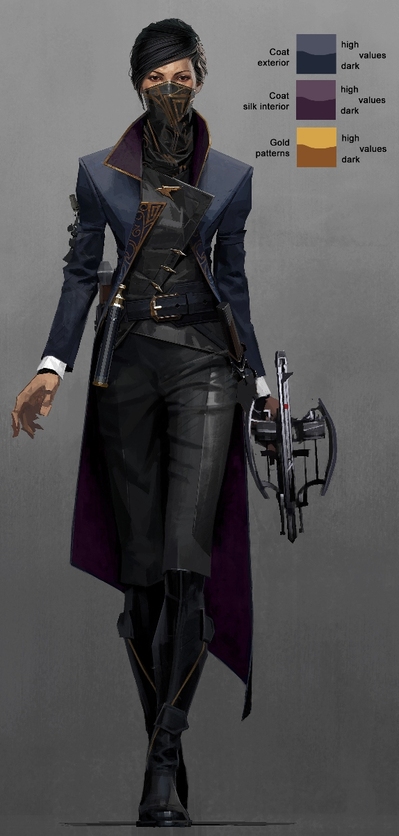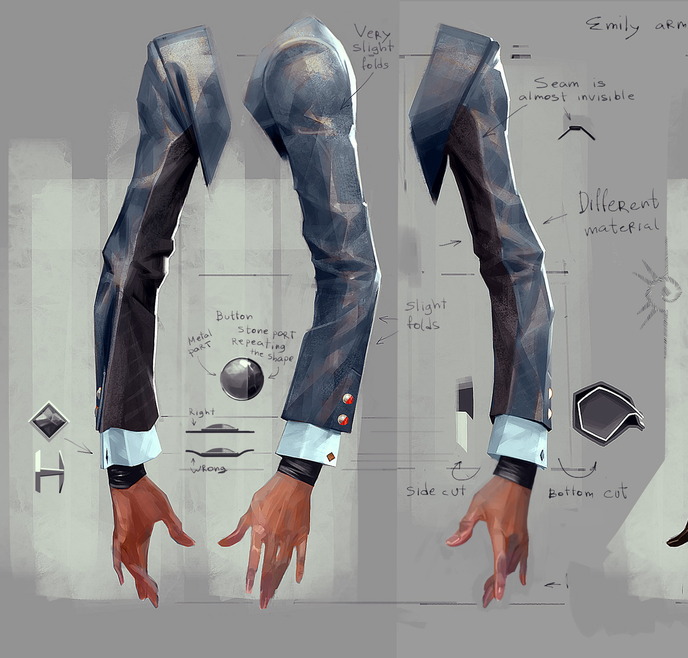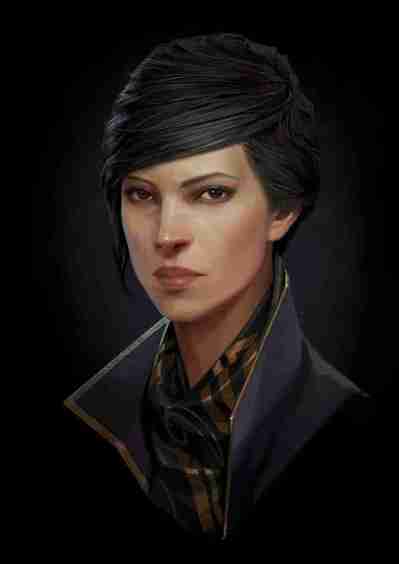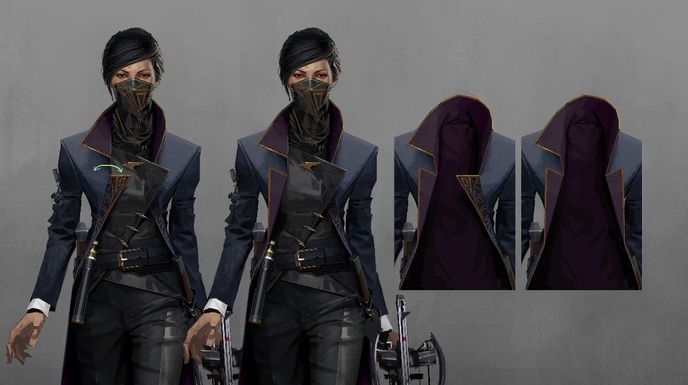 The Screenshots
"I found [Dishonored 2's] concept very interesting and inspiring. The combination of Victorian aesthetics with dark characters and a touch of steampunk is something that has been present during the process, and I have also been using these a lot in my collections. I enjoyed…being able to expand such an inspiration in several different and more innovative directions that maybe the game designers didn't think about."
DELILAH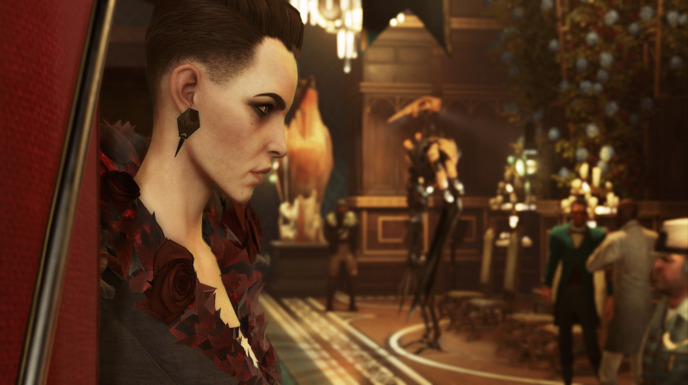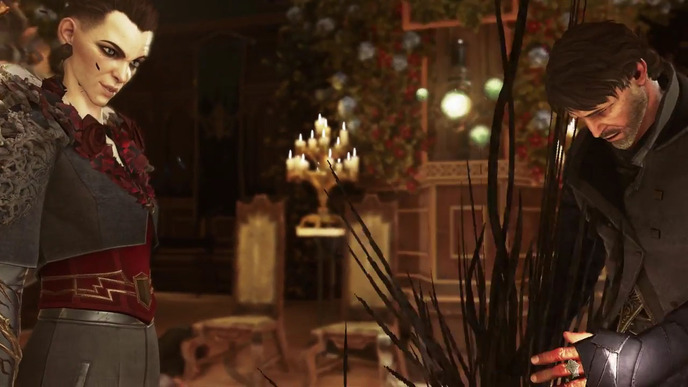 [On designing clothes for fantasy characters in different time periods, as opposed to making clothes for our real world today]
"We have more freedom in the sense that, although we follow a particular historical moment dated at the end of the twentieth century with a certain steampunk, neogothic influence, since it's a fantasy world, you can allow different ideas to what was used in that period in the real world. That applies to all the details in the clothing, brooches, lapels, fabrics and so on."
EMILY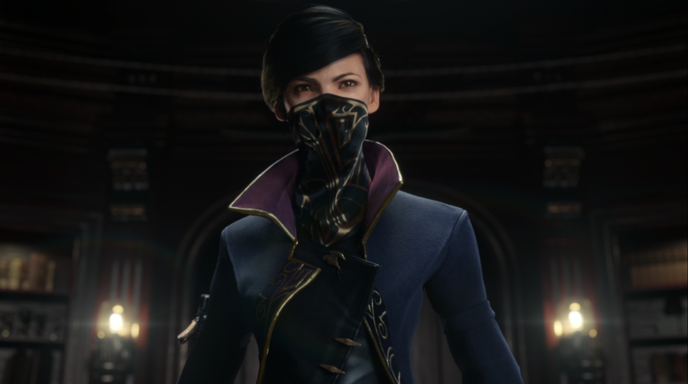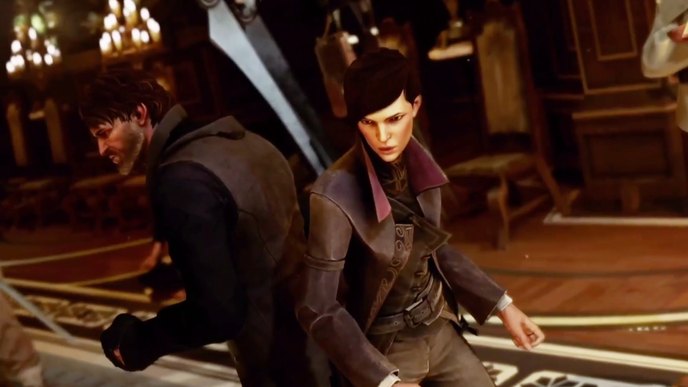 In the Real World
[On if she could see people wearing this style of clothes in our world today]
"Yes, of course. A lot of the garments come from similar patterns that we have designed in previous collections and, as a matter of fact, our forte is creating garments that step away from the conventional."
DELILAH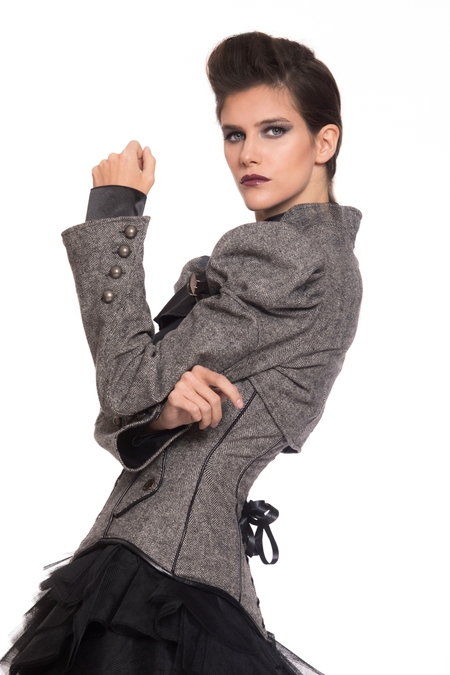 [On if she's seen people wear clothes like this in public today]
"Yes, indeed, and even more extreme versions. You just have to look in the right places. If you travel to Leipzig during Whitsuntide, you will have the chance to see the Wave Gothik Treffen. We've been going there for six years in a row and we have enjoyed the creativity of the people. If you go there, you will be able to see thousands of people with the most varied outfits that follow this dark Victorian style. It's amazing how much dedication and passion they have. We've created many of those outfits."
EMILY