Surviving Your First Convention: 5 Do's and 5 Don'ts from a First Time Con Attendee
Photos courtesy of Dragon Con Photography (c) 2017 Dragon Con, Inc
Games
Features
Dragon Con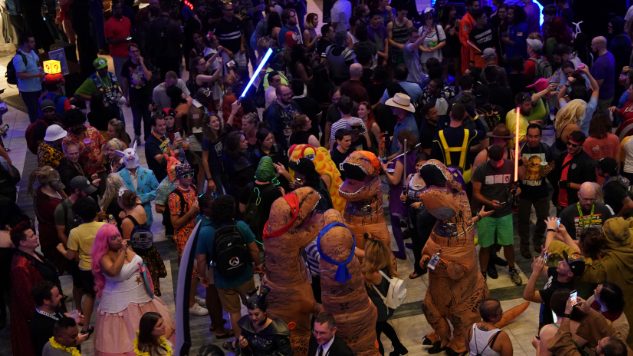 Conventions were something I'd always been curious about, but had never actually attended. You could say I wasn't exactly the demographic they appealed to: I didn't watch anime, I didn't play videogames, I had trouble naming more than 10 superheroes in the Marvel Universe. However, working at Paste where we celebrate all things geeky, I'd been just on the cusp of comprehending, and dare I say it, enjoying it all. Dragon Con is in Atlanta, Ga., where I live, and friends who have attended (many, many times, I may add) have called it their favorite holiday of the year. So, I figured, why not? I'll go. I was not at all sure what to expect over Labor Day Weekend 2018, when I went to the 32nd annual Dragon Con for my very first convention, flanked by a great friend group and 80,000 very enthusiastic strangers.
Since it was my first time attending, I wanted to fully experience what it is to go to a convention. I dove head first into the culture and tried everything I could. Feeling completely out of my element was terrifying, but it was also pretty thrilling. I will admit doing things I've never done before is something I get quite a kick out of (I did go to Japan to cover an esports tournament of a game I'd only heard of a couple weeks before my flight, after all), and I know it isn't for everyone, but sometimes you truly have to carpe diem. When in Rome, right?
Here's what I learned attending Dragon Con for the first time, in a series of simple Do's and Don'ts. While this is specifically in reference to Dragon Con, most of this advice can be used for any convention. I promise.
Do get a badge for the full con, and not just a single day.
Dragon Con begins on a Thursday, and it lasts until Monday. This year, it takes place Aug. 29 and lasts through Sept. 2. There are activities, shows, panels, and much, much more, and there's no way you can fit it all into one day. If you're spending the money you might as well experience all that you can.
Don't miss the parade.
I missed the parade. I regret it to this day. If you miss the parade, you too will regret it. The parade is a Dragon Con tradition, showcasing just about every videogame, comic, film and television franchise you could ever imagine. It's incredible to see what people come up with, as many of the costumes are homemade. Which leads me to my next point:
Do cosplay.
You absolutely must try cosplaying. I did it as a first timer newbie and it was a total blast. I may not know much about convention culture, but I do know about Sailor Moon (thank you, '90's Cartoon Network Toonami). I went as the one I relate most to: Sailor Jupiter. It was truly scary walking around downtown Atlanta in less clothes than I'd normally wear, but once I was on convention grounds I felt completely comfortable. I actually felt like I fit in, which I did not expect to feel the entire weekend. A lady even asked to take my photo! (Though I will admit, the following day my boyfriend wore the costume, and he got much more attention than I did. Naturally.)
Don't forget to drink water.
Yes, most of the convention is indoors, but the days are long and you walk around a lot. There's also quite a bit of alcohol, especially during the late night parties. Which, did I mention there are late night parties? There are late night parties. Stay hydrated. Don't get hungover and ruin your weekend.
Do go to panels outside of your wheelhouse.
Panels are like going to a college lecture, if the college lecture is about something hyper-specific and full of people who care solely about that one topic. From an outsider's perspective, these are phenomenal. You'll learn more than you think you'd ever know about a topic you might not have known anything about before. For example, I went to a panel on how the Star Wars droids were made, a panel on Greek and Roman mythology, and a panel on social media propaganda. Knowledge is truly power.
Don't go by yourself (for your first time.)
Conventions are overwhelming, and if you don't have a buddy, you might not enjoy it. There were 80,000 people at Dragon Con last year, and being around that many people seemingly having a blast can be lonely if you're by yourself. But of course, if you are alone, you always have the opportunity for the next point.
Do make friends!
Talk to strangers about their cool cosplays! Make small talk with people before panels start! Who knows who you might meet. If you're at a convention together, you already have something in common. Take advantage of that.
Don't forget to make accommodations ahead of time.
Hotels in the direct convention area sell out QUICK. We're eight months out until this year's Dragon Con, and the Marriott Marquis (which much of the convention is housed in) is already sold out. You'll want to be as close to the convention as possible because traffic is impossible, so be smart about your arrangements and make them months in advance if you're thinking of staying in the convention hotels.
Do check out the gaming areas.
Even for the most experienced videogame player, it's almost inevitable that walking into the arcade you'll find something you've never played before. There are also spaces for tabletop games and role playing games, as well as consoles for rent. If you're feeling like entering a tournament, bring your own controller. Trust me.
Don't be rude.
This one seems obvious, but I feel like I have to say it. Everyone is there to have a good time. Be respectful to both the attendees and the employees and volunteers. If you break the convention rules, you will be kicked out, so just… be cool, okay?
Dragon Con was a blast, a learning experience, and a huge leap out of my comfort zone. I recommend it to everyone, whether you care about the subject matter or not. I will certainly be returning, and really, I can't wait for Labor Day Weekend.
---
Annie Black is Paste's social media manager. Her favorite thing about Dragon Con was seeing the creativity involved in all of the cosplay. This year, she's planning on being April O'Neil. Follow her on Twitter."