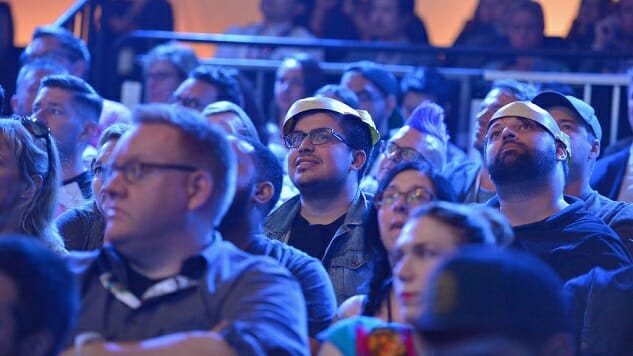 We're professionals. That means we go to things like E3, the annual videogame trade show. And since E3 is happening right this very second, that means we're here now. And we do it all for you.
I edit this games section. Holly Green edits it with me. Right now, we are both somewhere deep within the bowels of the Los Angeles Convention Center, where over the next three days we will see (and maybe even, very briefly, get to play) some of the biggest games coming out this year (and next year, and probably even 2020). We'll be talking to the developers when possible, and ignoring the actors made up like zombies in the lobby, and trying out all the food trucks between South and West Hall, and will also have some firm opinions about things like "graphics" and "gameplay." We might use the word "intuitive." It's E3!
I'm typing this from the E3 press room right now. I am wearing a lanyard. I have already had to reschedule one appointment because the line to get in was ridiculously long. I have another appointment in 30 minutes that I should probably leave for right this instant. The entire videogame press is here at E3, and I am here too, and I am pressing it up.
Expect more stuff soon—stuff about videogames. It's the stuff you expect from Paste Games. Or maybe you don't—I have no idea what goes on inside your head. But I'm listening, if you want to share.
Keep reading Paste this week to learn everything about all of the games.