Fortnite Accounts Blocked on Nintendo Switch for PS4 Users
Images via Epic Games
Games
News
Fortnite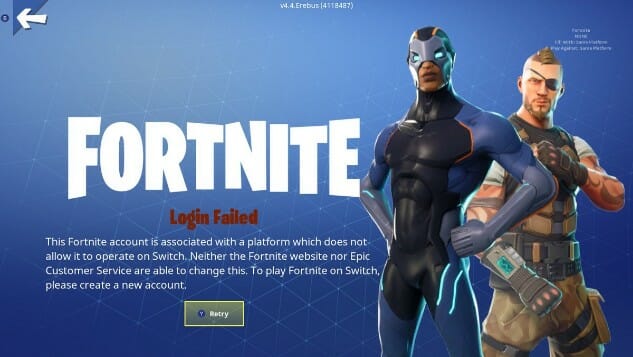 The dream of being able to play games with others players across various platforms is going to have to jump across a few hurdles—namely, Sony. During yesterday's E3 Nintendo Direct, Fortnite was revealed to be available to download for the Nintendo Switch. However, PlayStation 4 players hoping to connect their accounts to the Switch were treated to an unwelcome surprise. A message appears, telling them the following:
This Fortnite account is associated with a platform which does not allow it to operate on Switch. Neither the Fortnite website nor Epic Customer Service are able to change this. To play Fortnite on Switch, please create a new account.
This message, as well as previous statements from the Fortnite team and the game's FAQ page, seem to suggest that Sony is the one actively blocking account linking and cross-platform play. Last year, Epic accidentally allowed players on PS4 and Xbox One to play together in Fortnite. It was quickly shut down later, and PS4 and Xbox One players were once again blocked from playing with one another.
PlayStation owners can only play Fortnite with others on PC, Mac and mobile devices, but not the Xbox One or Nintendo Switch. Meanwhile, Xbox One and Switch owners can play with each other as well as PC, Mac and mobile users. In the past, Xbox Executive President Phil Spencer and the Fortnite team have voiced their desire to see players across all platforms play together.
Me 2.

— Phil Spencer (@XboxP3) March 10, 2018
The cross-play issue has been an ongoing saga since before the release of Fortnite, as Sony has blocked the feature on other popular games like Minecraft and Rocket League. "We've got to be mindful of our responsibility to our install base," state PlayStation global sales and marketing head Jim Ryan in an interview with Eurogamer. "We have a contract with the people who go online with us, that we look after them and they are within the PlayStation curated universe. Exposing what in many cases are children to external influences we have no ability to manage or look after, it's something we have to think about very carefully."
Sony did not immediately respond to Paste's request for more information regarding the blockage of PS4 Fortnite accounts.