Get a Glimpse of Fortnite's Future in New Chapter Two Trailer Leak
Image via Skin-Tracker/YouTube
Games
News
Fortnite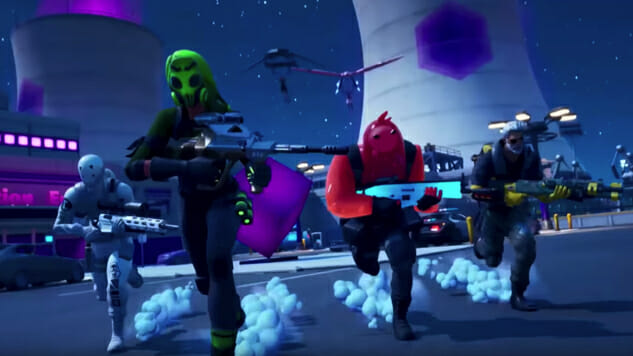 Big changes are afoot in the world of Fortnite after Sunday's Season 10 finale event "The End" appeared to bring about just that: The event's explosive climax destroyed the island of Athena, leaving behind only a mysterious black hole, an unplayable game and many curious, impatient players who still can't get their Fortnite fix as of this writing.
— Fortnite (@FortniteGame) October 13, 2019
Fortunately for the millions waiting for Epic Games to shine a light on the next season of their battle royale hit, new details of the game's forthcoming Battle Pass have arrived in the form of a trailer leak, shared by data miners Skin-Tracker (with Epic's assent, they say) on Monday. The 30-second clip tells us quite a bit about Fortnite's next season, from its rather confusing title ("Chapter 2 – Season 1") and flamboyant visual style to its brand new map and various gameplay updates. No word yet on when all this will be made available to players, but we can't imagine Epic will leave their legions of Fortnite fanatics hanging for too much longer, lest they develop non-virtual lives.
See what's next for Fortnite below and stay tuned for further updates on the game's new season.